DJ PAKA or "C" Pakawan Ngarmlamiad has recently won the Pioneer Lady DJ Championship 2015. She is 26 years old and has graduated with a Bachelor Degree from Silapakorn University at the Faculty of Architecture. Driven by her passion for music she has overcome her fear of being on stage and won the championship title thanks to her unique & creative style.
Siam2nite had the opportunity to have an exclusive interview with DJ PAKA and find out more about her!
Hi PAKA! Please kindly introduce yourself.
Sawasdee ka! My name is Pakawan Ngarmlamiad, my nickname is C. I'm 26 years old and graduated with Bachelor Degree from Silapakorn University at the Faculty of Architecture. My DJ name is DJ PAKA.
What's the story behind your DJ name "PAKA"?
Well, actually this is very funny (laughs) Before I ended up with this name, I have been thinking of many names such as DJ Ocean, DJ SeaScape, DJ Series, DJ Zebra and DJ Sprite! That's a lot! But in the end all my friends said the only suitable name for me was PAKA, which is from my actual name, so since then I stick with that. There was one time that I was so obsessed about my DJ name, so my friend had to tell me that I should better use that time to create my sets! (laughs)
How did you get interested in DJing, and how did you get into DJing?
It started since I was studying in university. I already liked electronic music back then, but I had no idea what it takes to be a DJ, what to do or how to do it! I have one friend that is a DJ and I asked him to teach me some DJ basics, after that I got more serious and took a DJ class to improve my skills. Before I started taking DJing serious as a career, I've played at my university from time to time, then at some point I played my first proper set at a club called "Bangkok Bar" at Khaosan Road.
Who is your idol as a DJ?
My idol is HARDWELL! I like his music since the single "Spaceman", it was then that I realised that I like Progressive House. I also listen to other DJs such as Sick Individuals, Dannic, Kryder, Matisse & Sadko. After that I got interested in the more technical aspects of DJing, in Routines & Turntablism. In this regard my inspiration comes from DJs like Laidback Luke, DJ Shiftee, DJ Qbert, DJ Eski83 and DJ Craze.
What do you think is distinct about you personally and about you as a DJ?
Probably my beauty (laughs hard) No no no! Actually I think it's my character, I'm being myself. Regarding the style I play as a DJ, I don't follow the trend and try new things all the time.
What kind of music do you play?
I play Progressive House, Electro House, Trap and also Twerk.
What can you tell us about your path that led to winning the Pioneer Lady DJ 2015 championship?
I have practiced very hard, but competitions really stressed me out, one month before a competition I could not eat! I ate just only one meal a day! I had a serious fear of being on stage. I applied to DJ completions twice already, but once the day of the competition came, I just cancelled it and did not show up. The Pioneer Lady DJ Championship 2015 was my third time to apply for a competition and I came to the conclusion that if I don't do it this time, I would lose faith in myself... so that was the moment that I felt like I have to make it this time… and I did!
How did you prepare yourself for the final set for the Pioneer Lady DJ 2015 championship?
For the final set, it was hard since the set has to be 20 minutes, has to be played on 4 CDJs and we had only 2 weeks time to prepare it. I wasted the first complete week with being stressed, worried not knowing what to play and thinking the other would be better than me. Then I just decided to go with my style, to play what I like and how I like it. The result is what you guys saw at the final.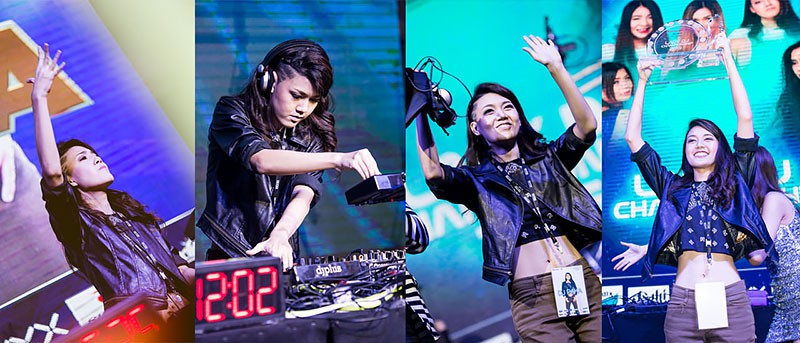 The clip of your unique set at the final has been shared all over social media and enjoyed a huge interest. What was your feeling that day and how did you feel once you were announced as the champion?
Before the competition started, I was still unconfident and i did many mistakes during the set, but I tried to stay focused and finish the set as good as possible. At the point when they got to announcing the winner, there was only me and DJ Sue Ice left, and I did not think it would be me that wins due to the mistakes I made during my set. So once they said my name, i felt relieved and all the pressure fell off, and I knew I did my best.
What can you tell us more about who you are, when you are not DJ PAKA?
Who I am? ummmm… I'm a very laidback and funny person, and I don't like wearing makeup. When I'm interested in something, I always give 100%.
What is your goal for the near future?
Right now, I want to produce music, i'm interested in Progressive House, Trap and Twerk. And I'm practicing to improve my scratching skills too.
Do you have others dream job beside of being a DJ?
Umm…NO! DJ is my dream job and I feel it's the right job for me!
On what Social Media can people follow you, if they want to know more about you?
On Facebook I have a fanpage called "DJ PAKA" and on Instagram you can follow me at @PAKA_C.
Last question! What words of encouragement can you give to the younger generation that wants to become a DJ but are not yet confident enough to follow that dream?
Ok! I would like to tell all the young people out there… don't be afraid to start doing something you love, try and do your best for what you love and are passionate about. It does not matter if others think it's weird, or if it's considered something that people usually don't do. Keep practicing!! And the most important thing: keep in mind that music has nothing to do with the face or the look, if you want it…then give it 100%!