Bomber Selecta is a DJ for over a decade, a skilled turntablist, a music collector and passionate about Reggae music. On July 4 he has won the Red Bull Thre3Style Thailand 2015 championship title at Route 66 Club RCA and he will be proudly representing Thailand in September at the Red Bull Thre3style World Championship in Japan.
Siam2nite had the opportunity to have an exclusive interview with Bomber Selecta and find out more about him!
Hi! Please kindly introduce yourself.
Sawasdee krub! I'm DJ Bomber Selecta and my nickname is Bas!
What kind of music do you play?
Actually I'm not stuck on a certain genre. Personally I really like Reggae, but the audience usually asks for a lot of other genres and nowadays there is a huge variety of music styles. I also like Soul, Hip Hop, Reggae & Funk, but as a DJ I listen and can play every genre :)
What made you decide to join the Red Bull Thre3style Thailand competition?
I believe that Thai Djs do have the skill to compete with other nations. This competition is about technique and song selection and there are lots of DJs in Thailand that are skilled and I see this competition as a great chance to show that. I felt I have to give it a try.
What can you tell us about Red Bull Thre3style in general and about the video clip that you have sent to Red Bull as application for the contest?
To enter the competition you send a 5 minute-long video to Red Bull and their team of judges will select the best 8 DJs to compete as finalists. For my video i combined several ideas i had in the past. I'm a creative person and i had lots of ideas i could put together for that set.
How did you prepare yourself for the final set for Red Bull Thre3style Thailand 2015?
Actually not that long. As a DJ i always try to play this kind of style for my audience, so it was basically mostly about selecting and combining lots of existing ideas, selecting matching songs and put it all together. So these 15 minutes were difficult and easy at the same time, the challenge was to present 3 styles and show your skills within only 15 minutes.
On the final round, you had the chance to share the stage with Eskei83, the current Red Bull Thre3style World Champion. How did you feel about that? Did you feel under pressure?
Actually not pressured at all. I tried to stay calm, don't think too much. But of course there was excitement, because i was playing in front of a big crowd. I was trying to control myself, but i'm not a perfectionist and therefore don't pressure myself, so I was comfortable. I felt honored to play with a world class artist and it was an inspiring experience. But to be honest I really feel like we have our very own world class artists here in Thailand, such as Spydamonkee, Dragon, Maiam, Jedie, and also the new generation TNT, Nutty and Nui (Zlexii), they are young and very talented. It felt like the competition was mostly a showcase of the skills of Thai DJs in general. Who would be the winner did not really matter, the most important thing was that there will be a winner and he will represent Thailand.
What DJs are your idols?
An A4 paper sheet would not be enough to write down all these names. (laughs) In my life i was inspired by countless people, in Thailand it includes Suharit, Spydamonkee and Sunzone and all the competitors of the Thre3Style competition, some of them might not be famous, they play in small clubs, but they are real party rockers that can move the crowd. Abroad it would be Z Trip, Jazzy Jeff, Shortkut, QBert and i will meet some at Red Bull Thre3style World Championship in Japan.
For how long have you been a DJ and how did you get into Djing in the first place?
I started in the early 2000's, so now it's over a decade already (smiles) I have started at Blue Bar, a small nightclub on Ratchada Soi 4. The Resident DJ there was DJ ET420, he taught me how to DJ. After that I improved myself through practice.
How would you describe the moment when you were announced as the champion?
To be honest, my mind was blank. At the last song of my set i felt like i did my best and when i finished my set i pulled my shirt up and covered my face and felt blank and calm.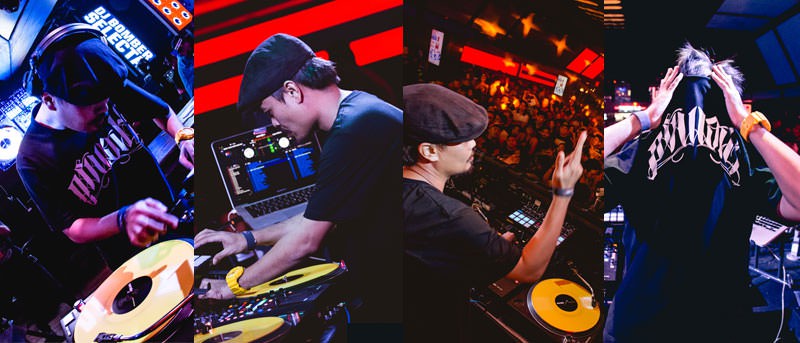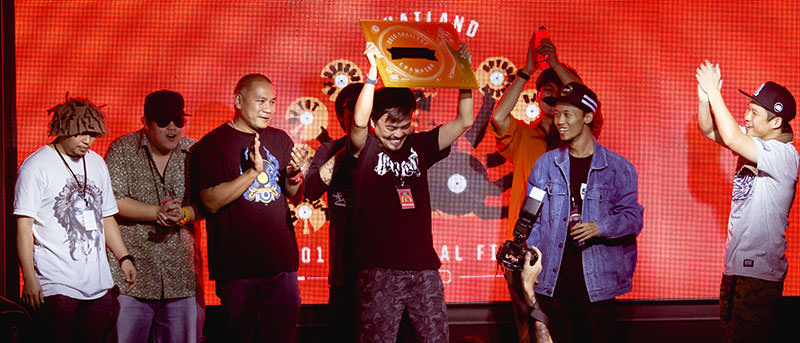 What is on your agenda for the near future and what are you currently working and focusing on?
Right now i'm playing with crews like Wrapkids and Double Trouble and for similar underground event series. I'm open and play for those that ask me to play, i'm not focused on money. I love what i do and i'm playing with those that invite me to play. The past 2 years I focused on my Master degree and currently I'm writing my thesis. I will be done with it soon.
Now that you are the Thailand Champion, the next stage is the Red Bull Thre3style World Championship in Japan in September. Did you already start working on your set yet?
Yes, there are some ideas already. Next month i will start to practice again and start putting the ideas together to a set. This time it's not just only for myself, but also for Thailand.
Last question! What words of encouragement can you give to the younger generation that want to become a DJ but are not yet confident enough to follow that dream?
The first step is really important, as the music industry is big, you need to think big and practice your skills. It does not matter what type of music you like, go for it and be original and creative. Once you ready, go out and play to the crowds :)