3 Super Wet Songkran Parties Powered by Smirnoff Midnight 100
Posted April 10, 2016
With so many events to choose from during Songkran, there is never a better time to be a party lover in Thailand. It is almost as if the whole country turns into a barn full of cute little ponies and we are all little girls dressed in a princess costume on her birthday running around after the parents said we can take any of them home!
With all this choice, it is practically impossible to pick which little pony to take home – and by that we mean it would be difficult to pinpoint which party to go get soaked at while you watch people whip out that nae nae.
Lucky for us, Smirnoff Midnight 100 has put their stamp of approval on 3 of the hottest parties in town – the parties that will ensure that you and your friends will surely #paihaisood. Let us at Siam2nite take you on a journey that will make your Songkran in 2016 unforgettable.
1. Smirnoff Midnight 100 Presents Summer Party @ Route 66 – RCA, Bangkok City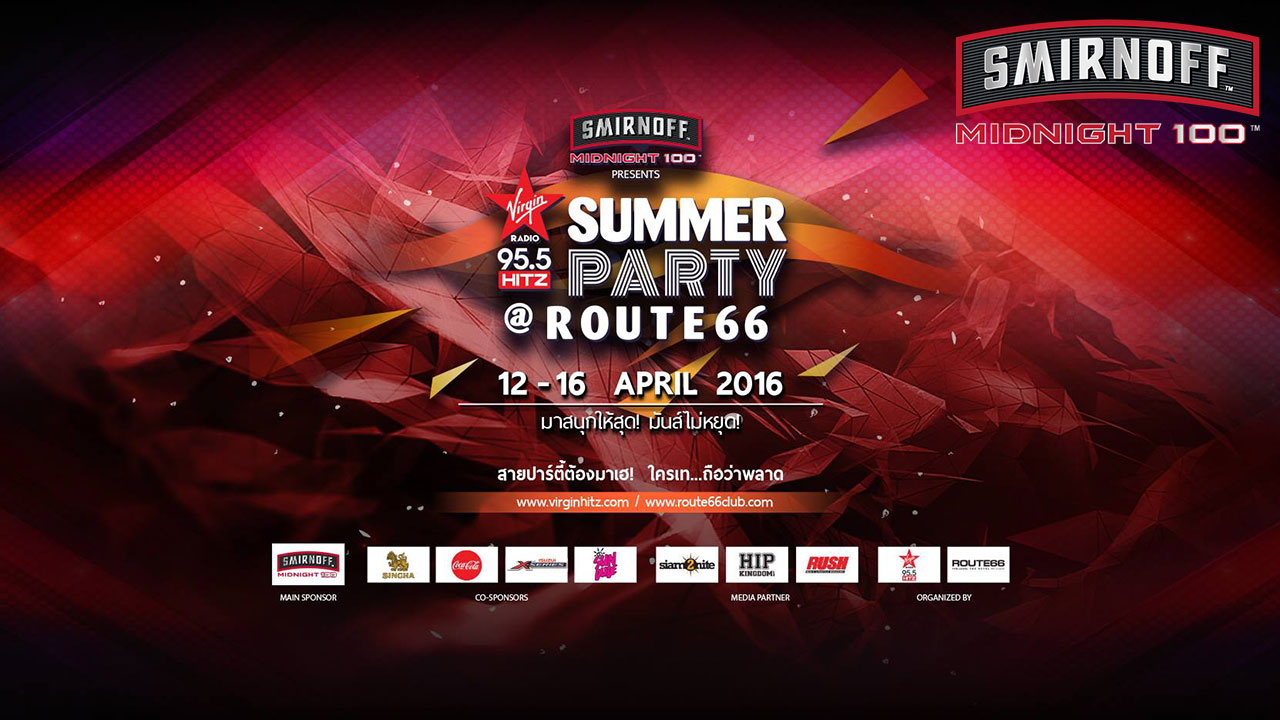 Just like clockwork, Route 66 is back and for those in the know, Route 66 does not disappoint. This year's Smirnoff Midnight 100 Presents Summer Party @ Route 66 runs between 12-16 April, 2016 and will feature a full line-up of DJs, celebrities, activities, and a lot of water.
Forget what you thought you knew about Route 66. If your weekend out at one of the longest standing clubs in RCA was fun, then wait until you get to see what they have in store for their special Songkran party.
Headliners for each of the days include:
• 12 April – Sputnix Papiyong Kookkook
• 13 April – Joeyboy
• 14 April – Tattoo Color
• 15 April – J Jetrin
• 16 April – Slot Machine
It is a blowout event in Bangkok that you cannot miss! Come on down and be ready to get wet and wild with thousands of others who are ready to #paihaisood while washing that heat right off your back. We hear there is a lot in store that they have yet to tell us about so, keep checking out their Facebook page for more details.
2. Differ Summer Fresh Party – Pattaya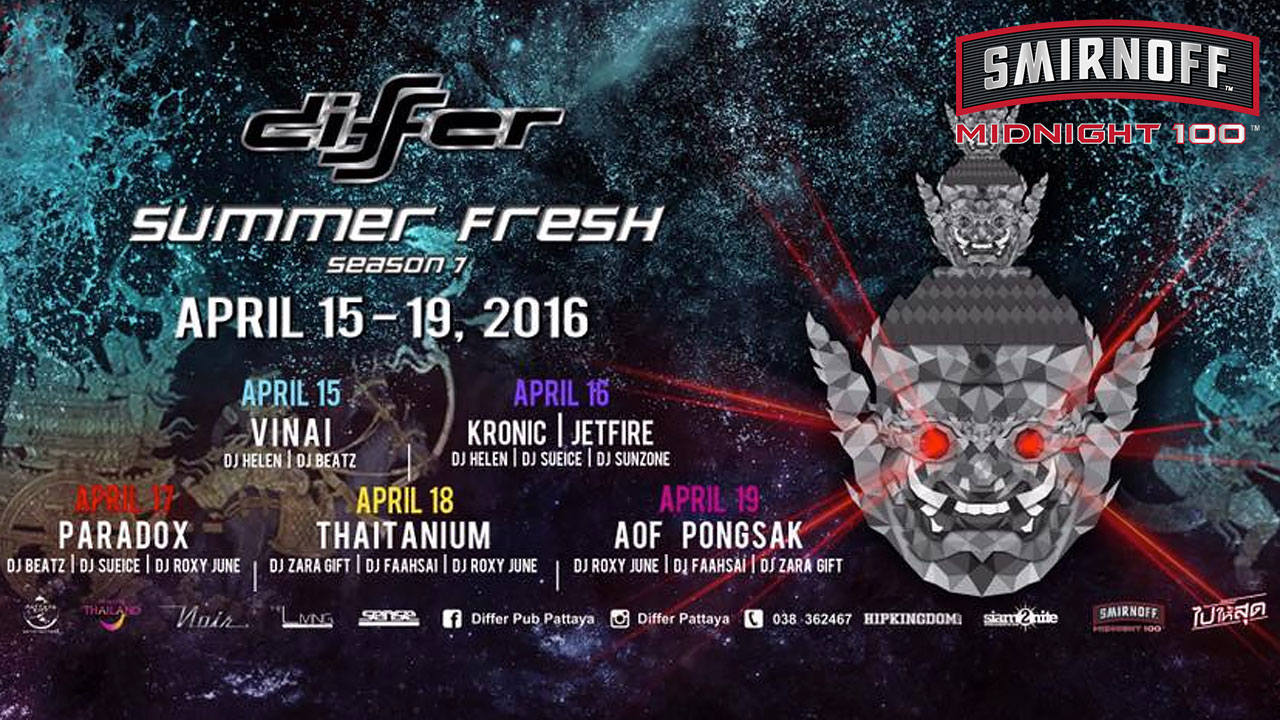 Head slightly South East, about an hour and a half away from Bangkok, and you will likely hear the sounds of the girls and boys in Pattaya screaming in delight as Differ hosts the Differ Summer Fresh party between 15-19 April, 2016. Good news is that the party kicks off early at 18:00 during those days and a host of international DJs are also making an appearance.
Special highlights for each of the days include:
• 15 April – VINAI / DJ. Helen / DR.Beatz
• 16 April – JETFIRE / KRONIC / DJ Helen / DJ Sueice / DJ Sunzone
• 17 April – Paradox / DR.Beatz / DJ Sueice / DJ Roxy June
• 18 April – Thaitanium / DJ Zara Gift / DJ Faahsai / DJ Roxy June
• 19 April – Aof Pongsak / DJ Roxy June / DJ Faahsai / DJ Zara Gift
Tickets cost THB 700 per person each day on 15-16 April, and THB 500 on the other days. But if you make up your mind now and decide to #paihaisood and go all 5 days, you can buy their 5-day early bird package for THB 2,000 (instead of THB 2,900). Act fast, because the early bird prices are only available until 9 April, 2016.
Attendees stand to get some free goodies as well if you go early, so if your friend is late, ditch them and just go make some new friends. VIP table are available upon request so visit their Facebook page for more details.
3. Zoods Songkran Festival 2016 Rave Island Party – Rayong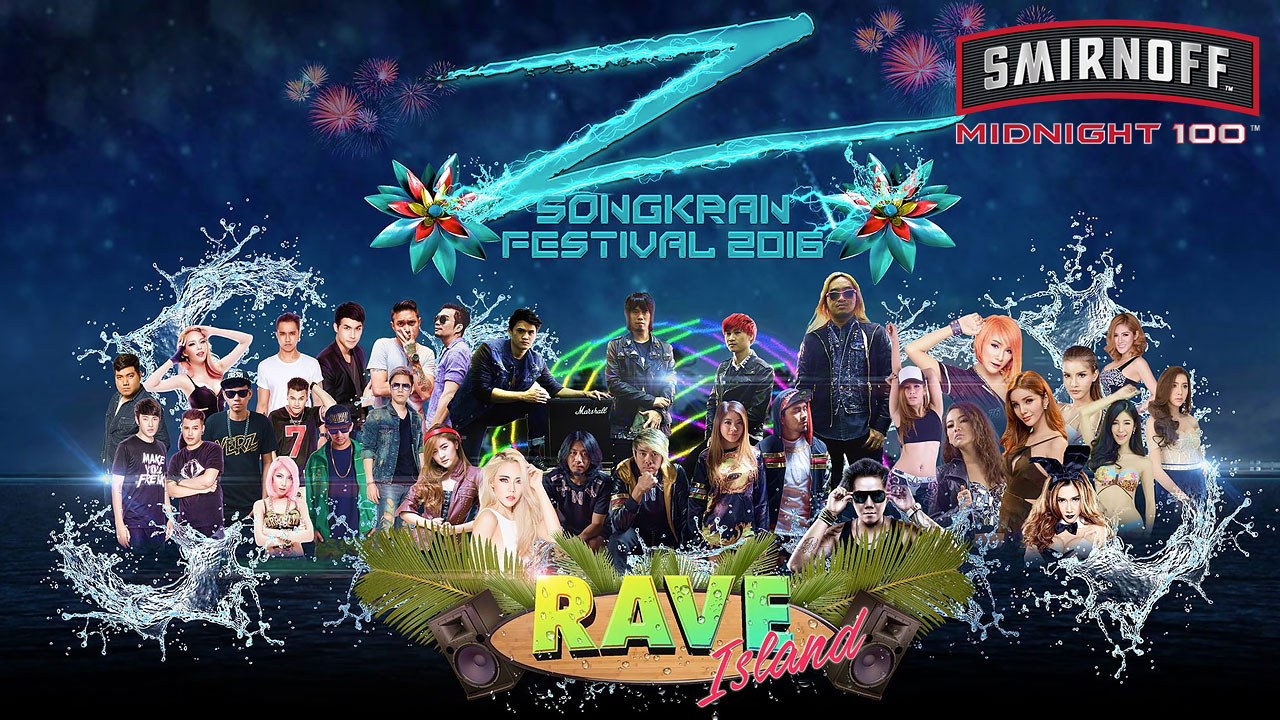 If you get seasick and have a hard time facing the waves on your way to an island, then this might be the perfect time to visit the beach city of Ranong. The only wave you will be faced with this time is the wave of people getting ready to #paihaisood in Zoods Songkran Festival 2016 Rave Island party.
With the Rave Island being brought on land, the beautiful people of Ranong already lining up to party, and you are invited.
Get ready to party for 3 days straight with the different crews lined up to take you on their cruise as follows:
• 12 April – Boom Boom Cash / Next Get high
• 13 April – OKB
• 14 April – Paradox / Funky Burger / Bullet Bwoyz
Starting early in the week never hurt anyone, and in the Songkran spirit, Zoods is right there with you to take it to the next level of wetness. Tickets are THB 500 per person each day – a 3-day pass however goes for a special rate of THB 1,200.
So let the waves of excitement crash all over you because we for one are already gearing up to attend. For more information, check out their Facebook page.
Our job is delightful. We get to tell you about these parties, but the hard decision of choosing which one to go to, we pass on to you. Honestly, we are starting to understand what that little-princess-pony-girl must be feeling like running free in the pony barn.
But rest assured, Smirnoff Midnight 100 is ready to accompany you at all these events regardless of the party you decide to crash to bring life to your party – let them lead the way!
So this Songkran, wherever you see Smirnoff Midnight 100 you will surely know that that is where the #paihaisood parties are at!
Find out more about where they will be by following them on the Smirnoff Thailand Facebook page.