Everyone has a bucket list of some sort. For the adrenalin chaser, that list might consist of jumping out of a plane over the Swiss Alps. For the known foodie, maybe it is to dine and tick off all the Michelin Stars around the world. But for those who live and breathe the PLUR lifestyle, the list should not stray too far from attending some of the biggest music festivals in the world – and what bigger than Tomorrowland.
Being front-row in the fields of Boom, Belgium to witness your favorite DJs showcasing their latest tracks among revellers from around the world is a euphoric sensation just to even think about. But with limited time and a limited budget, what can someone in Thailand who lives and breathes Peace, Love, Unity, and Respect do to finally say they have completed that lifelong dream?
Lucky for you, a very vital part of Tomorrowland will be dropping by exclusively in Thailand on Saturday 28th May, 2016 at the GMM Livehouse in Central World. Axtone Stage which is an extension of Axtone Records, the brainchild of superstar DJ Axwell and a vital member of the different Tomorrowland stages, will for the very first time anywhere in the world make an appearance in full outside of the actual Tomorrowland event in partnership with Barcardi.
Expect the signature sounds of Axtone to be showcased on a stage that embodies the energy of Tomorrowland with its intricate detailed stage design, lighting, and sound. As for the Axtone Record DJs who will be making an appearance, Siam2nite would like to give you an inside scoop for you to prepare yourselves.
1. Dirty South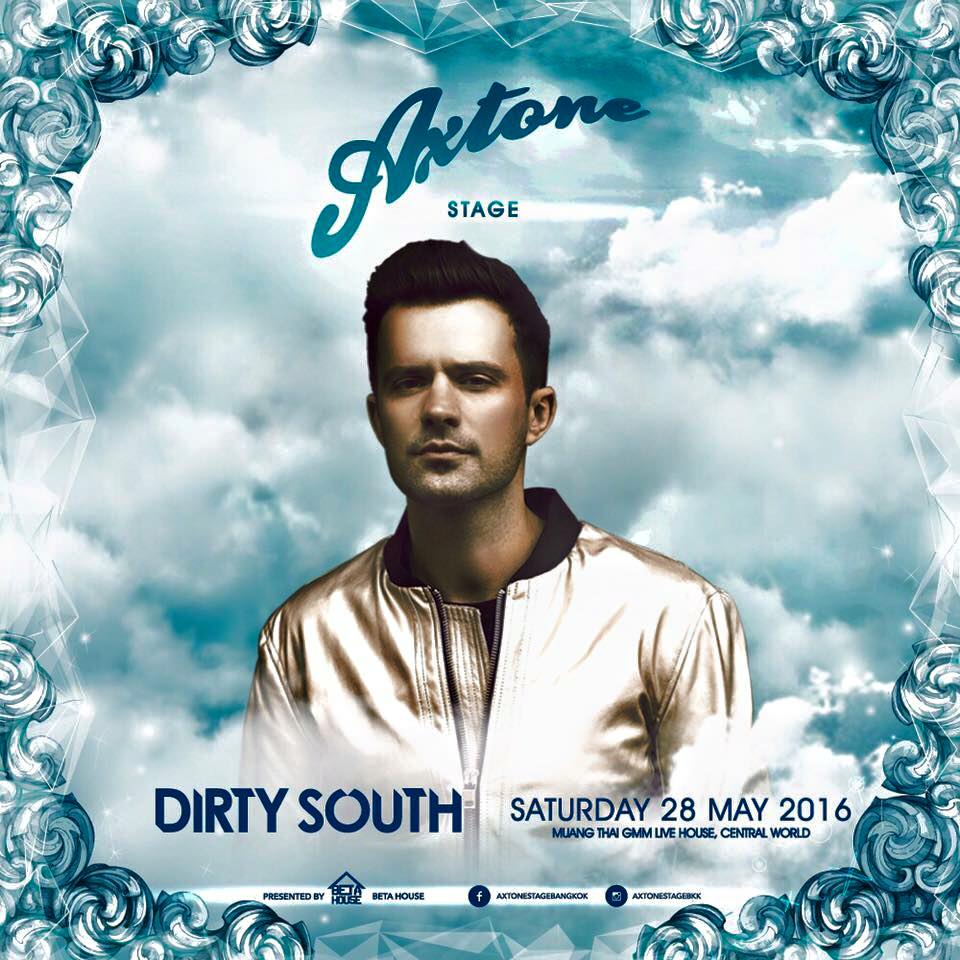 If you have ever been to the City of Dreams, then you know Dirty South. Originally from Serbia, the Serbian DJ has collaborated with his share of superstar DJs to make a name for himself. His City of Dreams single with Alesso was an anthem in 2013 blasted in multiple festivals around the globe. Still relevant in the house and progressive house genres, Dirty South will be making his first appearance in Thailand. It is no doubt a show you must go and see.
Check out some of his hits below:
Dirty South, Alesso - City Of Dreams ft. Ruben Haze
Dirty South - Find A Way (Live) ft. Rudy
Dirty South - Until The End ft. Joe Gil

2. Kryder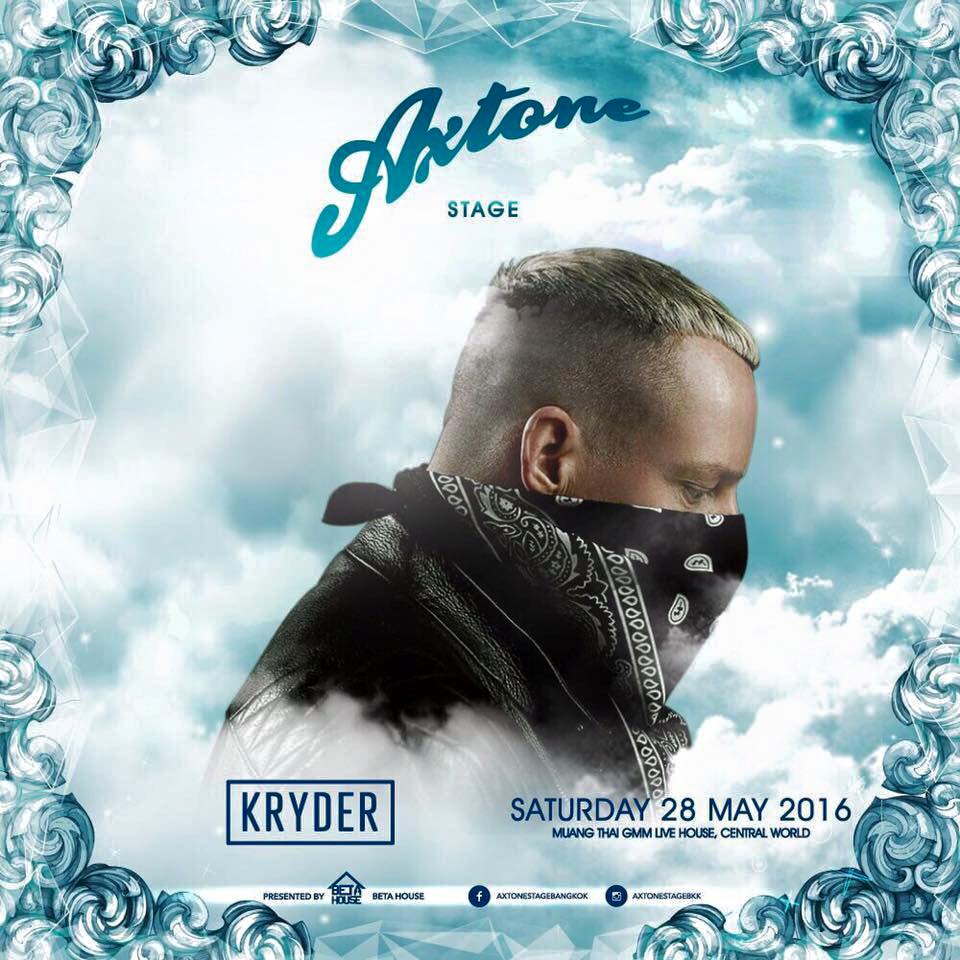 Big Room enthusiasts will be excited for Kryder's appearance. It is clear from his work that his music transcends language and captivates the listener. There is no focus on producing a track that fits a certain genre, rather Kryder manages to deliver sounds that are genre defying it is easily enjoyed by everyone. Whether he is playing in front of crowds in Ibiza or the tens of thousands at a festival, his energy is built to fill epic spaces with the aggressive sounds needed to give peak-time sets the required energy.
Check out some of his hits below:
Arno Cost & Norman Doray - Apocalypse 2014 (Kryder & Tom Staar Remix)
Kryder vs Danny Howard feat. Joel Edwards - Sending Out An S.O.S. (Original Mix)
Kryder, Tom Staar & The Wulf - De Puta Madre (Extended Mix)

3. Shapov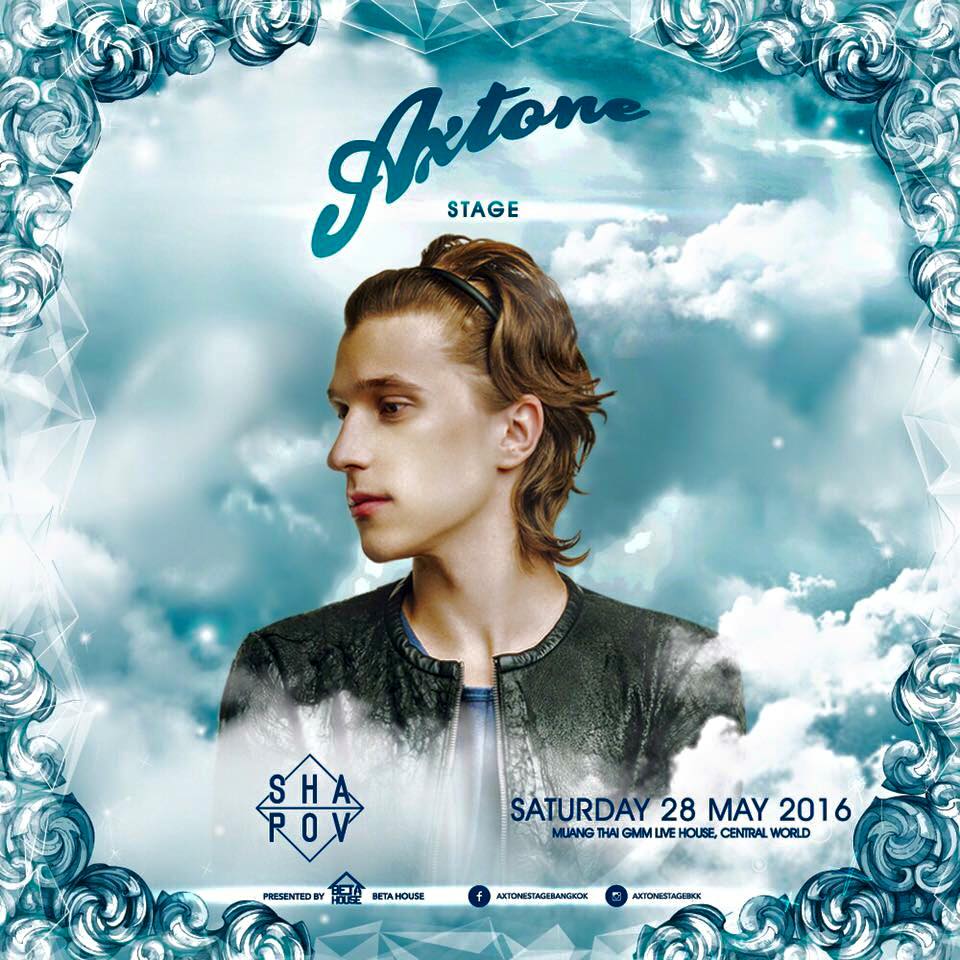 Shapov is a relatively new name to blast into the scene recently – however, the Russian DJ is no newcomer. Having been a successful half of the duo Hard Rock Sofa, a name some might be more familiar with, Shapov now also operates as a solo act. With previous productions being featured in movies like Fast & Furious 6 and other songs peaking on number 1 in Beatport, his set is another energy filled set to be on the lookout for when Axtone visits Thailand.
Check out some of his hits below:
Hard Rock Sofa & Swanky Tunes - Here We Go (Original Mix)
Axwell Λ Ingrosso & Shapov - Where I Belong (Audio)
Afrojack ft. Mike Taylor - SummerThing! (Shapov vs M.E.G. & N.E.R.A.K. Remix)

4. New_ID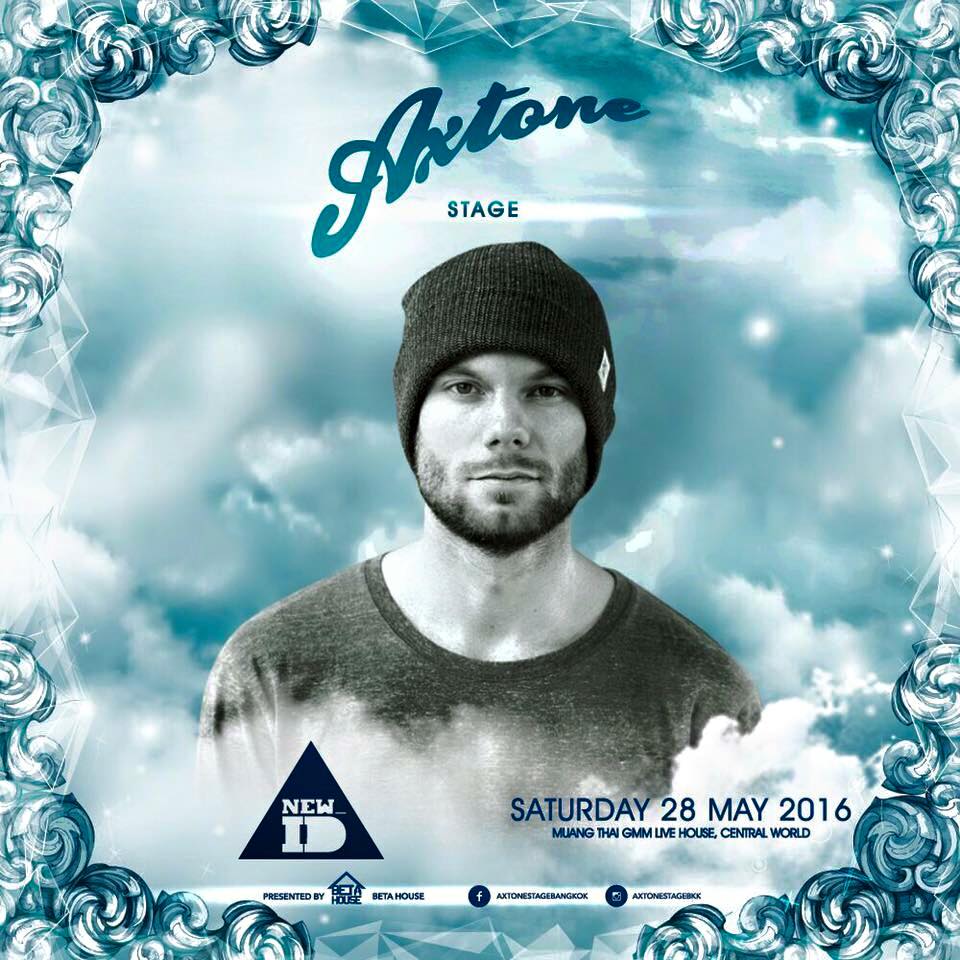 New_ID may have only recently changed his name from NO_ID, but his talents have remained the same. Hailing from the Mecca of DJs that is Amsterdam, the Dutch DJ has been known to produce exciting progressive house sounds since 2008. His production caught the eye of Swedish House Mafia and that led him to tour with the dream-team in their farewell tour. Make no mistake, New_ID is no longer just an opening DJ, he is definitely going to come our blasting.
Check out some of his hits below:
NEW_ID & First Day ft. IVAR - Show Me (Original Mix)
Junior Jack - Thrill Me (NEW_ID Remix)
The Aston Shuffle - Tear It Down (NEW_ID Remix)

5. M.E.G. & N.E.R.A.K.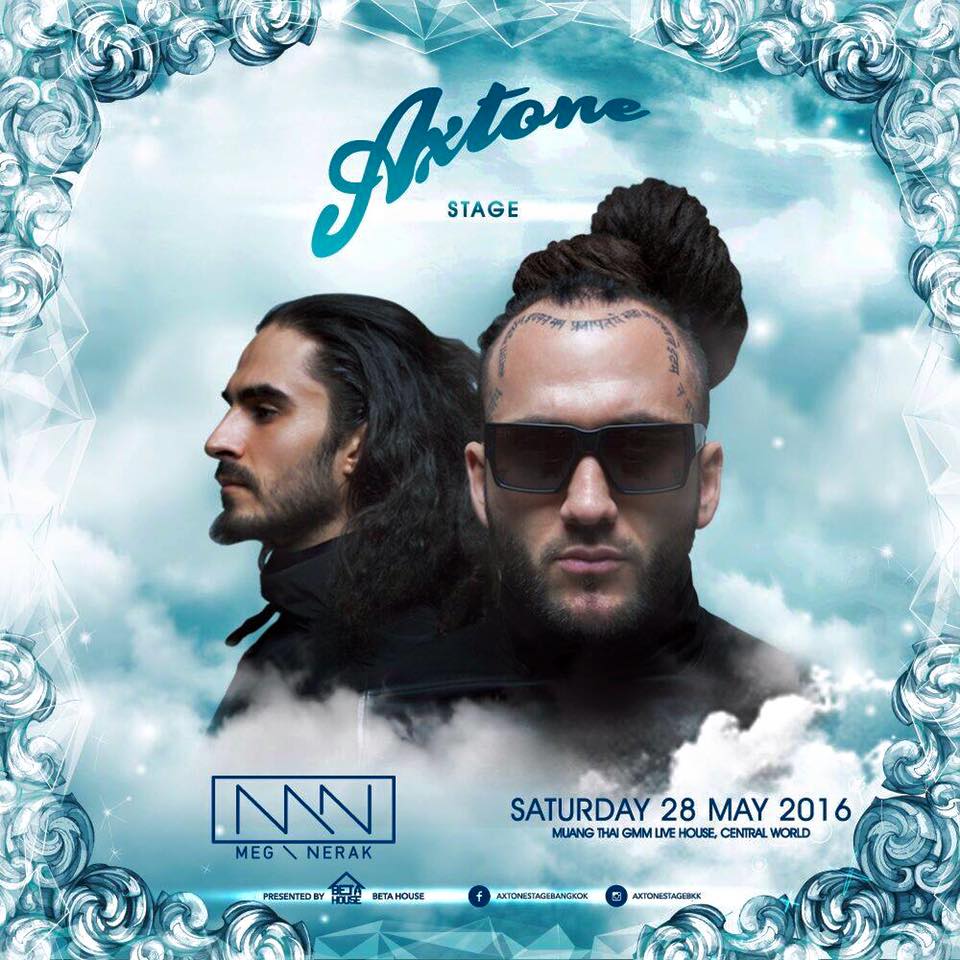 Both successful DJs in their own right, M.E.G. & N.E.R.A.K. joined force in 2012 to form a powerful duo that would take the world by storm. Having either being supported or played alongside the likes of Hardwell, Afrojack, and other superstar DJs the Russian duo cannot wait to bring the house down with their electro house sounds.
Check out some of his hits below:
M.E.G. ft. N.E.R.A.K. ft. DEMIRRA - TURN THE VOLUME UP
M.E.G. & N.E.R.A.K. - Renaissance
Винтаж и M.E.G. & N.E.R.A.K. - Я верю в любовь

There is nothing more to think about, witness the Axtone Stage Exclusive Live in Bangkok on Saturday 28th May, 2016 at the GMM Livehouse in Central World for yourselves in all its glory. Prepare yourselves to be a part of the night and come dressed in white. Tickets are still available online at eventpop and are priced at THB 2,200 per ticket.
However, if you decide you want to go to the concert and rest easy, booking yourself a night at the Centara Grand Hotel at Central World for about THB 4,400++ will get you 1 free ticket into the event. Pretty good deal if you ask us. So put those dancing pants on, you would not want to miss this event before the stage picks up and makes a grand appearance at Tomorrowland in July this year. For more information, check out the Facebook page.