5 Reasons Why WARP Music Festival Will Take You Out of This World
Posted June 20, 2016
When WARP Music Festival was held for the first time last year, it gave Thailand's first beach dance music festival the proper liftoff that it needed. There were so many raving reviews that made WARP Music Festival the talk of the town and in a galaxy of their own. Coming off of a great year however, meant the second edition of the festival had a lot to live up to. But knowing the organizers, Rave Nation, we are already shaking in excitement.
Once again, WARP Music Festival has partnered up with Chang Music Connection, and they are ready to get "lost on Jupiter" with you. Blasting off on 25 June 2016 at the private beach of Saisawan Beach Resort in Pattaya City (aka WARP Base Station), we recommend that you jump into your spacesuits and fast!
There are so many reasons why we will be there, but these are our top 5 reasons why YOU need to go:
1) marshmello is the elephant in the room!
Let us get it out of the way – marshmello, yes THE marshmello! – the DJ who brought what arguably may have been the best DJ set to hit Ultra Miami this year is landing at WARP Music Festival. This will mark marshmello's first ever show in Thailand, and it is definitely something EVERYONE is looking forward to.
The mysterious DJ whose identity has been kept on the down-low since he exploded on to the scene will be out in force to lead his #mellogang in Thailand to new heights. Expect him to show up with his all too familiar marshmello head, his white attire to match, and the killer beats to make sure you will be "Keeping It Mello" all night long.
2) There are TWO stages!
You heard that right, there will be 2 stages at WARP Music Festival this year! The Main Stage will be welcoming all the international DJs on the roster including the headliner marshmello as well as juggernauts like Valentino Khan, Lookas, Matisse & Sadko, and Morgan Page. Expect some real dirty trap music to be blasting this time around. We will not be one bit surprised if we see a lot of getting down and booty shaking in the Main Stage area.
If that is not your music of choice, there will also be a Techno Stage, which will be accommodating some very familiar names like local favorites Sunju Hargun, Coran, and Atma among others. There is surely something for everyone!
3) Hands in the air, toes in the sand!
As the first festival truly to be situated on the beach in Thailand, WARP Music Festival gives you the opportunity to dig your feet into the sand, really put your hands up to the sky, and feel that sea breeze on your face.
The sensations you will feel from the music will only be enhanced by the beach experience and it is without a doubt a gateway to euphoria. Look out for the flares and fireworks that should also be out in full force. If you ask us, there is no better way to experience some quality music.
4) 6 different parties over 30 hours!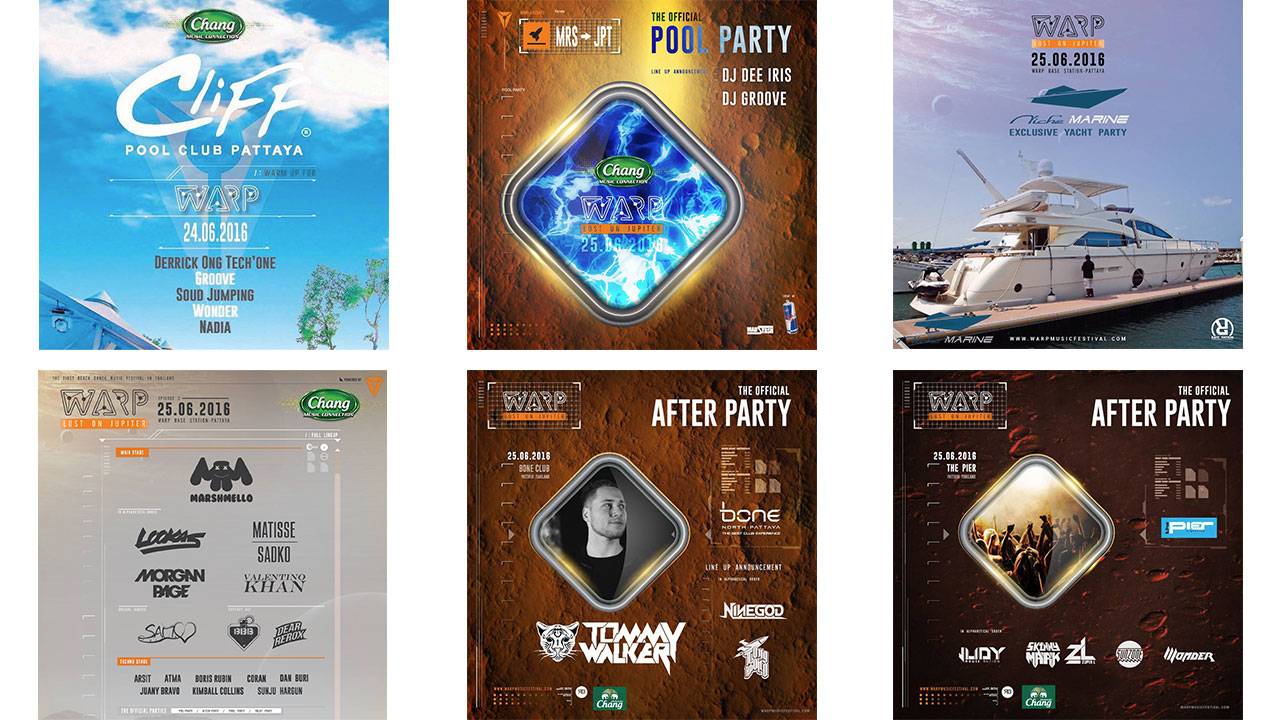 You will quickly learn that you do not have to be Elon Musk to develop your own SpaceX program. WARP Music Festival has you covered with a schedule that will take you around the galaxy to 6 different parties within a span of 30 hours – including the Pool Party, the Infinity Yacht Party, the Official Pre-Party, and the Official After-Party alongside the main event.
Once you are done with all the raging, you can also choose to kick back as WARP Music Festival has also partnered up with Cartoon Network Amazone so that all the party people can enjoy a buy-one-get-one-free deal on the water park entrance tickets! Talk about a deal!
5) Dress up and be part of the festivities!
Many festivals have DO NOT lists – and rightly so for safety reasons – but WARP Music Festival goes one better by coming up with a massive MUST DO list, and we are impressed. Other than encouraging attendees to be happy, rave, scream, get on your friends' shoulders, wear sexy beach outfits, they have also encouraged everyone to come party decked out in "space-themed outfits"!
From what we know about WARP Music Festival last year, this is your chance to really shine. There are a lot of people who dress up so be part of the fun and come with your best creative designs. Surely, a sexy alien will attract some friendly attention!
Any one of these reasons should be enough alone to make your space suits tingle. With WARP Base Station being only an hour and a half drive away from Bangkok, distance should not be an excuse for anyone not to go.
Tickets are flying out fast – you can buy them at AllTicketThailand or in any 7-11 store in Thailand. Regular tickets are THB 1,900 and VIP tickets are THB 3,000. Take a tip from us, if you buy your tickets at 7-11, you can get a 10% discount if you also buy 2 bottles of Chang Drinking Water (600ml).
So time to check your own gravity – it is time for us to feel the madness. For more updates and information, follow WARP Music Festival at their Facebook page.