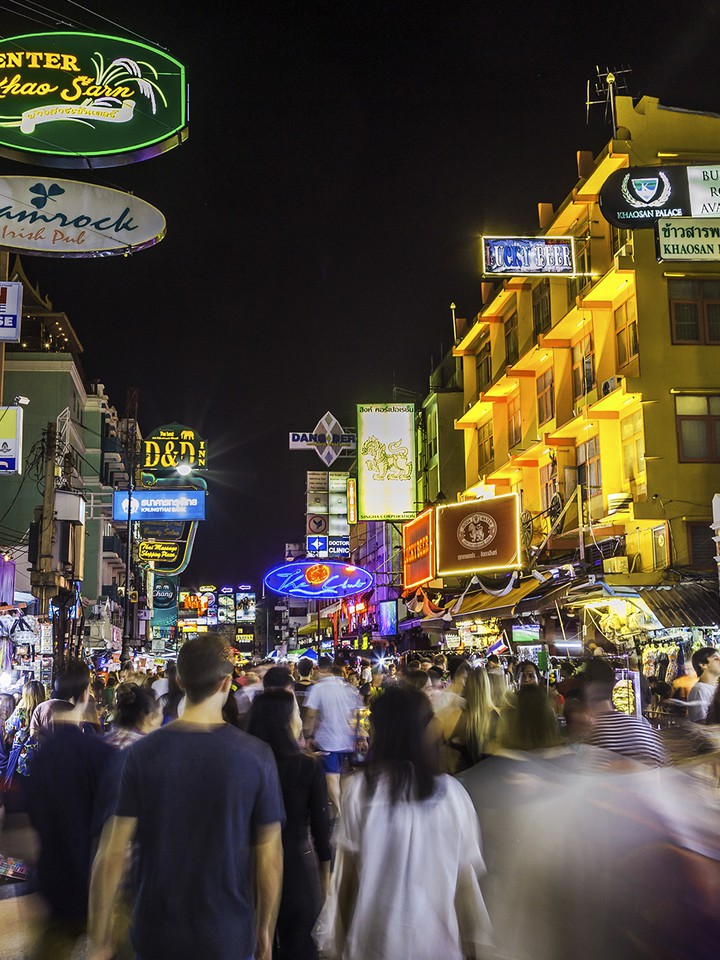 Phra Nakhon Clubs & Bars
Phra Nakhon - a bustling party hub and nightlife landmark in Bangkok's epicenter - is one of the most famous destinations among local and foreign tourists. Among the district's hottest spots is Khaosan Road. On both sides of this legendary street are all kinds of local dives, clubs, pubs, bars, and nightlife venues.

The music can range from chill & groovy live bands to energy-packed dance beats. Plus, as international tourists often visit Khaosan Road, it's the perfect setting to learn new languages and cultures with some new friends from overseas.

See where get the best dining, drinking, and party experience on our top picks of can't-miss clubs & bars in Phra Nakhon. A combo of vibrant settings, lively music, and the attractive crowd is guaranteed to land a few of these venues on your favorite list.
Featured Clubs & Bars
Must-visit places in Phra Nakhon
Brown Sugar is the famed, long-standing jazz bar first established on Sarasin Road. It later moves to…

Bars

Hippie De Bar, the ultra-hip bar on Khao San Road, takes you back to the time of flower power with its…

Bars

Mulligans Irish Bar is a spacious bar that stands on Khaosan Road. There are plenty of seating areas…

Bars

Sala Rattanakosin Eatery and Bar is a bar/restaurant located in the luxurious hotel of the same name.…

Bars

THE CLUB KHAOSAN opened in 2007 on Bangkok's Khaosan Road and has quickly become the most vibrant nightclub…

Clubs
More Clubs & Bars
Discover places in Phra Nakhon
Above Riva Rooftop Bar & Restaurant sits atop Riva Arun Bangkok in Tha Tien, alongside the Chao Phraya.…

Bars

Adhere 13th Blues Bar is a unique bar located on Samsen Road. The classic decor provides a casual and…

Bars

At-Mosphere Rooftop Cafe is the open-air rooftop bar & café sitting on top of The Secret Service Hotel…

Bars

Bar Next Door, located on Khaosan Road, brings revelers a party scene unlike anywhere else. Housing…

Bars

Bua Sa-Ard is a Thai-style bar located on Rambuttri Road inside Bangkok's famous Khaosan area. Adapted…

Bars

De Commune, sitting in Thonglor's Liberty Plaza building, is a brand-new hangout that boasts a 'live…

Bars

Fu Bar Khaosan, located in Soi Rambuttri, is all about live music and unwinding. The bar offers a space…

Bars

Get rid of your suffering and enjoy a night at Hubpital Bar, the newest bar near Khaosan Road. As the…

Bars

In Love Bar & Restaurant - a hip rooftop bar in Thewet - lets you take in the scene by the side of the…

Bars

Jazz Happens - an ultra-hip jazz bar - sits on the side of Phra Arthit Road. This indie bar is where…

Bars

Jham Jun Bar & Bistro is a funky little bar on the rooftop of Fortville Guesthouse on Phra Sumen Road,…

Bars

Khaosan 1986, located on Khaosan Road, is a live music bar known for its unique decorations and style.…

Bars

Molly Bar is a cozy, super-hip bar in Soi Rambuttri near Khao San Road. Seatings are spread across two…

Bars

M.T. Rollin Club combines a café, restaurant, and bar in one space with old-fashioned vibes. The vintage…

Bars

Phranakorn Bar and Gallery deserves its own category for the experience it offers. Standing on Ratchadamnoen…

Bars

Tai Soon Bar transforms an old Chinese-style building into a retro bar nestled in Bangkok's Old Town…

Bars

The One @Khaosan stands out among all others on Khaosan Road. The sleek design and snazzy arched wooden…

Bars
Introducing Top Lists
Discover hundreds of unique places