5 Bangkok Streetwear Stores That Will Keep You Looking Fly
Posted July 31, 2016
Bangkok is one of Asia's most fashionable cities. The world's most glamorous high fashion brands have set up shop and have become an integral part of Bangkok's many lifestyle shopping malls.
There is even a twice-annual Bangkok Fashion Week. However, Streetwear and Sneakers enjoy increasingly high popularity and a growing number of specialized stores cater to their enthusiasts.
We have compiled a list, in no particular order, with 5 of the best streetwear and sneaker stores in Bangkok.
Sneaka Villa
Inspired by American street culture, Sneaka Villa was established to spread the street wear industry here in Thailand. Their lifestyle-series clothing is influenced by art, music and originality.
Unlike most stores, Sneaka Villa does not have large quantities of every collection. This is because they want to reflect the individuality of their fan-base through their unique art. If everyone wore the same shirts or pants, where is the exclusivity?
Sneaka Villa's mission statement is simple, yet strong. To them, "Support the Locals" is not just a phrase. Constantly on the lookout for innovators, they bring in local talent for collaboration deals.
The Sneaka Villa x Drek collection is an example of their limited and exclusive collection. Sneaka Villa yells "local".
To see their latest work and collaborations, check them out between Sukhumvit soi 32 and 34. For more information, be sure to visit their Facebook or website.
Carnival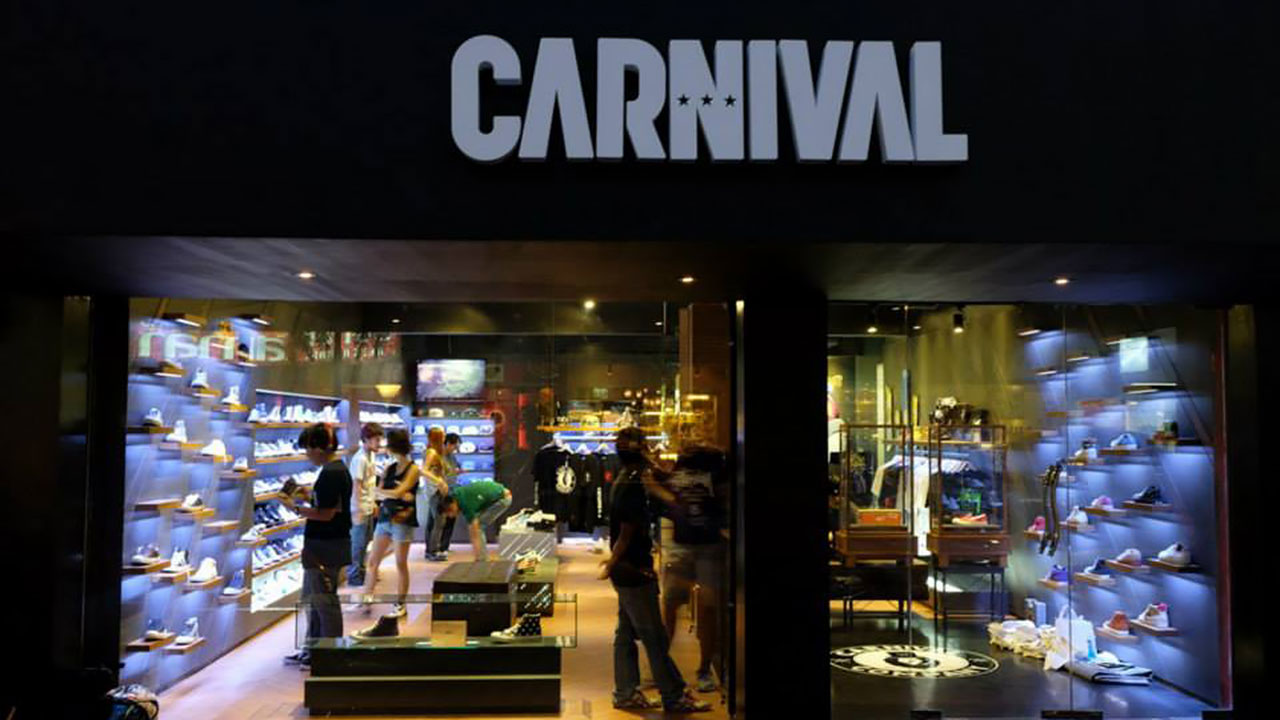 If you're into streetwear, there is no doubt that the name Carnival rings a bell. Established in 2010, Carnival has slowly crawled its way up the fashion ladder through the utilization of social media and online marketing.
Focusing primarily on sneakers, Carnival is an authorized dealer for many major brands and is one of the only stores that sell limited editions sneakers such as the Adidas Yeezy Boost and Adidas NMDs at retail price. This makes it the go-to store for sneaker heads.
Although sneakers are Carnival's strong point, it does not only limit itself to shoes. There is a wide variety of clothing ranging from Japanese brands to local Thai fashion brands. However, if your main goal is to grab those limited edition shoes, be prepared to set up camp in front of their store a week ahead of launch date.
Carnival has 3 branches: at Siam Square Soi 1, at Siam Square Soi 7 and at Central Ladprao. For more information, be sure to visit their Facebook or website.
Preduce
Preduce started off as a skateboarding company that became so popular it put Thai skating on the map. With followers both internationally and locally, it is known as the home of Bangkok skate and street culture.
While Preduce is considered a skateboard store, it carries a variety of clothing lines from their own brand as well as local designers that showcase/make t-shirts and accessories.
Other popular brands include Vans, HUF, Nike SB, and Converse.
Preduce can be found at Siam Square Soi 1. For more information, be sure to visit their Facebook or website.
Knock BKK
Established in 2015, Knock BKK can be considered Bangkok's new haven for cult kicks. Thai hip-hop artists Khan and Way of Thaitanium are amongst the owners of this recently established venue.
Knock BKK may not have diversity in terms of clothing apparel, but their colossal range of Nike Air Force and Jordans to popular brands like Adidas, Reebok and Puma will definitely satisfy the sneaker head in you. There is even an option to consign your sneakers with them for 20% of the price sold.
The interesting thing about Knock BKK is that it is not only a street wear store, but it doubles as a fashion store and restaurant! Located in a three-story shop-house, the bottom floor serves Western comfort food with a mix of French and American influences.
Their shoes and clothing can be bought online and sent straight to your doorstep within two days, or you can find them at Thonglor between soi 15 and 17. For more information, be sure to visit their Facebook or website.
Outcast Store
Prizing themselves on the authenticity of their products, Outcast store is not a store to be missed. Being the authorized dealer and retailer for over 40 brands, they import products worldwide from France, the United States, Korea and many more. Among the more popular brands, Nike, Asics, Adidas and Bape are also sold.
The great thing about Outcast is that it doesn't only focus on international brands. They often prioritize and support local artists and designers by serving as the agent and distributor for many Thai street brands.
Outcast store sells everything from belts, sunglasses, to tees, jeans and even art. Upon visiting their store, you'll find limited and rare items exclusive to Outcast.
To see their mixture of limited and rare items exclusive only to their store, visit them at Siam Square Soi 7. For more information, be sure to visit their Facebook.