Shopping Under the Moon: 7 Night Markets Around Bangkok
Posted December 19, 2015
Bangkok in the daytime is way too hot to go outdoor shopping, and most department stores can be way too expensive for some of us. This is where Bangkok's night markets come into play. Where can you find tasty local food, the latest fashion clothes, a lively crowd, live music and nearly every accessory you can imagine at one spot? Of course, at Bangkok's famous night markets. Below we curated a list of seven night markets you should definitely check out.
#1

ARTBOX

Nearby Benjasiri park, BTS Phrom Phong Exit 6 (see map)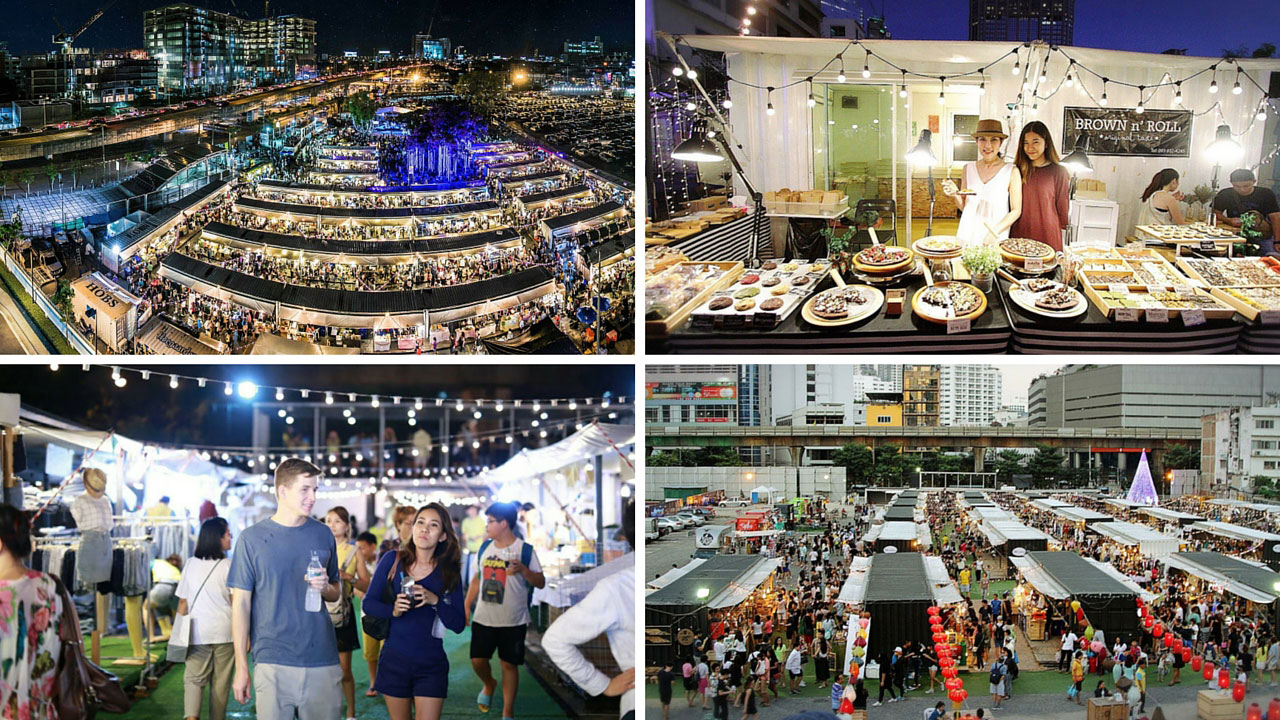 If you're single, you might not want to miss this market. The concept of ARTBOX Thailand for December is "Single Festival". Bangkok's container flea market is decorated with fake grass on the grounds and features refurbished shipping containers for the stores. The market offers many products designed by locals from clothes, accessories to home decorations. There are plenty of food and drink stalls. Be sure to follow ArtBox on Facebook and Instagram for latest locations and concepts.
Opening Hours: Friday - Sunday from 15:00 to 24:00

#2

Train Night Market Ratchada

Esplanade Shopping Mall, Thailand Cultural Centre MRT (see map)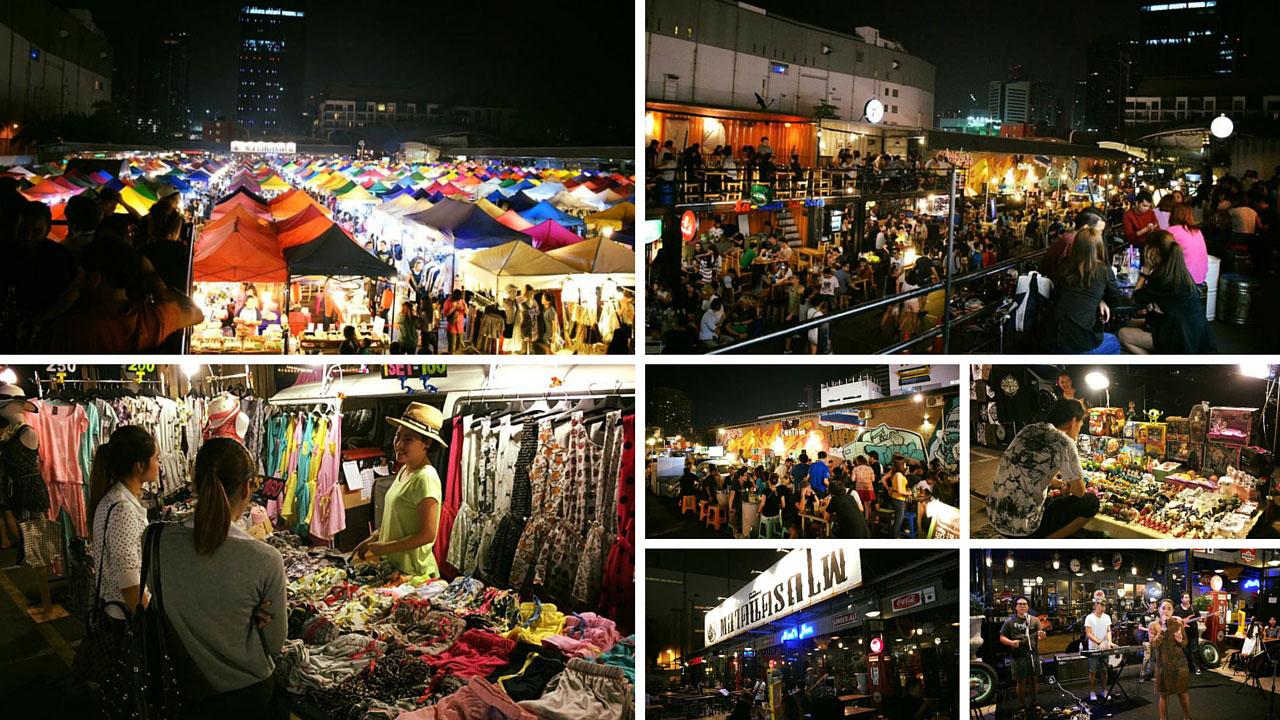 Train Night Market or "Talad Rot Fai" is one of the most popular markets in Bangkok, and just recently opened a second branch in Ratchada. The newest installment follows the footstep of its big brother and features the same concept as the first branch in Srinakarin. The market has endless rows of stalls selling just about every item imaginable. Clothes, bags, jewelry, collectibles, artworks, toys, animals, home décor items – you'll find 'em all here. The market also provides a restaurants and beverages zone where you can chill out with your friends while sipping your favorite cocktails and listen to live bands.
Opening Hours: Tuesday - Sunday from 17:00 to 01:00

#3

JJ Green

Kamphaeng Phet 3 Road, Mo Chit BTS (see map)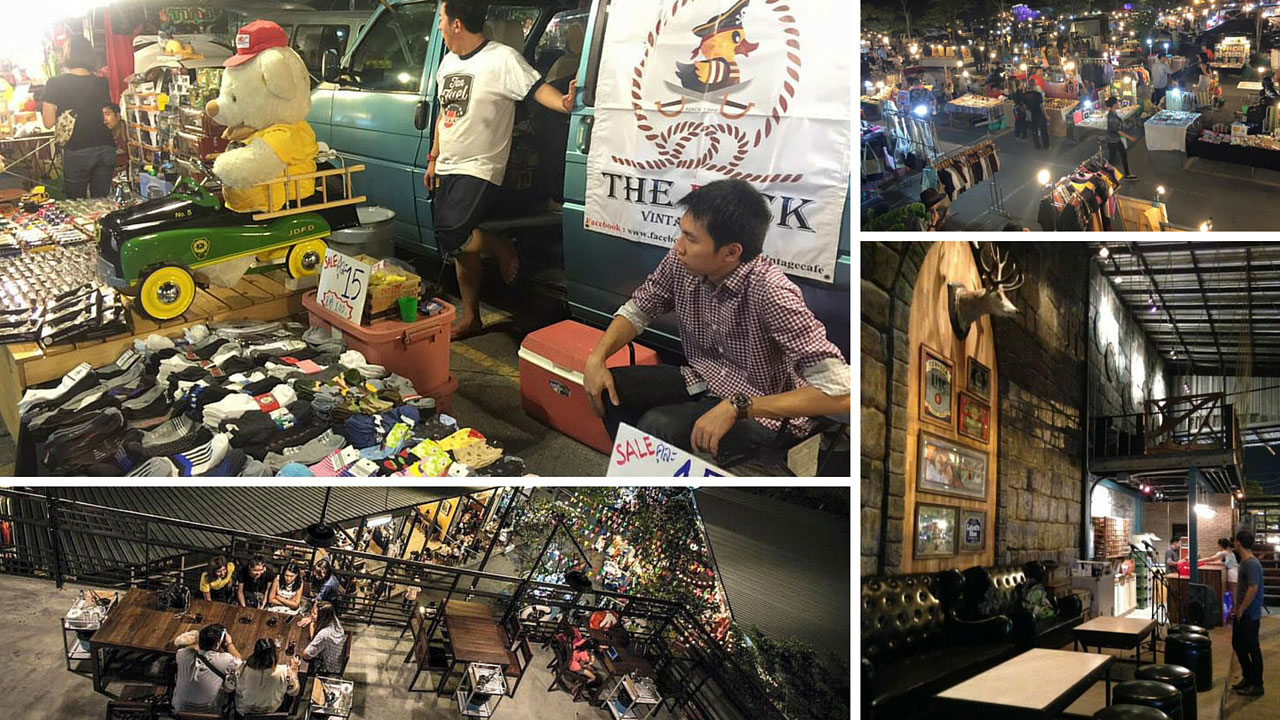 JJ Green or Chatuchak Green attracts a lot of youngsters who like to chill out with their friends after an extensive shopping trip. The market occupies a huge area of more then 21 rai (33,600+ sqm), and is within walking distance to the more well-known Chatuchak weekend market. If you like vintage stuff, first and secondhand clothes, accessories, and home decorations, this is the place for it. Besides the usual shopping options, the market features everything from Thai street food to trendy burger joints and plenty of bars, some of them elevated, providing you a pleasant view over the hustle below while enjoying your favorite dishes and drinks.
Opening Hours: Monday - Wednesday from 10:00 to 21:00 and Thursday - Sunday from 10:00 to 02:00

#4

Classic Car Market

Opposite of The Walk, Kaset-Nawamin Road (see map)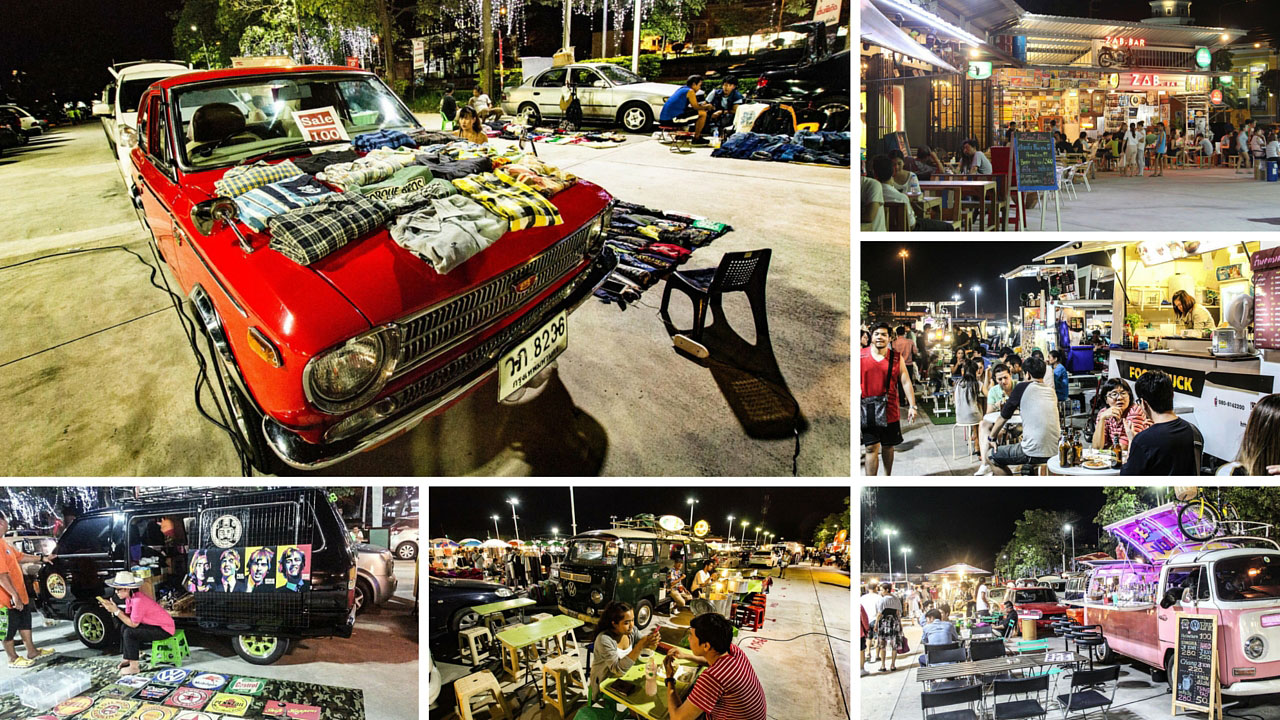 With almost the same concept as Train Night Market at Ratchada, Classic Car Market or "Talad Rot Boran" is the perfect place if you like vintage cars or motorcycles. You will find a lot of retro stuff at this market, ranging from old imported and local vinyl records to secondhand knickknacks. If you're a car lover, this place will provide you perfect subjects to take some beautiful photos. The market features many different restaurants and food trucks to satisfy your hunger.
Opening Hours: Tuesday - Sunday from 15:00 to 24:00

#5

Liab Duan Night Market

Ramintra road, Opposite of Tawandang German Brewery (see map)
If you live a bit out of town, you might want to visit this market. The stalls at the market are orderly placed, giving you some space to breath. The market occupies over 16 acres with plenty of parking space available. The stalls at the market sell a variety of products ranging from antiques, accessories to all kind of clothes. There are several food and drink stalls spread over the market area.
Opening Hours: Tuesday – Sunday from 18:00 to 02:00

#6

Siam Square

Under Siam BTS (see map)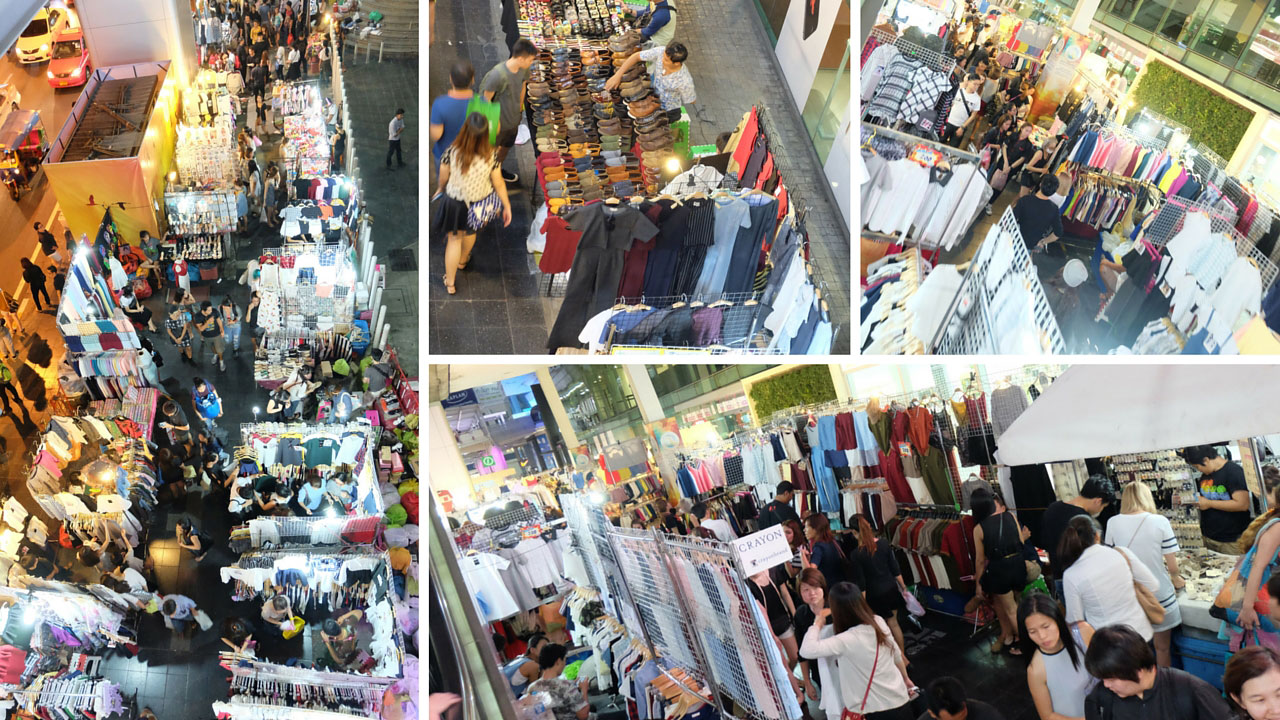 Siam Square offers lots of small stalls and shops in the streets around it where locals and tourists are looking for the best bargains at one of the tiny stalls selling a wide range of things. Siam Square Night Market offers you a great deal for the buck for clothes, bags, shoes and accessories (compared to the brand name shops in the malls around the area). Whether you're looking for the latest fashion or a work dress, you can find them here.
Opening Hours: Tuesday - Sunday from 19:00 to 22:30

#7

Saphan Phut

Saphan Phut area (see map)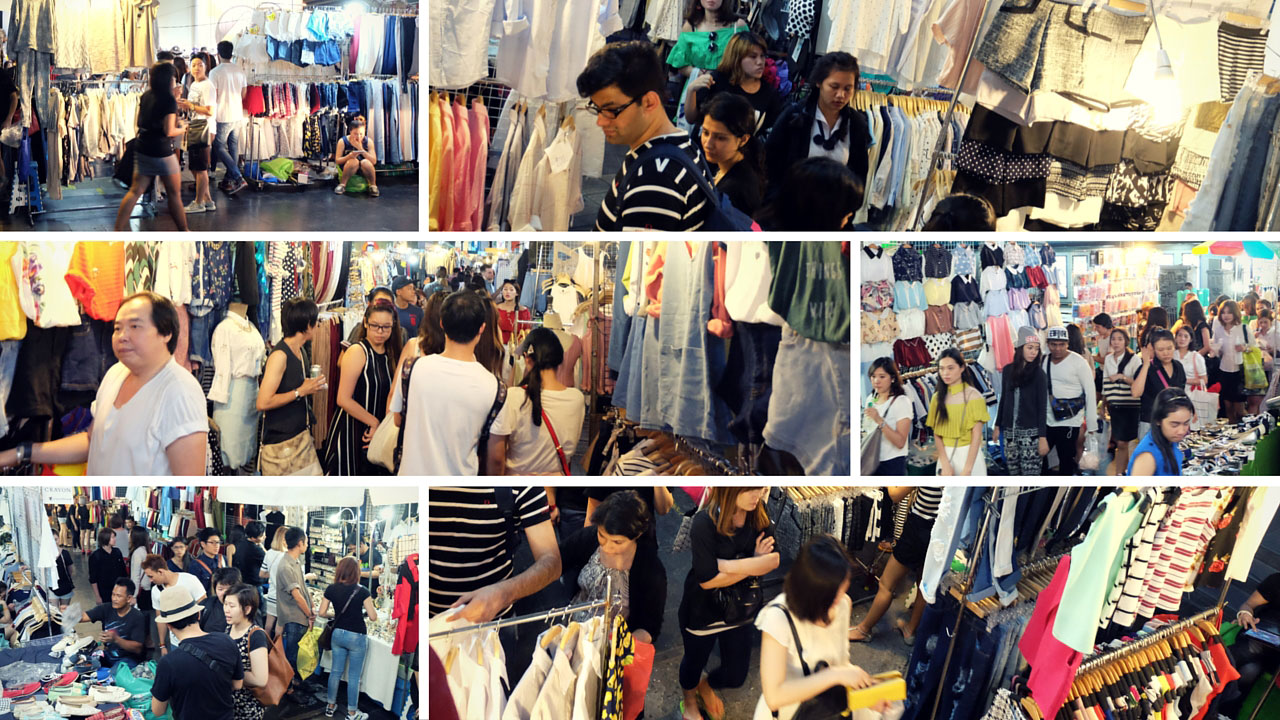 Saphan Phut is one of the well-known night market especially for Thai teenagers. You will find a variety of products ranging from new and secondhand clothes to stylish accessories and CDs/DVDs for those who are on a tight budget. There are also many street artists who will draw a cartoon version of you. And if you're feeling hungry while skimming through all the shops, you can find a good selection of street food around the area.
Opening Hours: Tuesday - Sunday from 19.00 to 02.00