The legendary MTV Cribs series has shown us that celebrities not only own huge sneaker collections, they also have awe-inspiring sneakers closets to show them off. Do you want it? Of course! Can you afford it? Most likely not!
The average sneakerhead can only dream of such custom builds - after all, sneakers itself are costly already – and the proper presentation of the sneaker collection remains an unfulfilled wish. But, does it have to be that way? The answer is No!
Let's get creative! Based on an awesome idea originating from an article on the IKEA Hackers website, we have built a DIY sneaker shelf, complete with LED lights illumination. It's stylish, holds 32 pairs of sneakers and comes at a reasonable cost.
It's completely made of IKEA products, repurposing a shelving unit and kitchen shelf inserts, combined with LED lighting strips and some cable trunkings to hide away the cables.
The DIY sneaker shelf
Depending on your IKEA assembly skills, you can set it up in 2-3 hours. The size of it is 147cm x 147cm, with a depth of 39cm. The total cost comes down to 13,333 Baht.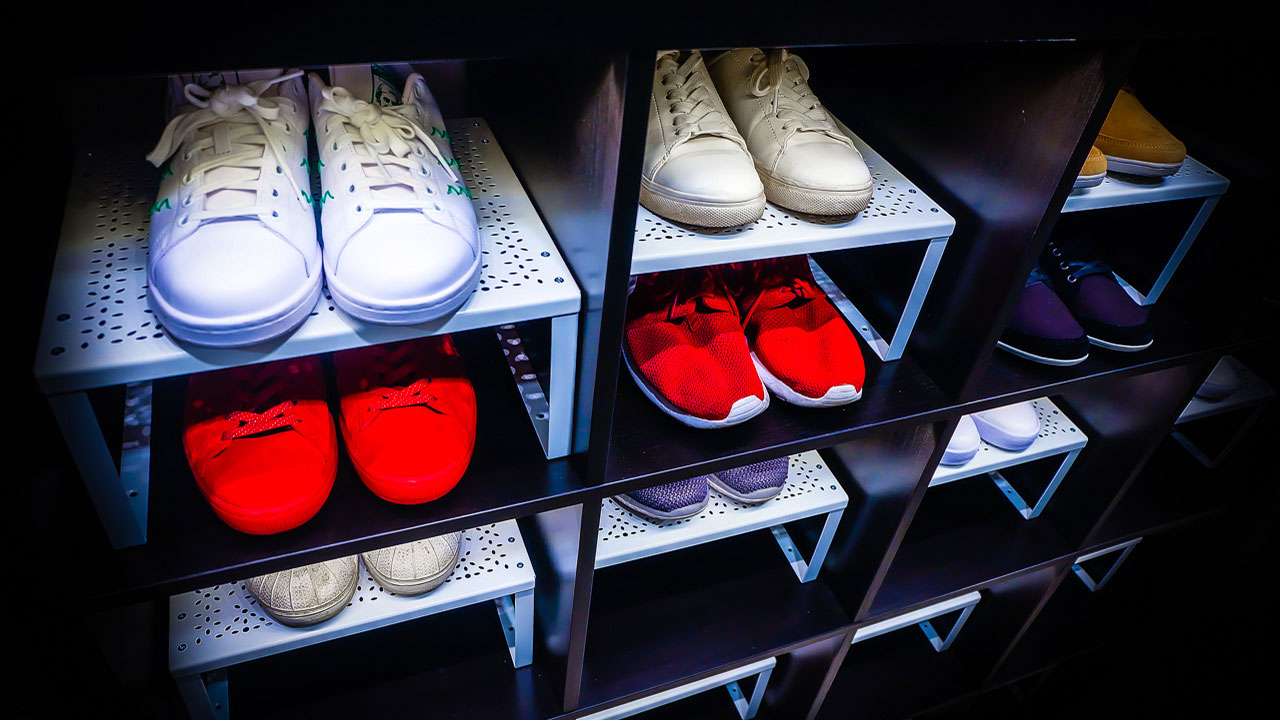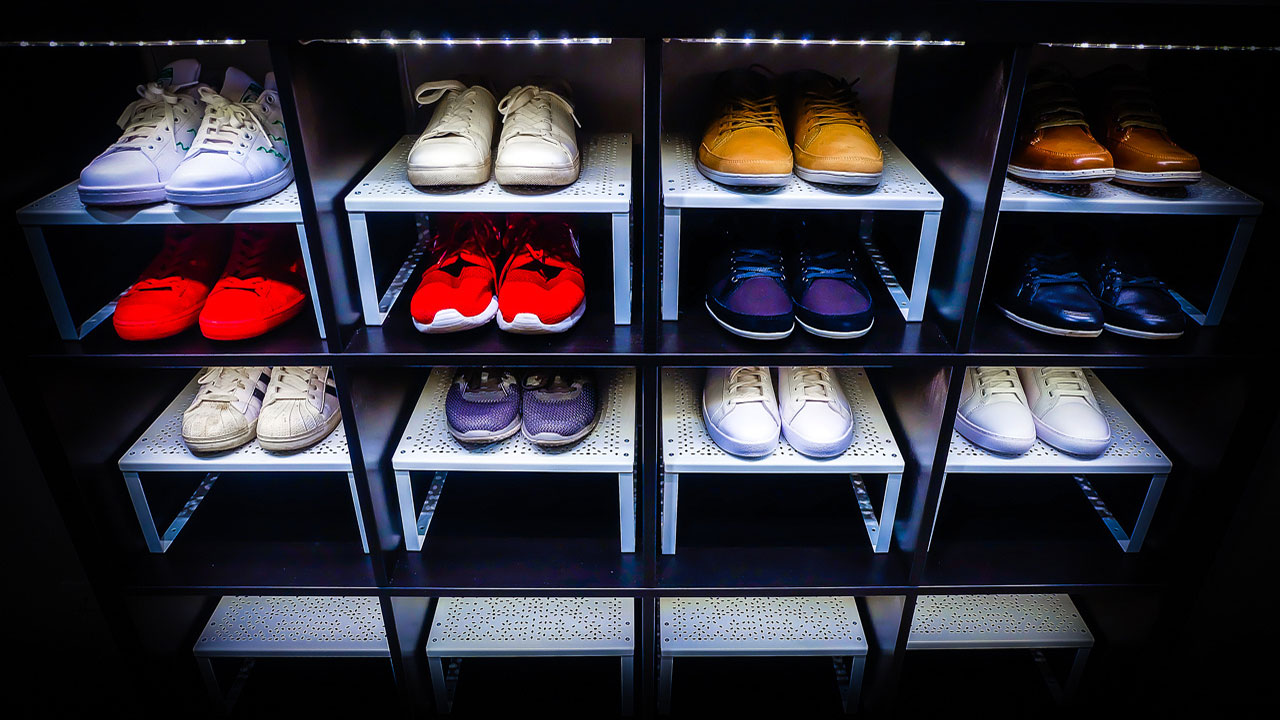 The Shopping List
Your shopping list looks the following:
1x KALLAX shelving unit, black-brown [Article Nr.: 002.758.67]
16x VARIERA shelf inserts, white [Article Nr.: 501.777.27]
4x DIODER lighting strip sets, white [Article Nr.: 601.165.40]
1x MONTERA cable trunking, white [Article Nr.: 501.732.39]

All items mentioned in this article are available and usually on stock at IKEA Bangna, at MEGA Bangna. You will come across the shelf inserts at the kitchen zone, the lighting strips, and the cable trunkings are located at the lighting area.
The shelving unit itself you will find at the storage area, shortly before the cash register. (Last time we checked it was at Rack 02, Section 09.)
The cable trunkings are adhesive and will stick nicely to the shelf. One pack of cable trunkings contains 6 pieces. You can cut them down into equal pieces of around 35cm. You will get 18 pieces; you will need 16 of them.
Each LED lighting strip unit will need a power socket; you will need a power strip with at least 4 outlets.
If you want to add mobility to the sneaker shelf, then you can add according castors. You will need two of those, which will cost you 1,000 Baht. [Article Nr.: 802.886.58]
Some helpful advice
There are lots of screws to screw in: 12 for the shelving unit, and 128 (!!!) for the shelf inserts (8 small screws per shelf insert). From experience, we have two recommendations: first of all, assemble the sneaker shelf as a team – one holds the items, the other screws in the screws, secondly, use an electric screwdriver.
If you don't have an electric screwdriver yet, you can get one at IKEA. There is one which is called FIXA - it's cordless, comes with 10 screwdriver bits, can even be used for simple drilling works, and costs only 990 Baht. It's great price/value. [Article Nr.: 502.142.06]
There is a delivery service, and even an assembly service available. For more information about that talk to the IKEA staff at the delivery and assembly service counters or call their hotline at 088 088 5038-9.
IKEA Bangna is open daily from 10am to 10pm. If you are driving there yourself, MEGA Bangna provides parking space for up to 8,000 cars.
If you prefer public transportation, then there is a free shuttle bus service between BTS Udomsuk and IKEA Bangna, with up to 4 connections each hour. The first trip to IKEA Bangna leaves on 8am, the last trip back to BTS Udomsuk leaves on 11pm.