Who would have expected that in the 40-degree heat, cycling would ever become a popular trend in Bangkok? In the past few years, there has been a remarkable increase in both, locals and expats, cycling withing Bangkok's city limits and seeing people on their bike fearlessly zigzagging through Bangkok's notorious traffic jam has become an everyday sight.
There even were national events such as "Bike for Mum" and "Bike for Dad" (to celebrate his majesty the king's 88th birthday) taking place in Bangkok, proving that anyone can be a cyclist.
It's good for the environment and great for your health, helps save money on the gas bill and last but not least it's in trend. Therefore, here are 5 of Bangkok's best bike shops (in no particular order) for you to get your ride on.
1) Pro Bike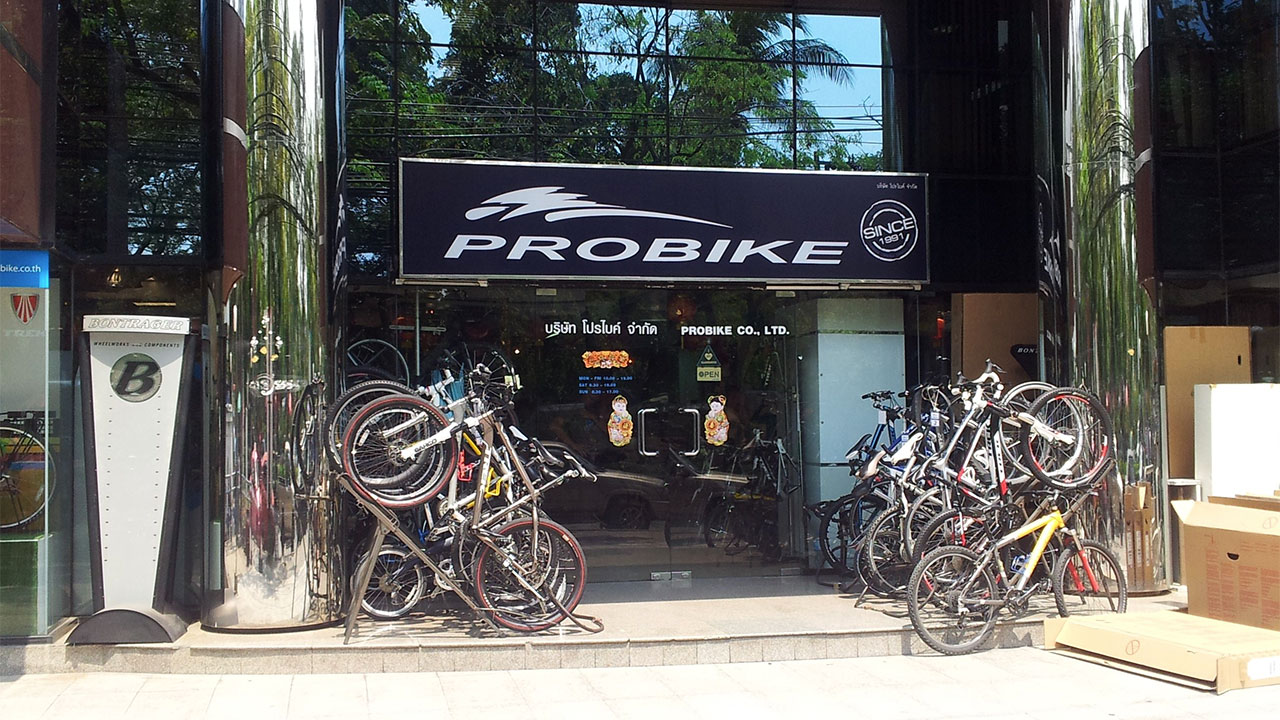 Pro-Bike has been one of the most popular and long-standing bike stores in Bangkok, renowned as the biggest importer of bicycles and accessories. Located on Sarasin road in the northern part of Lumpini Park, it couldn't hardly be more central than this.
The staff is well trained and ready to give you information about biking events and routes for you to get a head start!
Location: Pro Bike, Rachadamri Road, Soi Sarasin, Tel: 02-253-3384
For more information visit their Facebook or website
2) World Bike
World Bike is probably the second largest importer of bicycles and bicycle accessories. They offer a huge selection of all things related to bicycles here. Located at Ladprao area, the store specializes in Giant bicycles and according accessories. Renowned as the world's leading provider of high-quality bicycles, be sure to check out the Giant's bikes at World Bike store to find out about the type of bike for you.
Don't you worry if you are an amateur; the staff here is ready to assist you.
Location: World Bike, 629 Praditmanuthum Road, Tel: 02-944-4848
For more information visit their Facebook or website
3) ThaiCannasia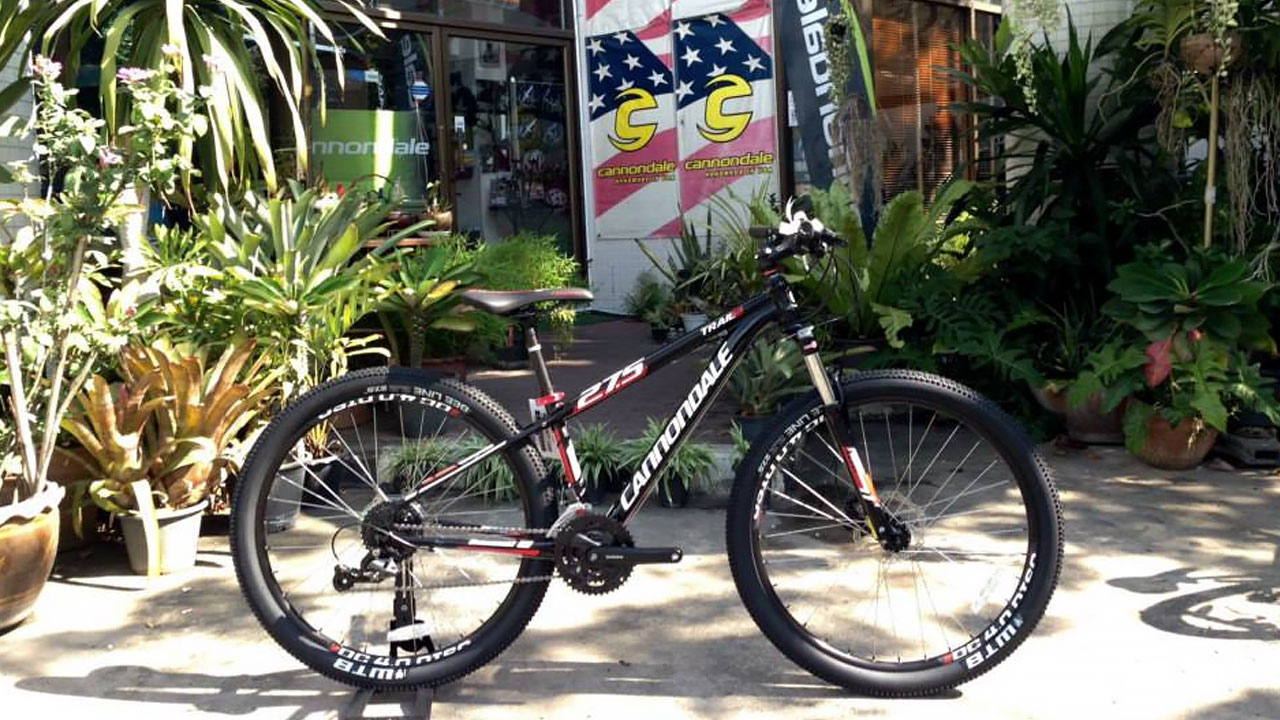 With branches in Thailand, Singpore and Indonesia, you can be sure that Cannasia is a store you can trust. They are the official distributors for Cannondale Bikes, clothing and accessories, Mavic & ZIPP wheels, helmets and much more! What makes the store special is that they have a proper online shop on their website. You can conveniently browse through their products online before visiting their actual store.
The store is centrally located in the small soi off of Sukhumvit 26 near Bumrungrad Hospital. They are also experienced in setting up bike tours in Southeast Asia!
Location: ThaiCannasia, 5/39 Soi Atthakrawee 1, Sukhumvit 26 Road, Tel: 081-567-8886
For more information visit their Facebook or website
4) Saengthong Bikes & Parts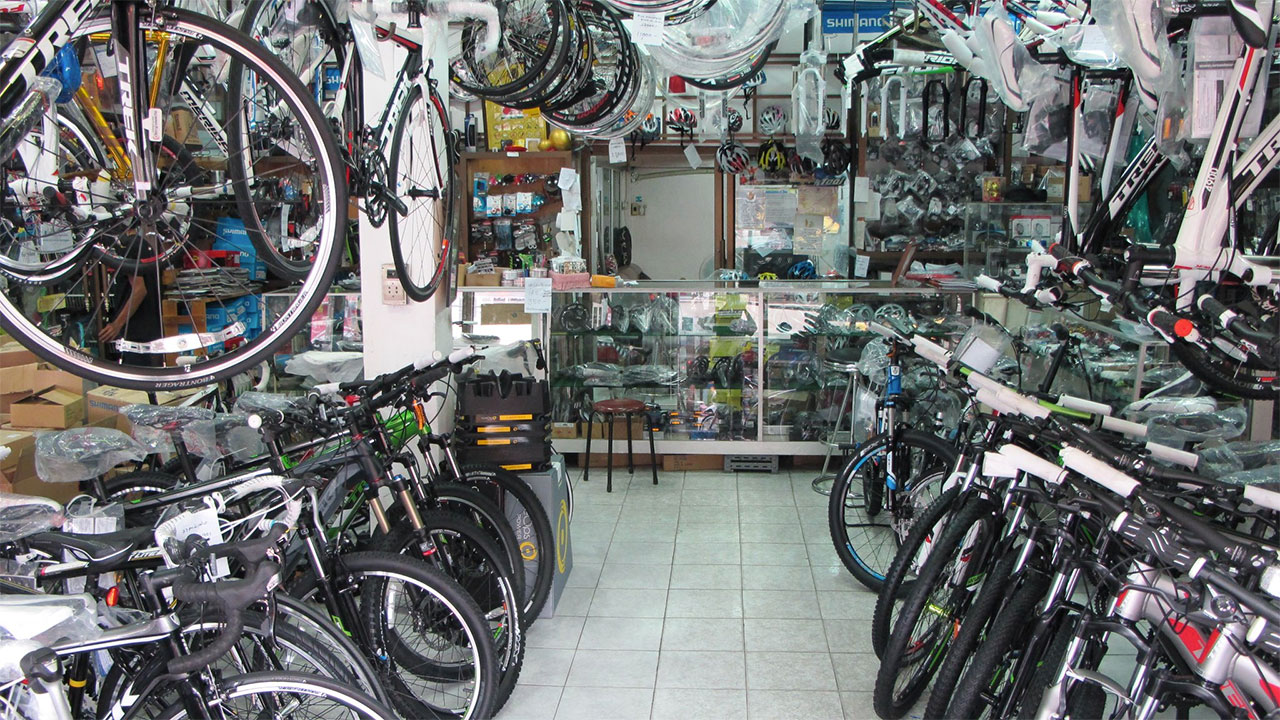 Speaking of a reputable shop in Bangkok, Saengthong store is probably on the top of the list. Located out of town in Nonthaburi, the store is frequently visited by both Thais and foreigners. They are specialized in mountain bikes.
The store is well worth the trip, as prices here are generally cheaper than at other places.
Location: Saengthong Bikes & Parts, 32/13-15 Pracharard Road, Tel: 02-525-1789
For more information visit their Facebook or website
5) SeaLee Urban Shop
Located on New Phetchaburi Road, the SeaLee Urban shop is for Bangkok's urban riders and those who loves the classical bikes. You will find things like leather saddles, cork handlebar tape, fenders and wooden-slat racks in this shop. They are one of the first people who introduced fixed gears to riders in Bangkok and this is probably a true lifestyle shop for bike enthusiasts here.
The store is well displayed and if you are lucky enough you will be greeted by Khun Sea and Khun Lee (Hence the name SeaLee). They have recently also opened a new shop on Chok Chai 5 road.
Location: SeaLee Urban Shop, 2044/1 Petchaburi Road, Tel: 083-334-0660
For more information visit their Facebook or website