Coming to Thailand can be difficult for many foreigners. Luckily, playing sports can be a great method in meeting new friends, and there aren't many pastimes bigger than the beautiful game of football.
Whether it be an 11-aside game or a random weekend kick-about, it can be played in any location. But not much compares to playing on an actual field, and many of those trying to reserve them will know that it is not the easiest of tasks.
To end your headache, here are 7 fields around Bangkok to fit your football needs.
1. Arena 10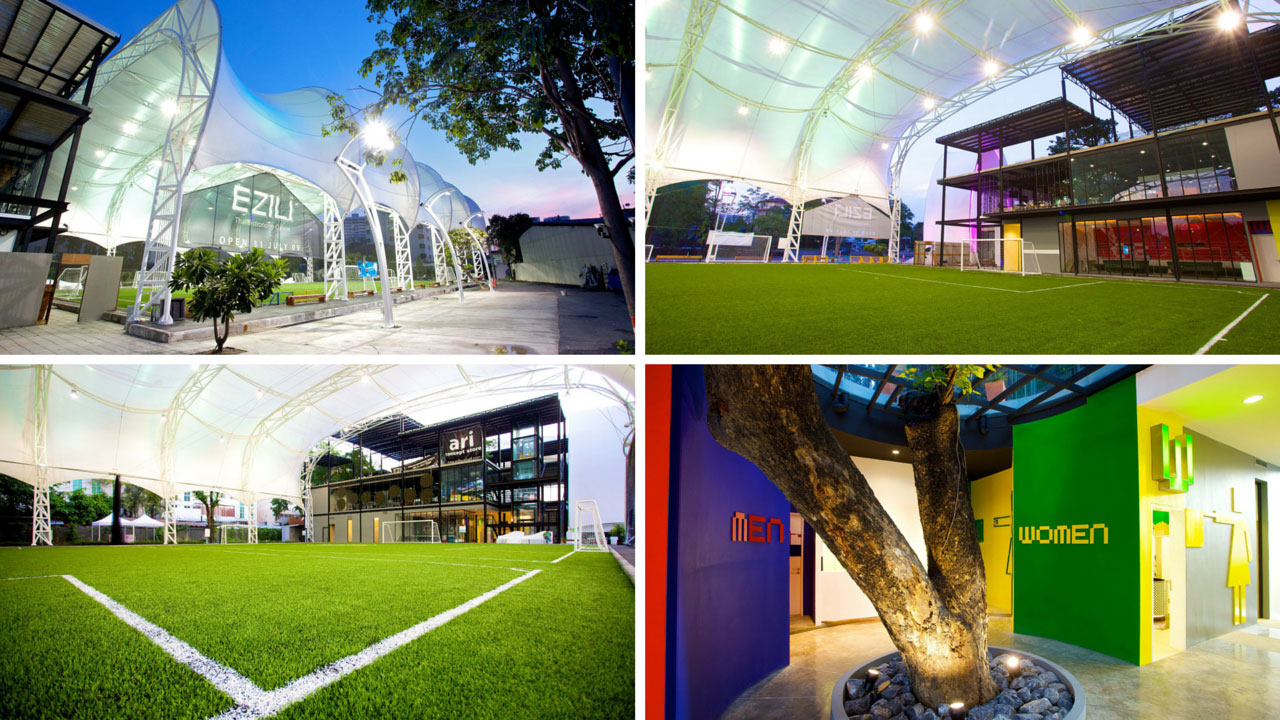 Arena 10, in Thonglor soi 10, is one of the most well-known football facilities due to its location in the heart of Bangkok's nightlife area.
But it's not only the location that makes Arena 10 a brilliant place for a kick-about, as the building has two seven-a-side astro turf pitches, with state of the art showers to make sure that you not only leave the field tired, but also clean and happy.
After your game, you can head straight over to one of the many bars surrounding the area, which includes Funky Villa, Demo, and DND.
There is one issue though, and that is Arena 10 is heavily booked in advanced, meaning that unless you are planning to play at an unorthodox time, chances are you may need to call a few weeks ahead of schedule.
For more information, check out their website at: www.arena10.com
2. Arsenal Soccer Schools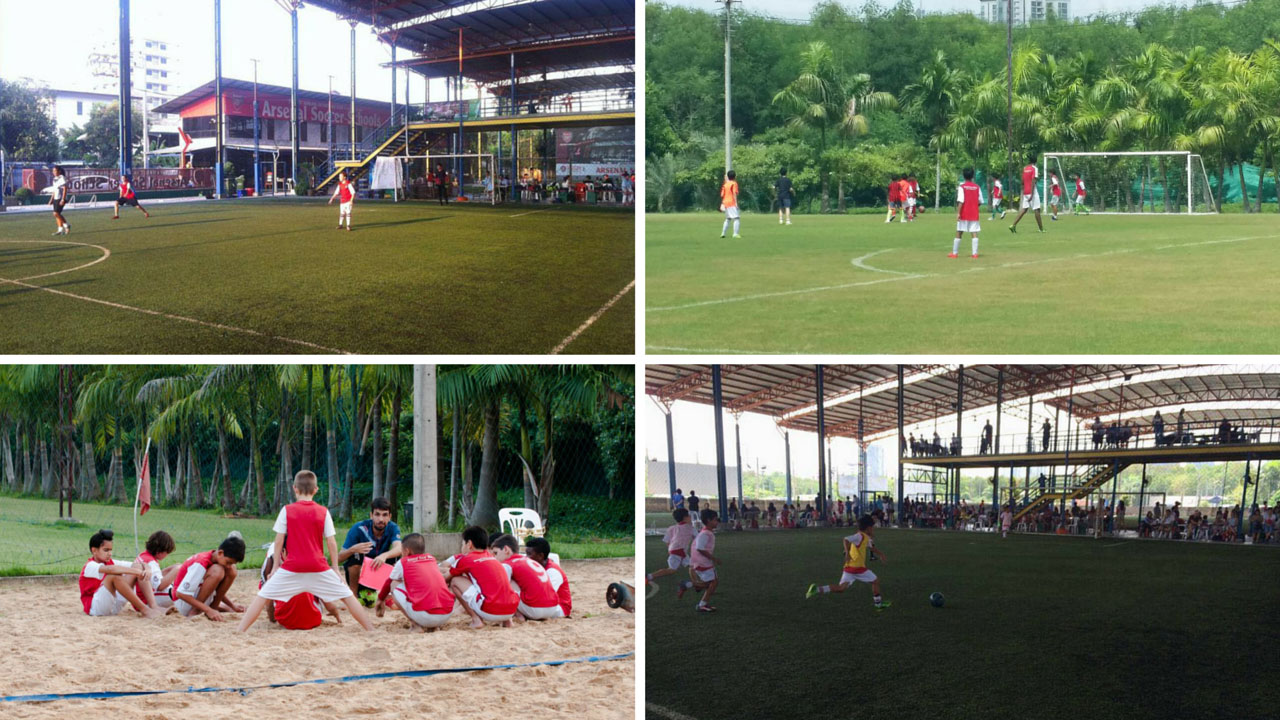 If you want a facility that has everything and is located close to the Bangkok metropolitan area, then Arsenal Soccer Schools is the place to go.
'Arsenun', as the locals call it, is around a kilomter off Prakanong BTS station in Pridi Soi 21. Don't be fooled by the small road leading to the field, as there are no less than five 5-a-side astro turf pitches, with 7-a-side and 11-a-side grass pitches to boot.
Great for holding events and tournaments, Arsenal also has a brilliant academy for kids to learn the beautiful game all the way from the ages of 3 till 18.
For more information, check out their website at: www.arsenalthai.com
3. Polo Football Park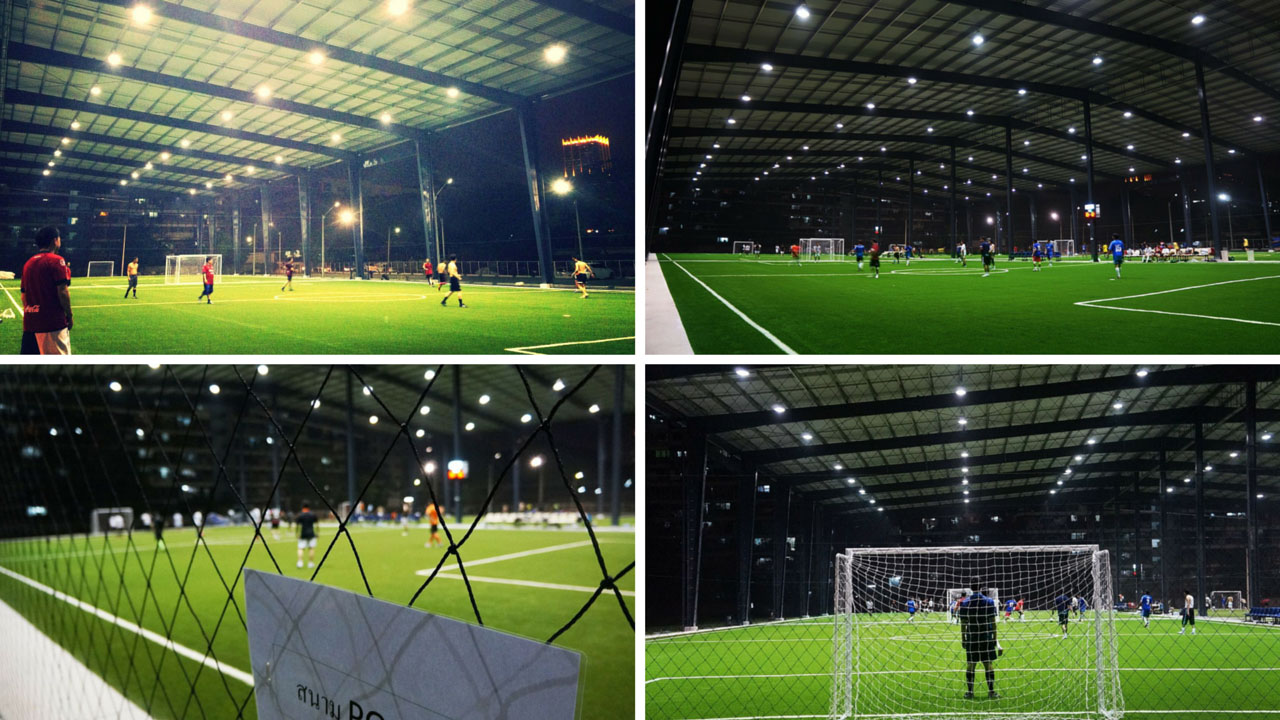 While Arsenal and Arena 10 are fields that favour those living or working near Thonglor and Ekkamai, Polo Football Park serves as the perfect football ground for those plying their trade or residing near Silom, Lumpini, and Siam.
Located a kilometer from the Ploenchit BTS Station on Wireless Road, Polo Football Park offers three seven a side artificial grass pitches, all under a comfort of a covering roof.
However, like Arena 10, it could be sometimes incredibly difficult to get a field on the go, but it's great to have it as a potential option or if you're planning to reserve way in advance.
For more information, check out their website at: www.polofootballpark.com
4. Soccer Pro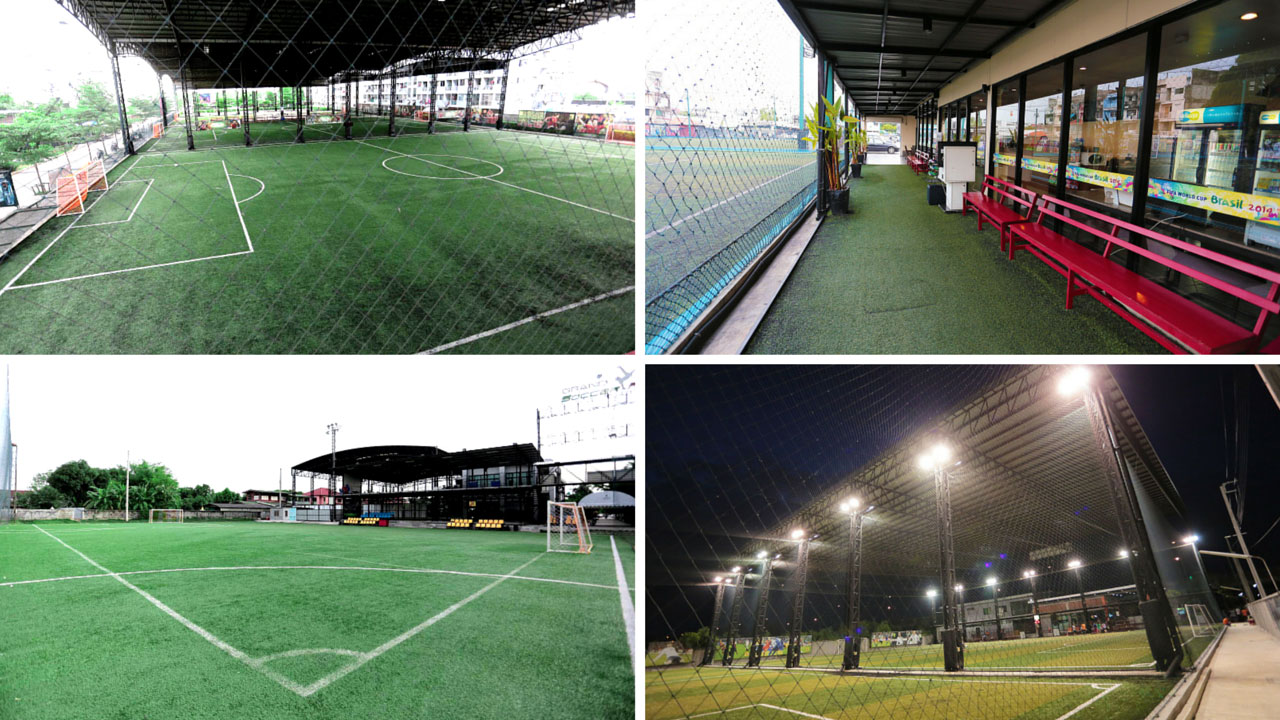 Out of all the fields mentioned so far, Soccer Pro is the first considered a franchise, having no less than five locations in and around the city.
They all contain artificial turf fields of various sizes, with the largest Grand Soccer Pro accommodating four seven-a-side pitches (all indoor), and one brilliantly laid 11-a-side astro turf also used by popular Expat Football League 'The Casuals'.
Along with the fields, all Soccer Pro venues have air-conditioned facilities for the WAGS (wives and girlfriends) hoping to grab a drink and watch their man play their favourite game.
For more information, check out their website at: www.soccerprobkk.com
5. Sky Kick Arena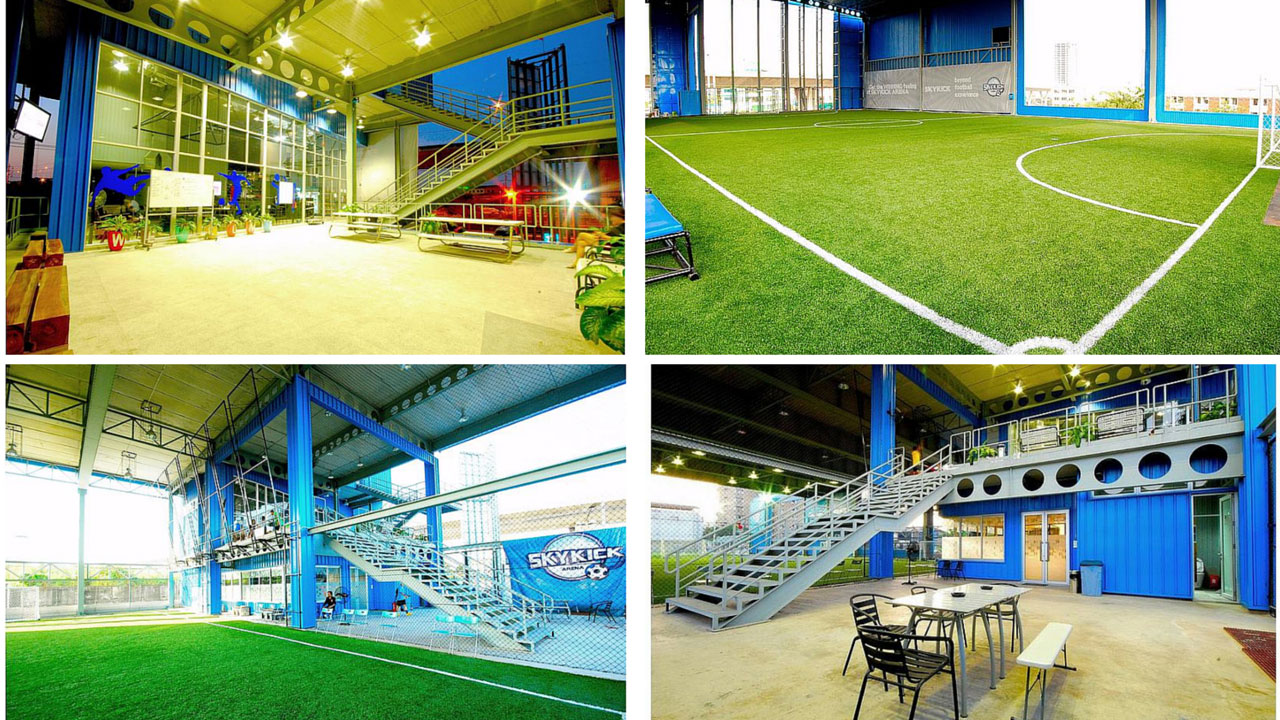 A bit further out of the city, Sky Kick Arena contains three six-a-side astro turf fields, but like the name conveys, one is place on the second floor, giving you a rather different footballing experience.
Located in Bang Na, the arena can be found right in front of BangNa Trad Road Soi 6, with its blue crate inspired facilities difficult to miss.
Sky Kick also has air-conditioned rooms, with spacious toilets and showers to guarantee comfort after your kickabout.
For more information, check out their website at: www.facebook.com/skykick-arena
6. The Hattrick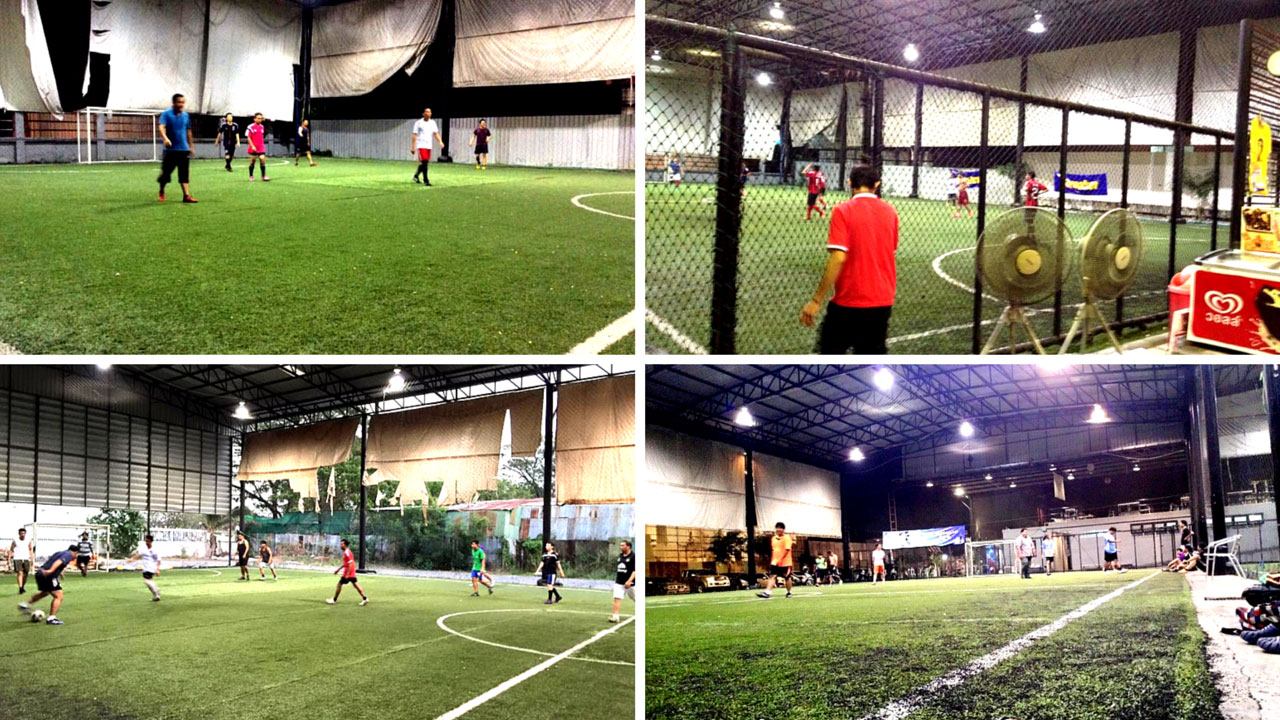 Sometimes you get desperate, and you really want to play some footy, and well many of the other pitches, as mentioned, are fully booked.
So if you're prepared to sacrifice top quality turf for guaranteed playing time, The Hattrick, located on Rama 9 road near the Srinakarintra intersection, can usually be booked on the same day and has decent six-a-side field dimensions with proper toilet and showers.
However, being an old and un-improved venue, the astro turf isn't top notch, yet if you're a fit bunch of lads and arent worried about some little bumps, this is your place!
Oh, and it's cheap.
For more information, call them up at: +662-746-5540
7. Bangkok Pattana School Sports Field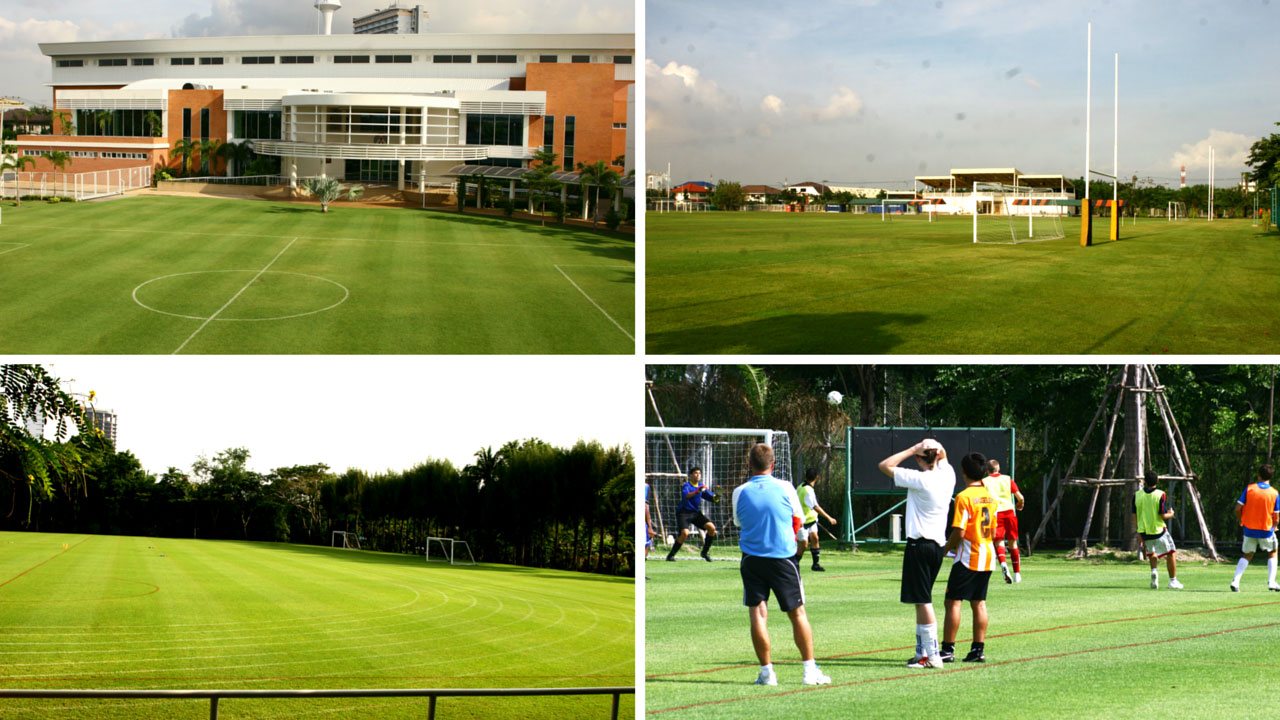 Now to one of the best grass pitches for hire in Bangkok.
Also in Bang Na, Bangkok Pattana (BPS) built a sport facility right across their school, with no less than three 11-a-side grass pitches allowed to be hired by interested parties during the weekend.
There are many grass football fields around the city, but with Bangkok's hot and rainy weather, they are usually difficult to maintain and are not a joy to play at. But not here.
The facility boasts one of the best well-laid grass turfs, with state-of-the-art toilets and showers to accommodate the large amount of players in various games. There is also a drink stand, so post-match beers, despite technically being a school, are a common occurrence.
For more information, check out their website at: www.patana.ac.th
Bonus: Turf Mapp
Find Soccer Near you, with this app. Instead of manually searching for fields, Turf Mapp is an application that showcases most of the facilities in this article, and is as easy as registering with either Facebook or any other email account to use.
Coming across a kickabout couldn't get much easier, with members able to join open games that are looking for players.
Future features of Turf Mapp includes discovering newly built fields, managing mini-leagues, looking at timeslots, and rating each facility.
For more information, check out their website at: turfmapp.com