How many times have you woken up from a night out and told yourself "I will never drink again"? Those five famous words have surely been uttered even by the best of us. The all too common (or familiar) pattern of slowly sitting up, thinking whether you should go wash your face or sleep some more, looking around hoping your 12-hour-ago-self left you a bottle of water, and then collapsing again is something even seasoned partiers have had before.
So let us help you ease the pain. When you finally get up drink some water and then put something in your stomach, these are 10 of the best cafés (in no particular order) to nurse that hangover of yours back to normal once again.
#1

Café Luka

Silom / Sathorn (see map)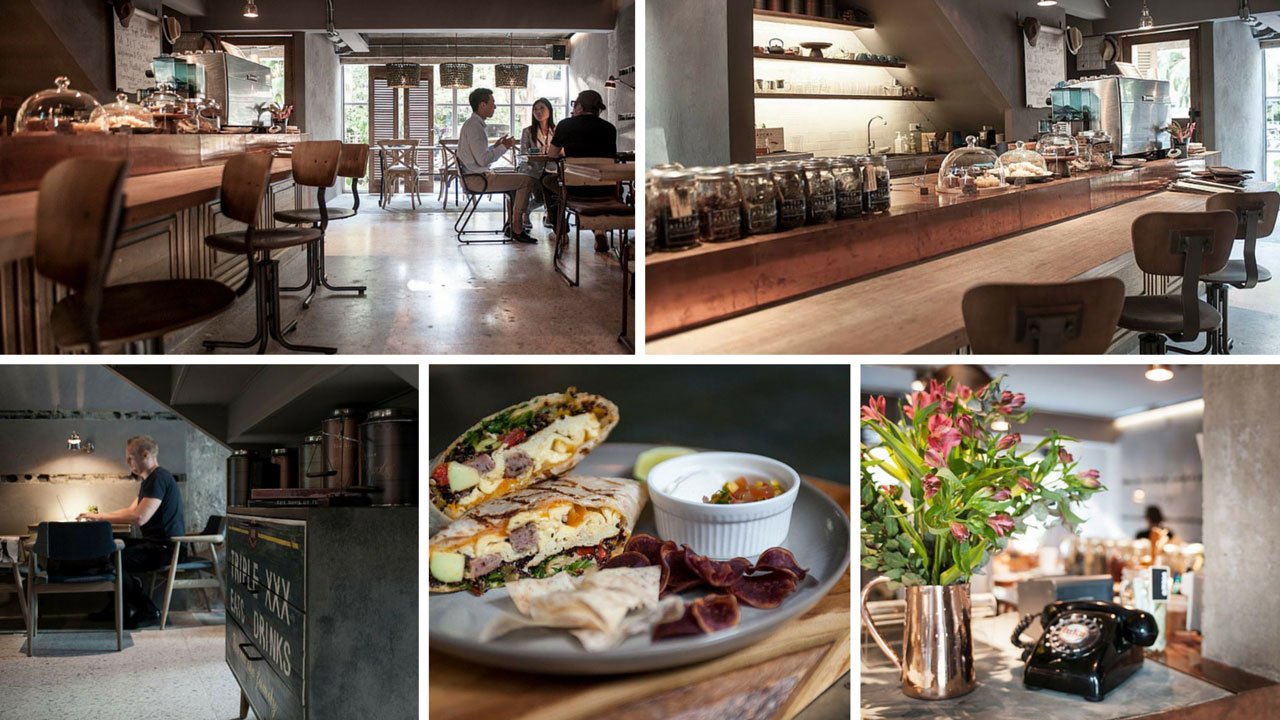 At first glance Café Luka is already aesthetically appealing – rightly so as it is situated in a furniture store. The open space is welcoming and will allow your clouded brain to really bask in the natural sunlight that comes in through the large windows. This perfectly combines with the light comfort foods that they serve. Pair that with coffee brewed by a proper barista who knows what they're doing and you have a spot worth visiting while you carry that pounding head of yours around. Follow them here.
Phone: 02-637-8558
#2

All Good in The Hood

Sathorn (see map)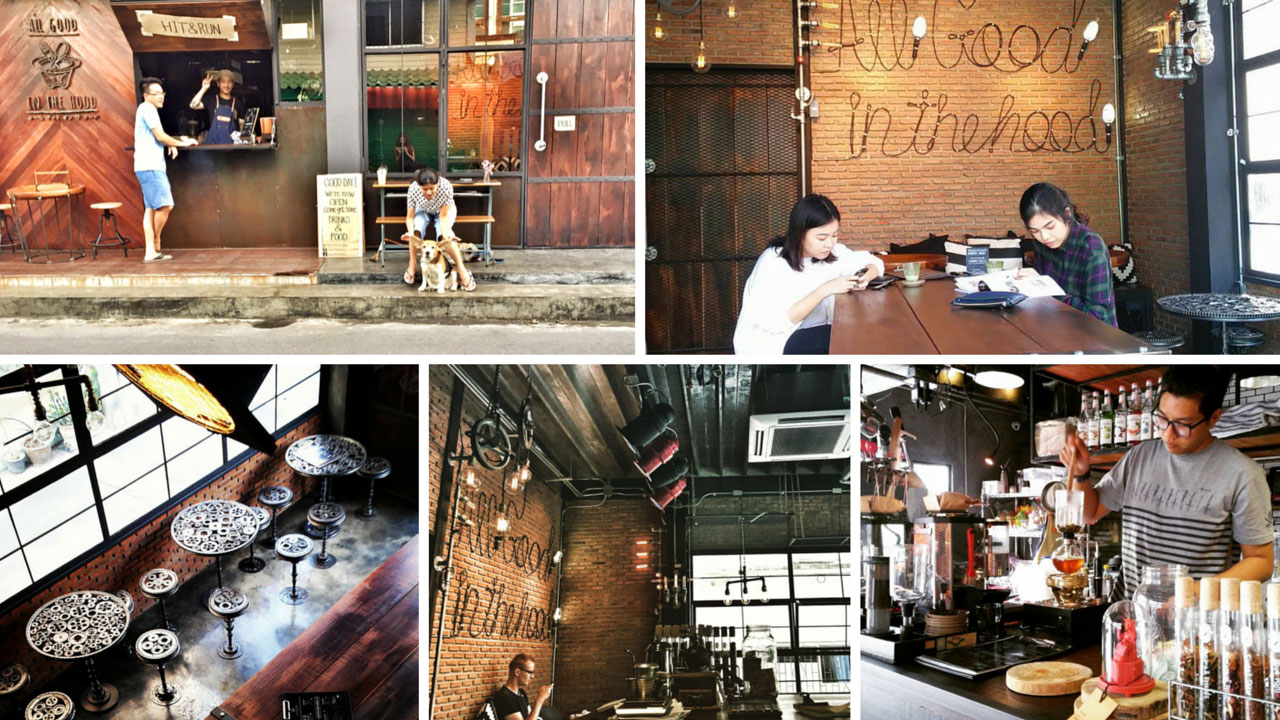 The soft lighting that bounces off the earth-tone bricks lining up the walls of the café is perfect for your sore eyes to rest while you wait for your drip coffee that comes straight out of their "laboratory". This café is definitely a sight to see. But for all the gimmicky tools they have, they provide the right quality to back it up. Their coffee will surely wake you up, and the excitement of looking at their menu and choosing between the four main choices from their "slow bar" will surely energize you. Although food is not their strong point, they have enough to keep you from having to go anywhere else while you rest your feet. Follow them here.
Phone: 081-619-6377
#3

Hands and Heart

Sukhumvit 38 (see map)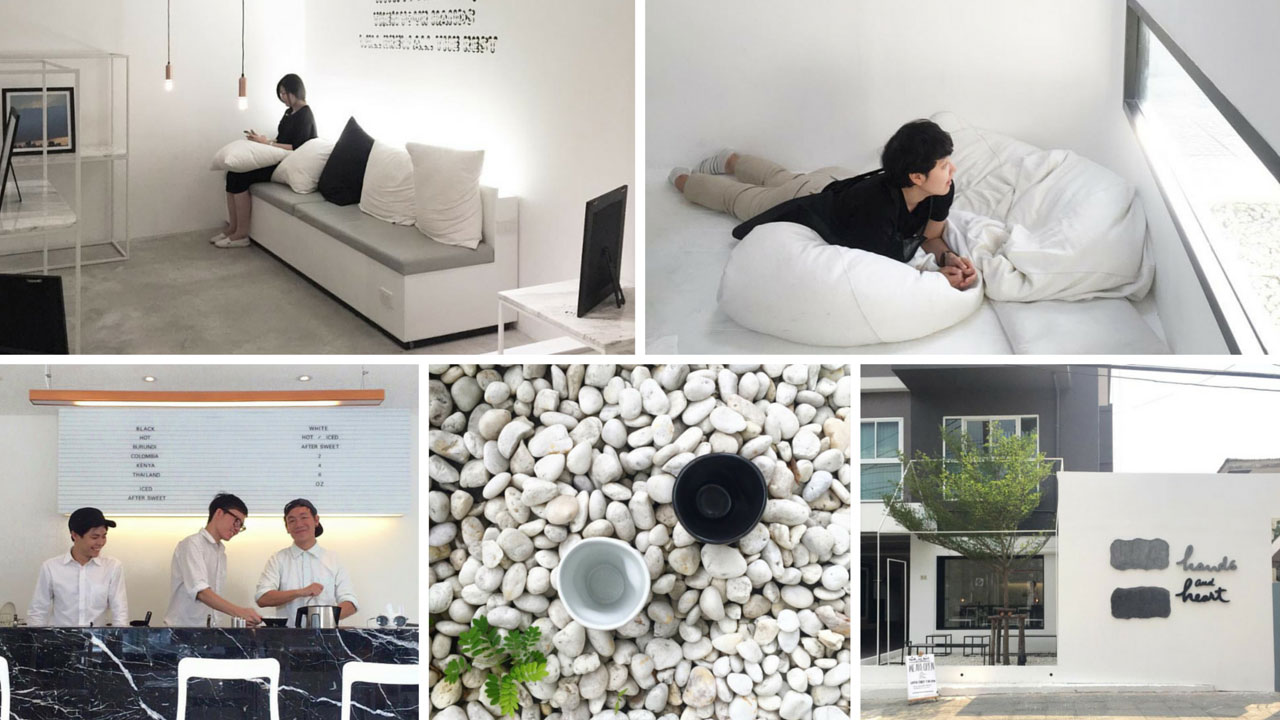 No you did not just score a one-way ticket to heaven. Hands and Heart Café is just a very futuristic-looking white café – and they own it like it was 2030. You almost expect the servers to be wearing oxygen masks and every time you walk in for fog to pour out of somewhere. The one tree situated in the front of the café really makes the place pop, but it is in their serious hand-brewed coffee that makes the place stand out. Guaranteed to be fresh, enjoy it with their home made bakery to ensure that you fill your stomach with something good after the night before when you were stuffing your face with something from Foodland. Follow them here.
Phone: 081-442-7977
#4

Ink & Lion Café

Ekkamai (see map)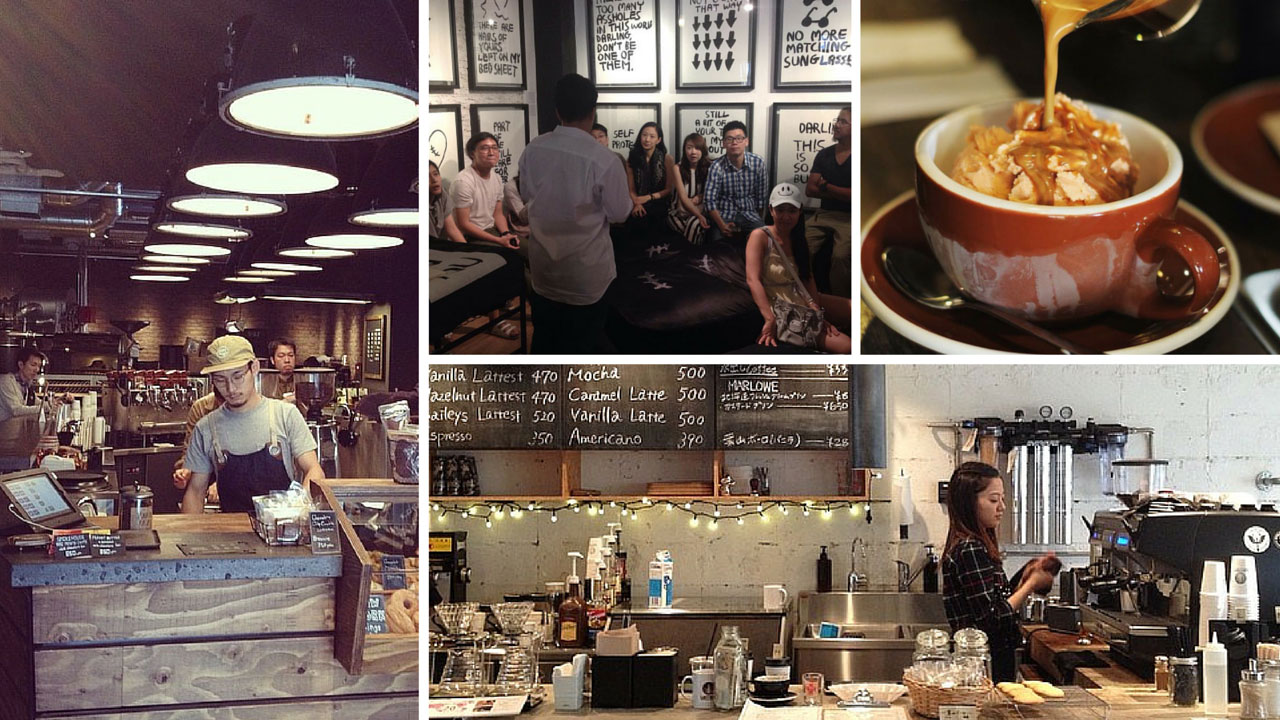 No, the "Ink" in the café's name does not signify that this is a tattoo parlor slash café. It does however probably refer to all the amazing art that comes through the café for exhibition from time to time. The industrial design of the café makes it a perfect spot to kick back and hide away from the world for a moment. Their coffee is all locally roasted and they have a decent choice of pastries for you to munch on – the spot is so ready to perfect their coffee that they actually close down on Wed – Fri to roast. So pay a visit to this serious joint if you have a serious hangover. Follow them here.
Phone: 02-002-6874
#5

Hello Stranger

Sukhumvit Soi 26 (see map)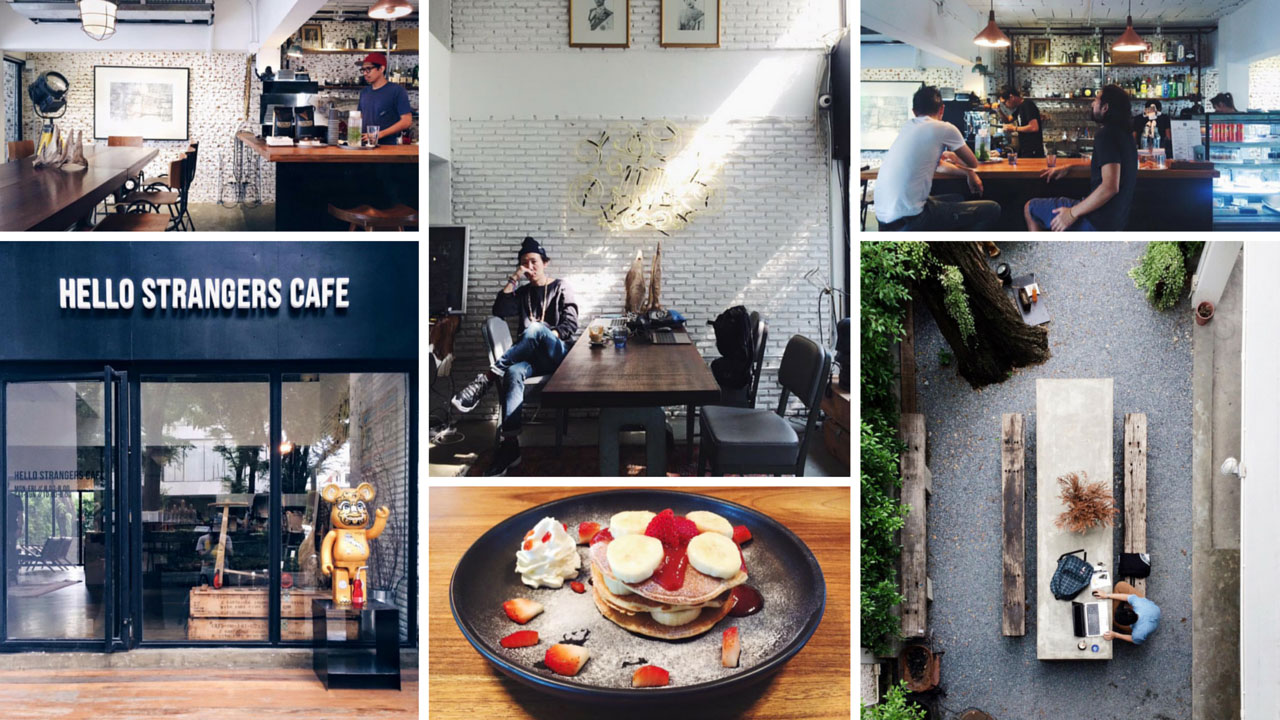 Whether you want to sit outside to breathe a little or inside to cool-off, there is a seat in the Hello Stranger Café for everyone. The pebble-laden floor under the trees outside reminds you of a Zen garden for you to chill while you reattach your broken inner chi from two-stepping a little too hard the night before. Or if you choose to sit and car gaze, that is also relaxing too as you sip and chat with the friendly staff, great coffee and great selection of things to feed on while you do some body maintenance. Follow them here.
Phone: 090-994-8760
#6

One Ounce for Onion

Ekkamai (see map)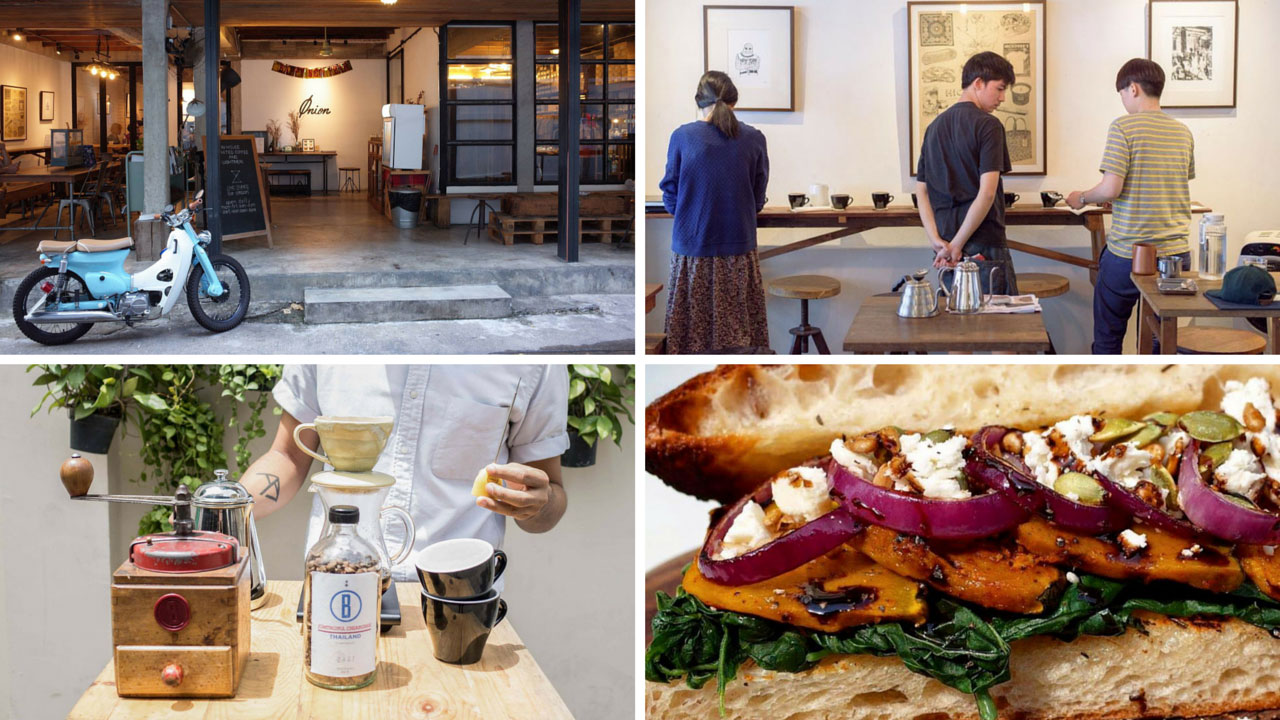 This place is so hidden in the small sois of Ekamai that you would be tempted to call it a hidden gem – only problem is, almost 15 thousand people have liked them on FB making them probably not so "hidden" after-all. But the 15 thousand likes are not unwarranted, this spot is going to nurse you back to your old self in two ways: (1) with their drinks that range from amazing in house roasted coffee to their creative passion fruit and thyme herb soda and (2) the special grilled croissant with their signature tomato sauce – WHATTTT?! Your brain will somehow just kick start from those two things and you will wish you had more moments at this cozy café. Follow them here.
Phone: 02-116-6076
#7

Café Velodome

Na Phra That (see map)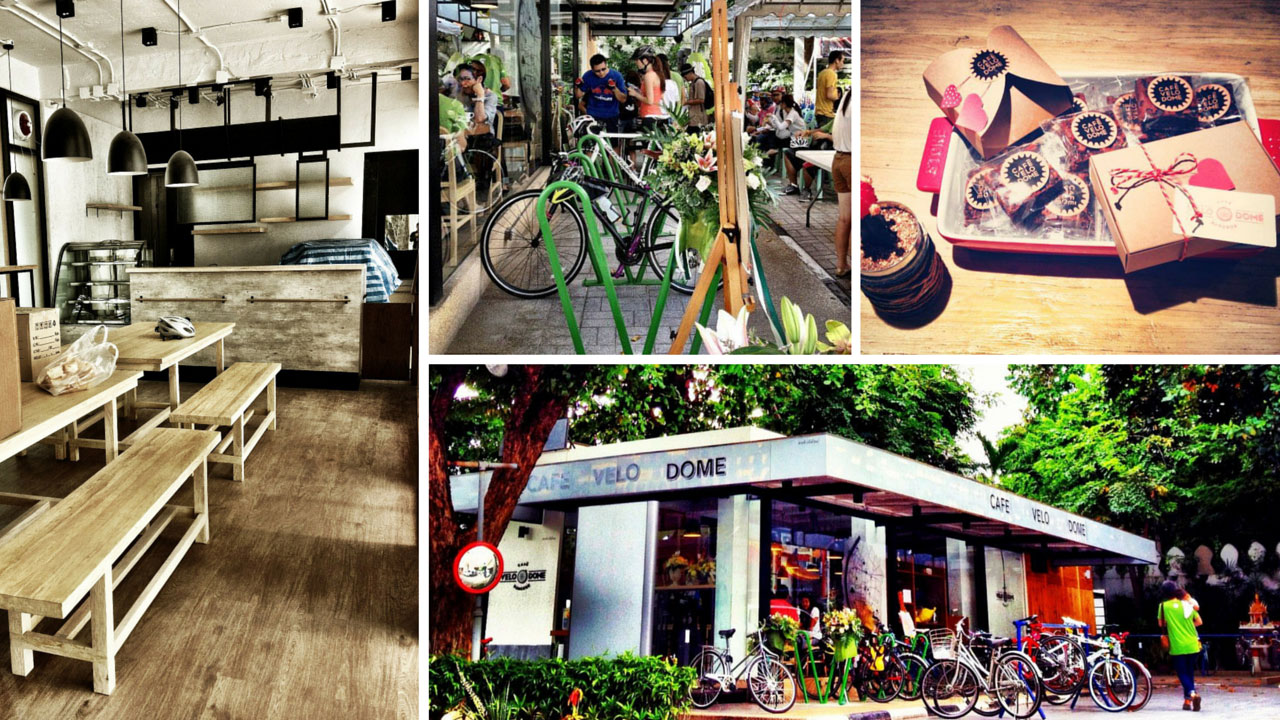 Sometimes when the venue does not give you energy nor will their food and drinks, the people might. Of course your cardio involved fist pumping your night away, but waking up and hitting up Café Velodome will put you among all the cycling enthusiasts in Bangkok. And let us be clear, these guys have energy. So if recovering is the name of the game, the coffee will surely help here but it is definitely the crowd that will ensure you have enough left in you to get through the day. Follow them here.
Phone: 02-623-6340
#8

On Lok Yun

Charoen Krung (see map)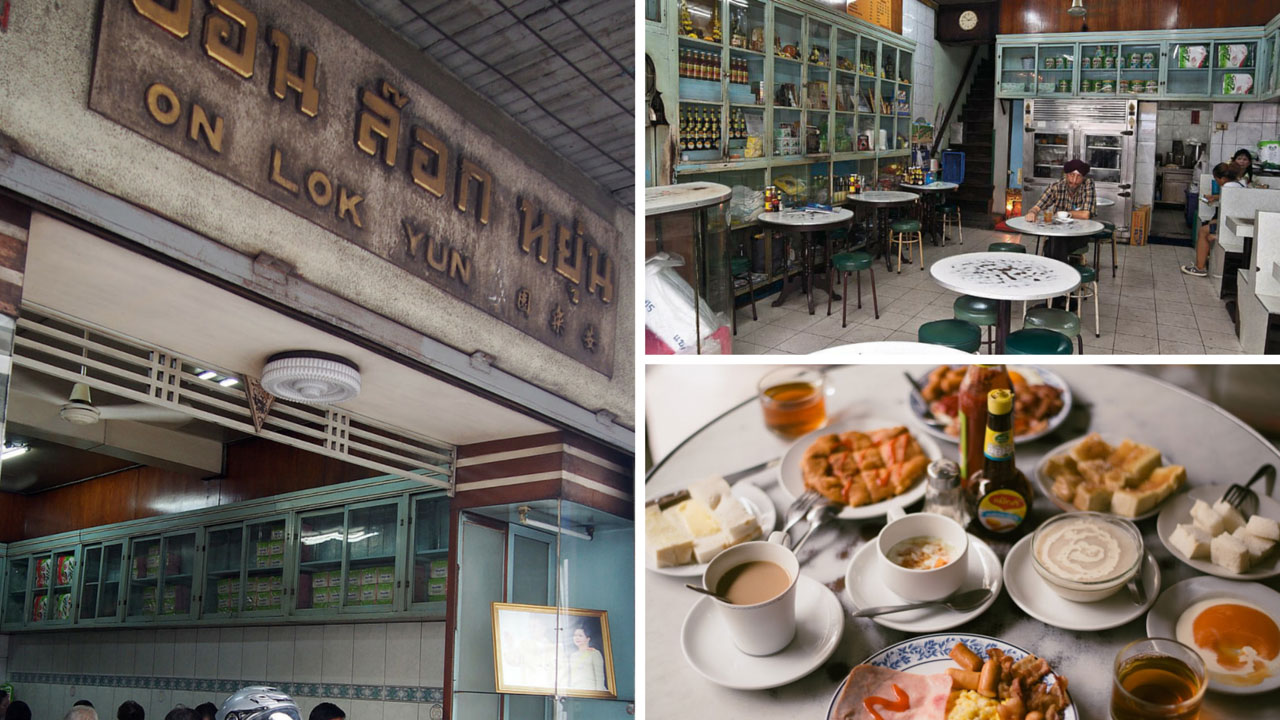 You will not find them on Facebook, and at first glance you will probably think they were your local mom and pops shop or a small car parts shop or pretty much anything BUT a café. But do not let the appearance fool you, On Lok Yun is gangsta. They are so OG that locals have been breakfasting here for over 80 years. Coffee and a proper American breakfast will put you back THB 60…IN TOTAL. Yeah, this place is not for the faint-hearted but if you need a pick-me up in a no frills environment that will remind you of your grandparents this is the place for you – the black coffee does not get blacker than this. No, you cannot follow them here, you will just have to find them yourself.
Phone: 02-233-9621
#9

Ceresia Coffee Roasters

Sathorn (see map)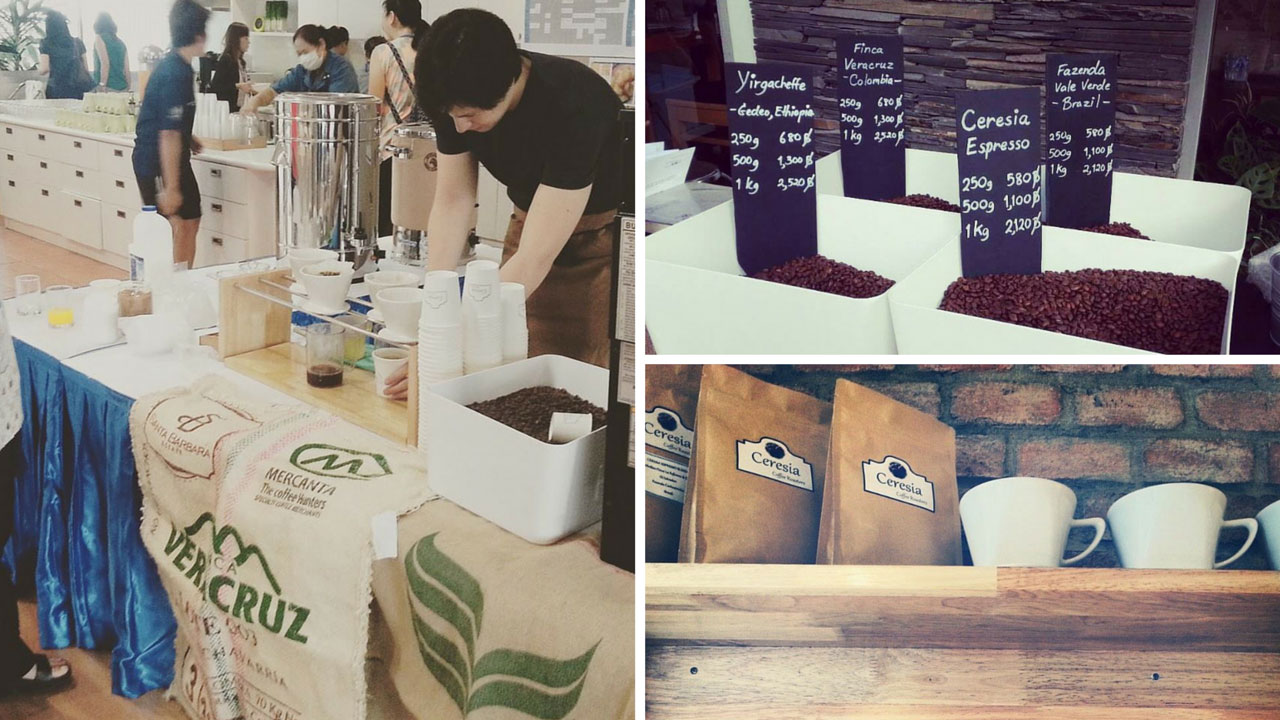 The second branch of Ceresia brought to you by your very own Thai-Venezuelan artisanal coffee roasters will give you a very clean and simple wake up experience mostly from the way the place smells when you walk in. The light colors chosen for furniture and décor makes the place welcoming. You will definitely like this spot when you want to relax on your own and really immerse into your coffee experience. Luckily you can close your eyes and enjoy everything they have to offer through your other senses while you wish the drums in your head go away. Follow them here.
Phone: 098-251-4327
#10

Baan Rai Coffee

Ekkamai (see map)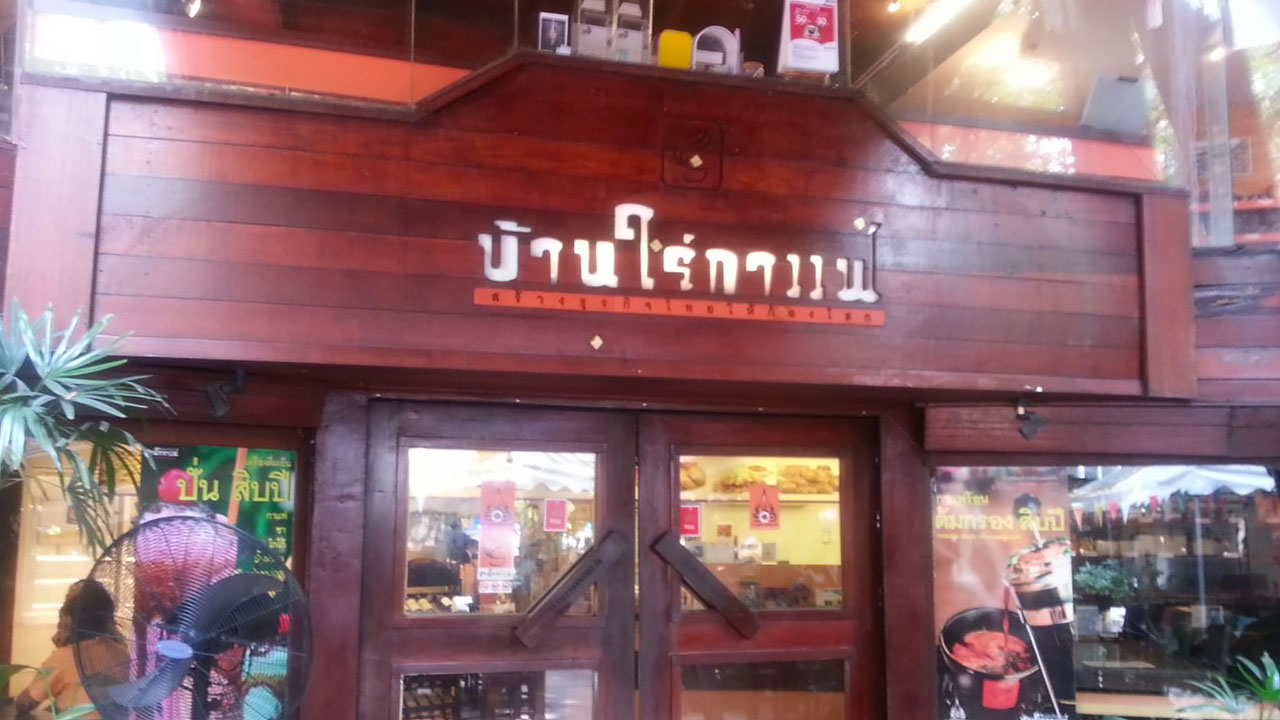 You want to get out of the house because your house smells like what you did the night before but you still want to stay "home". Well, Baan Rai Coffee is the only spot for you then. This place almost feels like an extension of your own home. You can pretty much find a spot to lay down and ensconce yourself. It opens 24 hours and will always welcome you with open arms for any occasion. In the event that coffee will not do it for you anymore, you can always switch it up and order another tower of beer. Every real Bangkokian will know this place and will understand why they probably have no FB page for you to follow.
Phone: 02-381-2772