Believe it or not, Bangkok's sprawling urban jungle still has its green parts. These relaxing and delightful outdoors spaces are scattered around the city and co-exist with Bangkok's skyscrapers.
Despite the unfriendly outdoors weather with temperatures rising up to 40 degrees Celsius, consider exploring the lovely green spaces of Bangkok. These places are likely to help you unwind from Bangkok's madness and if you feel a little claustrophobic in this frantic capital, why not give your eyes a little break from the concrete walls and enjoy a breath of fresh air.
Take a visit to any of the parks and you will find all sorts of sports facilities and other amenities such as public gyms, tennis courts and football pitches in most parks. In case you are not into physical activities, worry not, just bring your friends or family along for a picnic under the shade of trees, a nice stroll in the park or ride with the swan paddleboats!
Enjoy the outdoors, at these 5 parks in Bangkok (in no particular order)!
1.) Rot Fai Park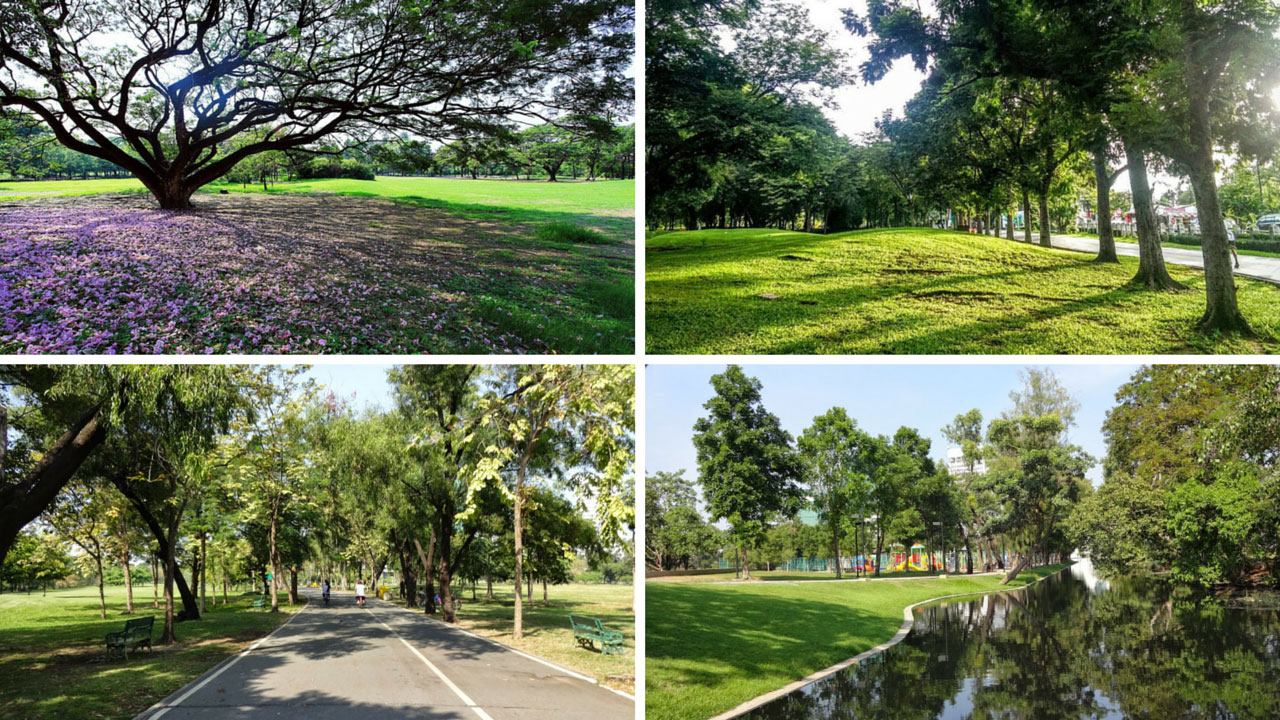 Known as "Railway Park" in English, Rot Fai Park is located just a few minutes from the Chatuchak weekend market. Once belonging to the State Railway of Thailand, it was turned into a golf course and eventually a public park, Suan Rot Fai has a lot to discover, including wildlife such as rare species birds, lounging monitor lizards, and turtles swimming in the lakes.
There is a dedicated cycle track making it popular for cycling activity. Bikes can be rented for a whole day at only 20-30 Baht. So, on the weekend, you will find family, friends and young couples that get together for a weekend ride.
In case you get hungry, worry not; there are plenty of food and refreshment vendors inside and outside the park. Remember, Chatuchak Weekend Market is only a few steps away as well!
Opening Hours: 5:00 – 21:00 daily
Location: Kamphaeng Phet 3 Road | Chatuchak Park MRT or Mo Chit BTS (see map)
2.) Benjasiri Park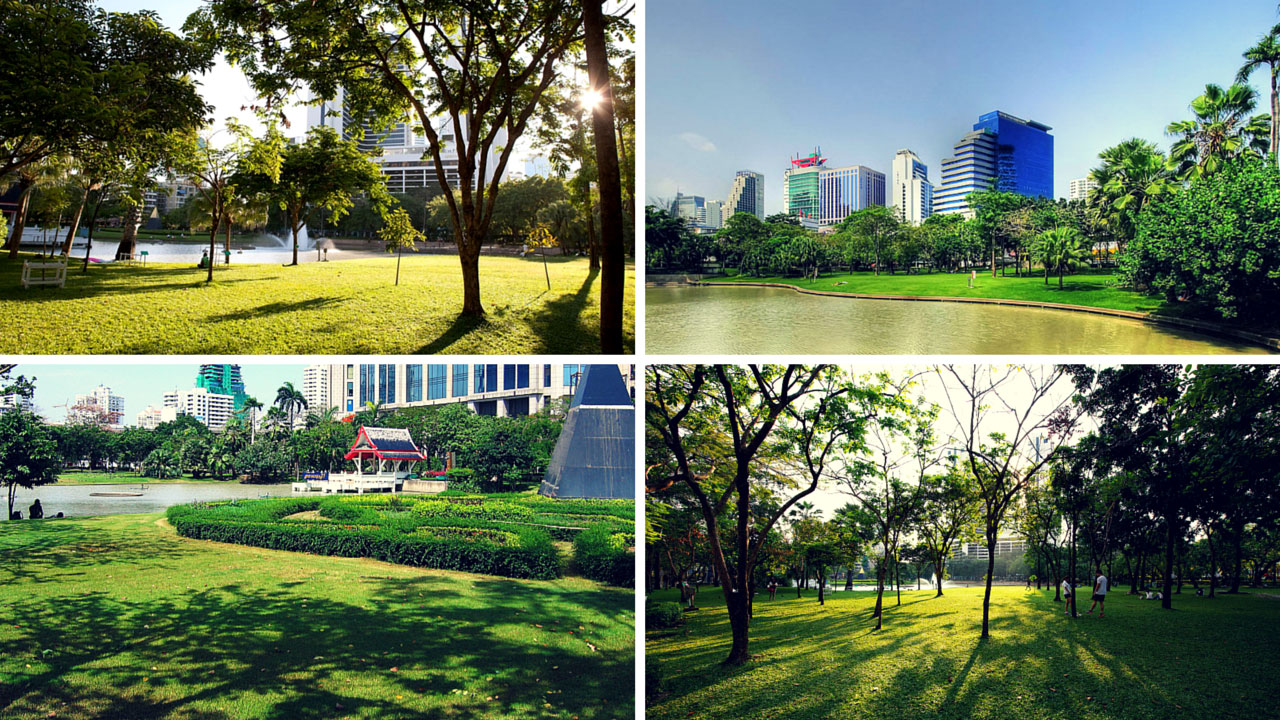 A small yet compact green area when compared to the other parks, Benjasiri is located right next to the Emporium shopping center - therefore, don't be surprised to see people looking like they're coming straight from fashion catwalks.
Built in 1992 in honor of the Queen Sirikrit's 60th birthday, this 'Queen Park' is a great please to rest, relax and hideaway from the chaotic town. There is a water dance show from the master sculptor, Mesium Yipinsoy that displays three times daily from 6:00, 12:00 and 18:00.
There are no swan paddleboats here in the central ponds, but there are other facilities that can't be found in any other public parks, such as the roller skating and skateboarding rink, the outdoor swimming pool, and Takraw, basketball, volleyball courts. Whenever you are in the area, pop by to appreciate the beauty of nature at Benjasiri Park.
Opening Hours: 5:00- 21:00 daily
Location: Between Sukhumvit 22 and Sukhumvit 24, next to The Emporium | Phrom Phong BTS (see map)
3.) Lumpini Park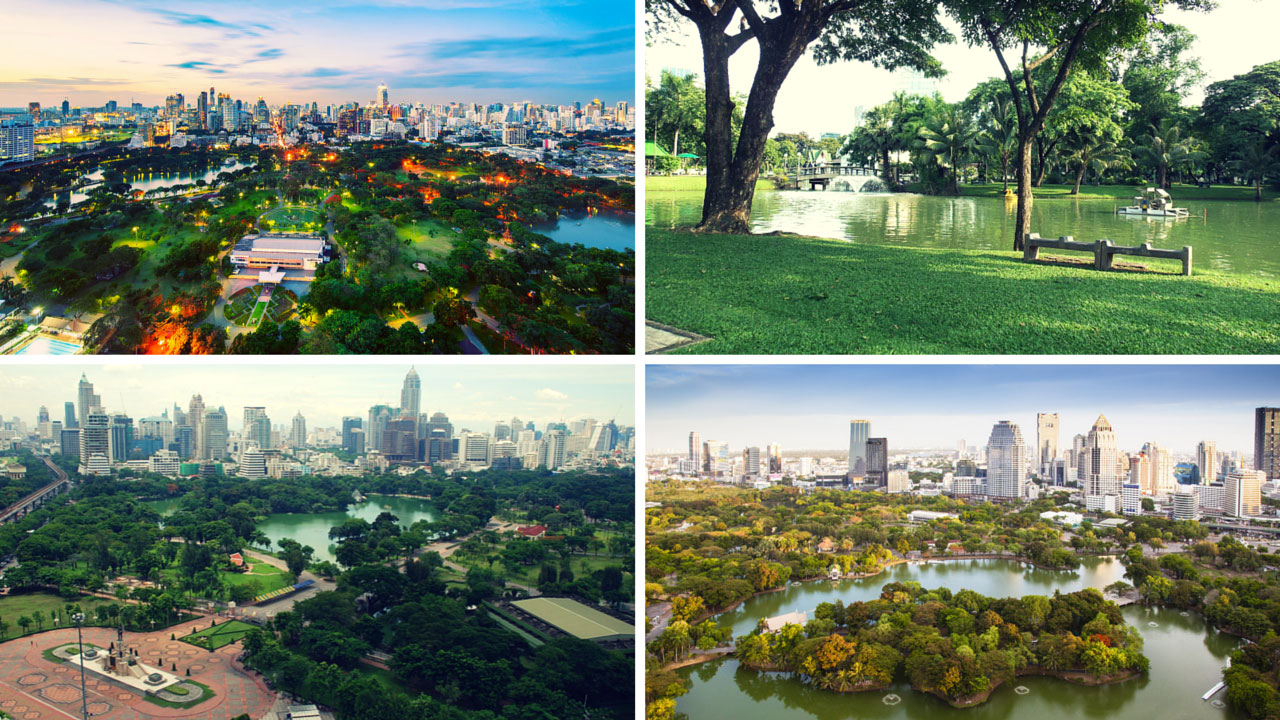 So called the Central Park of Bangkok just like in New York City. No kidding. It's one of the oldest, biggest, and in the most 'central' park of our city. Concerts, marathons, and loads of other events are often held at this place. Here you will find just about any outdoor activity imaginable; from badminton and tennis courts, outdoor gyms, and modern sports complex with swimming pool, chess clubs, and even a library.
The most eye-catching upon arrival, besides the lounging monitor lizards that roam around freely, are probably the aerobics classes that are scattered throughout the area.
The 2.56 km perimeter path makes it ideal for runners, and running events are being held here weekly. The huge lake in the middle is for swan paddleboats, which can be hired for a small fee.
Opening Hours: 4.30 – 21:00 daily
Location: Witthayu Road | Saladaeng BTS or Lumpini and Silom MRT (see map)
4.) Benjakiti Park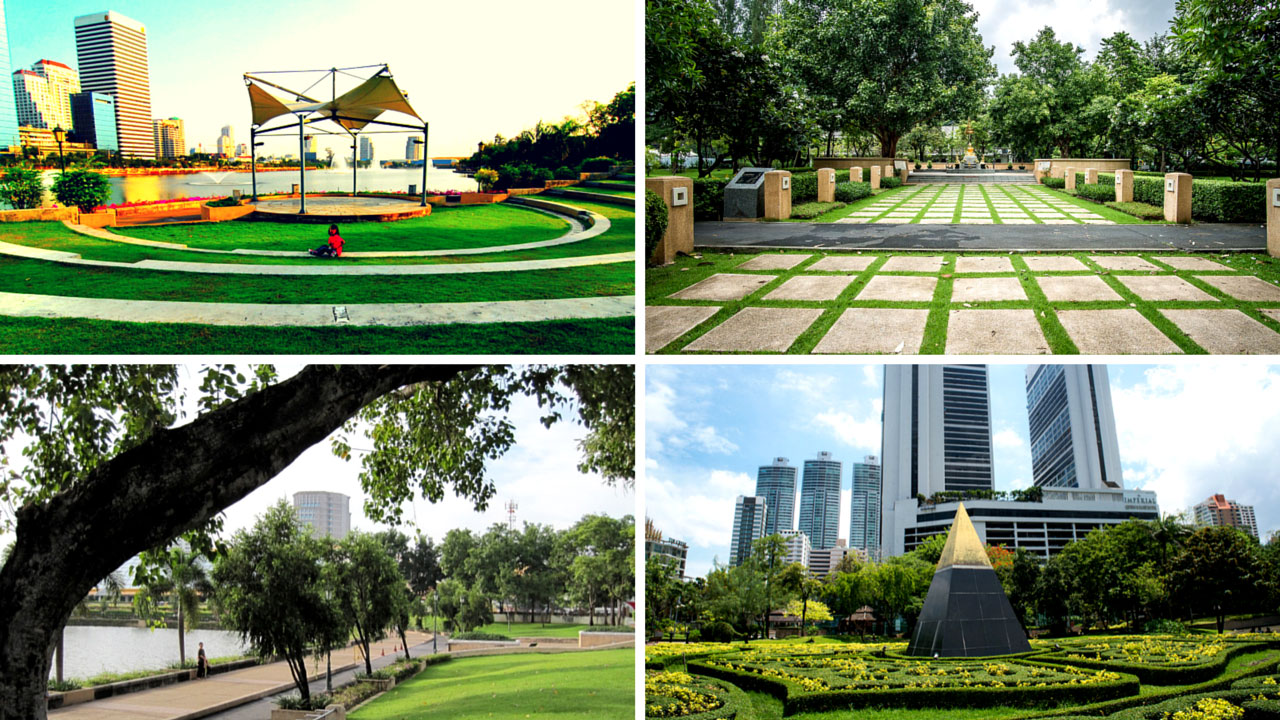 Located just next to Queen Sirikit Convention Centre, Benjakiti is, in fact, one of Bangkok's prettiest park. It is also the park that no one ever seems to remember the name; it's often referred to as "that park near Asoke". It's the only park in town that has a separated bicycle lane making it popular amongst cyclists. You can also rent a bike here for 30 baht a day, and there are swan paddle boats as well.
But Benjakiti is more than just a regular park. You can find a variety of things, such as playgrounds, fitness equipment, meditation area, skateboarding ramp, and evening yoga classes. There is something for everyone here.
The picturesque downtown's skyline is what sets the park apart from others. So this park is good if you would like to have a quick escape from the city while still seeing it in your sights.
Opening Hours: 5:00 – 20:00 daily
Location: Rama 3 Road | Queen Sirikit National Convention Centre MRT (see map)
5.) Suan luang Rama IX Park (Rama IX Garden)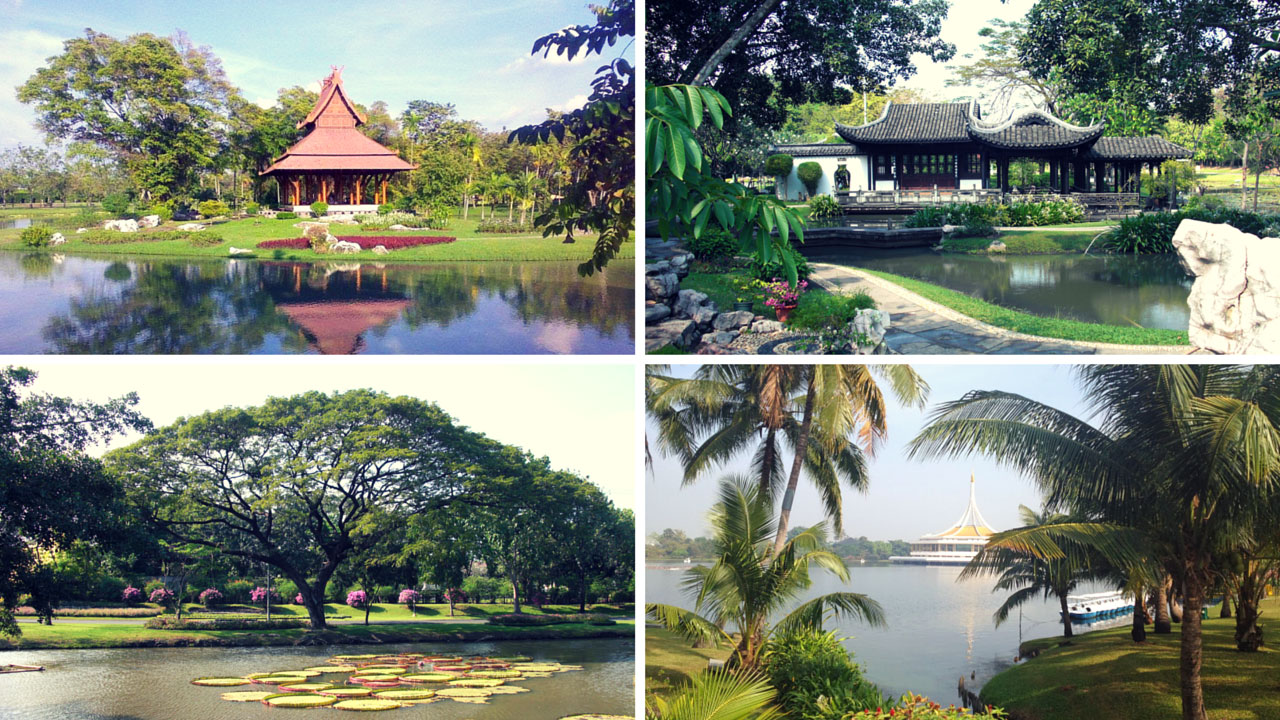 Situated furthest away from the center, but the largest of all the parks mentioned, King Rama IX Park has an outside loop of 4.8 km making it great for both cyclists and runners that look for longer loops.
The main attractions here are probably the botanical garden zone, the cactus garden, Japanese Zen garden, as well as the one of a kind Chinese and Thai pavilions. Holding the title of Bangkok's largest green space, the King Rama IX Park is definitely worth the trip!
There are plenty of things to do here, no matter if you visit it with your family, friends or as a couple. There is an entry fee of only 10 Baht! Seriously, this is probably the best deal in the whole country!
Opening Hours: 5:00 – 19:00 daily
Location: Sukhumvit 103 Road (Udomsuk) (see map)