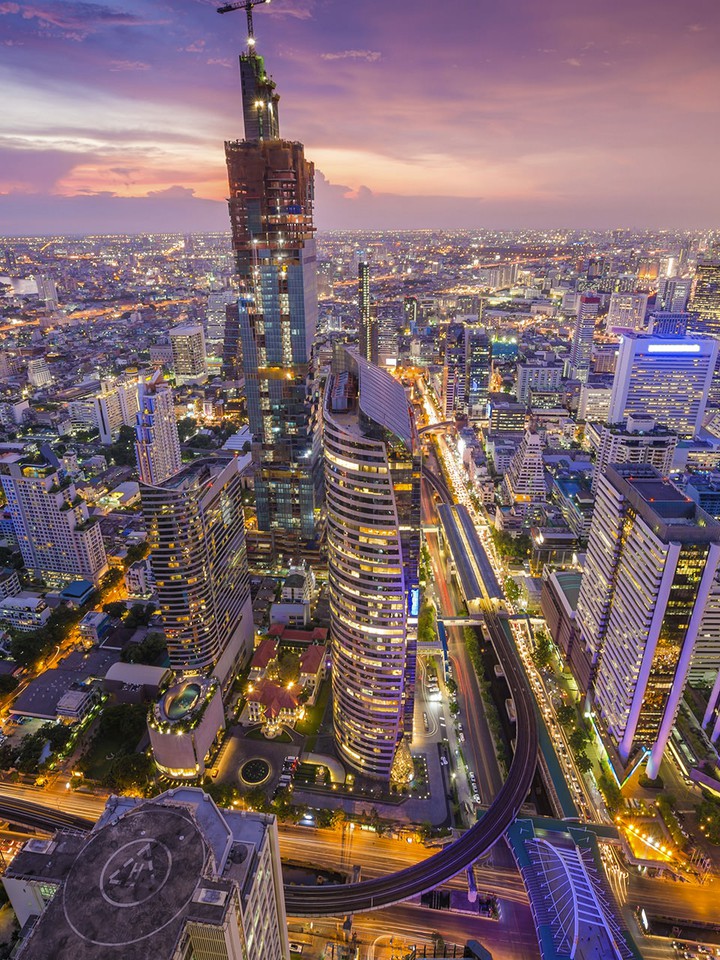 Silom - Sathorn Clubs & Bars
By day, Silom - Sathorn serves as Bangkok's central business district, densely packed with offices and famous eateries. After sundown, however, it becomes a vibrant nightlife area and home to some of the busiest bars in the city.

Restaurants, local dives, clubs, panoramic rooftop bars overlooking nighttime Bangkok skyline against the Chao Phraya River - this area's got it all. That said, Silom is perhaps best known for its gay-friendly venues, which welcome large crowds of LGBTQ+ bargoers every night.

Had a long day at the office? Dive into our guide to the best venues in Silom - Sathorn so you can get your gang together after work. A little bit of partying at these clubs, pubs & bars might just be what you need to get through the week.
Featured Clubs & Bars
Must-visit places in Silom - Sathorn
After running 3 successful venues in Shanghai, Le Café des Stagiaires opened its first Thailand branch…

Bars

Revolucion Cocktail - with origin in Shanghai - is a Latin-America themed bar offering a variety of…

Bars

Tropic City - a tropical cocktail bar in Soi Charoenkrung 28 - has managed to land on #31 on the 2019…

Bars
More Clubs & Bars
Discover places in Silom - Sathorn
Aesop's Bangkok is an upscale Greek restaurant on Soi Silom 1 that serves up authentic Greek tastes.…

Bars

Alfresco 64 sits on the 64th floor of Le Bua at State Tower hotel and currently holds the record for…

Bars

Arno's Suan Phlu is divided into two main rooms: Arno's Wine Bar and Arno's Steaks and Burgers. Both…

Bars

The Bamboo Bar is a bar with a curious twist at the five-star Mandarin Oriental Bangkok Hotel. Inside,…

Bars

Blue Parrot sits in the blue building beside Revolucion Cocktail in Soi Sathorn 10. The tropical bar/restaurant…

Bars

Blunos prides itself on serving classic European comfort food, created and overseen by two-Michelin-starred…

Bars

Craft Room Sathorn is a craft beer bar with a super cozy & casual ambiance on Sathorn Nuea Road. The…

Bars

CRAFT is a 100% craft beers bar located on the ground-floor of Holiday Inn Silom, on the corner of Silom…

Bars

Hanakaruta Sathorn is an authentic izakaya and sake bar in Soi Sathorn 10. The elegantly-decorated venue…

Bars

Happy Endings Eats & Bar sits on the loft of The Meatchop Butcher & Spirits on Soi Saladaeng 1. The…

Bars

HI-SO is a rooftop bar located on the 30th floor of SO/ Bangkok. The venue features high tables with…

Bars

Itaewon Korean Bar is located on Silom Soi 8. The menu offers a wide variety of typical Korean food.

Bars

Junker & Bar is a gin bar and casual dining establishment that serves 'premium junk food'. The venue…

Bars

Just A Drink (Maybe) is a bar on Soi Thonglor 1 that takes pride in serving gin-based cocktails and…

Bars

La Casa Nostra is an Italian restaurant and wine bar on Soi Sathorn 1 (Soi Goethe). As a reference of…

Bars

Maggie Choo's is located below Novotel Fenix Silom, on Silom Road. It's unique interior and decoration…

Bars

Mahanakhon Bangkok SkyBar, located on the 76th and 77th floor of the King Power Mahanakorn (currently…

Bars

Mahanakhon Rooftop Bar on the Mahanakorn Skywalk is currently the highest outdoor bar in Bangkok. From…

Bars

Namsaah Bottling Trust is a gastro bar opened in 2014 by celebrity chef Ian Kittichai and the former…

Bars

NINETEENS UP is a bar located on Silom Soi 19. The venue features brick walls decorated with street…

Bars

Palate Bar is located on North Sathorn road and spans over several floors of an old town house with…

Bars

Roadhouse Barbecue is a sports bar & restaurant located on Rama IV Road best known for its delicious…

Bars

Saucey Chicken and Beer Bomb brings a casual after-work option to Sathorn with its beach bar atmosphere.…

Bars

Shenanigans - the Irish sports bar near Patpong - is known for its regular screening of live sports…

Bars

Sirocco is a restaurant and rooftop bar with a long list of accolades to match its reputation. Situated…

Bars

The House on Sathorn occupies a bright yellow colonial manor. The 129-year-old building is now a gathering…

Bars

The Roof @ 38th Bar sits on the 38th floor of Mode Sathorn Hotel. The stylish rooftop bar overlooks…

Bars

The Zuk Bar is located on the lobby floor of The Sukhothai Hotel in Sathorn. Luxurious yet not pretentious,…

Bars

Trok Si Lom is a casual bar/restaurant that makes it feel like you're hanging out at a friend's place,…

Bars

Urbani Truffle Bar & Restaurant offers a fine dining experience from the 39th floor of Sathorn Square.…

Bars

Vertigo and Moon Bar offers one of the most memorable fine dining experiences from Banyan Tree Bangkok's…

Bars

VERTIGO TOO is a brand-new cosmopolitan cocktail bar on the 60th floor of Banyan Tree, with stunning…

Bars

Wine Hundreds is located on the 2nd floor of the Super Seoul Café Korean restaurant in Soi Sathorn 11.…

Bars

Yào Rooftop Bar is a bar/restaurant atop the 32nd floor of the Bangkok Marriott The Surawongse. Walking…

Bars

Zoom Skybar, located on the 38th floor of Anantara Sathorn, offers a 360° view of Bangkok metropolitan,…

Bars
Introducing Top Lists
Discover hundreds of unique places