Let us introduce some Mix & Match ideas, for both clothes as well as makeup, to prep you for heading into the storm.
Make Up
First and foremost, the most important preparation before heading out is getting your face ready to combat the weather. The most important aspect when choosing the products is having long-lasting effect while also being water-proof.
Primer
Recommendation: [Benefit] The Professional
We start off by preparing the skin with the use of a primer. This particular primer is highly recommended by a number of beauty bloggers due to it being easy-to-use. It can also control the oil levels on your face and most importantly, it ensures that your makeup will be long-lasting.
Foundation
Recommendation: [Eity Eight] Liquid Foundation SPF30 PA+++
Next up, we move onto this particular foundation that has gotten a lot of positive reviews as it comes with a soft brush for easy usage. The benefits of this product are that their cream offers very thick coverage, controls oil levels, and is also waterproof, from both rain as well as sweat.
Eye Liner / Eye Shadow
Recommendation: [Make Up Forever] Aqua XL Eye Pencil
This product is a pencil that can be used as an eyeliner, but can also be adapted to create a shadow for your eyes as well (using a brush to blend the colors together). With the pencil being cream based, it gives a bright look to the user, with the added effect of it also being waterproof and not looking like a panda. There are also a number of colors to choose from, so repeating the same look won't be a problem.
Lipstick
Recommendation: [NYX Cosmetics] Lip Lingerie
This lipstick uses matte colors and is affordable for everyday usage. It is bound to stay on throughout the day, meaning there is no need to reapply it often.
Recommendation: [Revlon] Ultra HD Matte Lipcolor
This lipstick, once applied, feels similar to a velvet cloth covering your lips. Apart from giving you a bright look, there is a moisturizer added into the lipstick itself.
Hairstyles
The topic hairstyles deserves special attention. Choosing the right hairstyle does not only make life easier during bad weather days, it also plays a major part in helping you complete your desired look.
Pony Tail
This type of hairstyle is effective for people with long hair as when tied up; it keeps the strays from causing an annoyance. An additional trick is to divide the hairline into two sides as to give a clean and classic look.
Top Knot / Low Bun
This is another type of hairstyle for those with long hair as it helps to limit the annoyance when being exposed to the rain. Adding accessories such as a headband can make this look even more livelier.
Half Bun
This style can be used for both, people with long hair as well as short hair. If time is limited, a Half Bun can be the answer. Apart from that, it also looks good in all weather conditions and seasons.
Clothing
Clothing that goes well with the rainy season has to be made of soft and comfortable fabric. Apart from that, it should be breathable, as well as quick drying.
We recommend that you avoid wearing long skirts or pants that may drag along the floor, while picking up dirt along the way. You should also refrain from cloth that is made from nylon, leather, and fur, as they can easily be damped and cause an unpleasant odor.
Short Dress
Recommendation: [Zara] Printed Tunic
This particular dress is made from 100% Viscose, both the inner layers as well as the outer one. There is a mixture of both natural materials as well as synthetic ones, giving you a comfortable feeling due to it being very easy breathing.
Culottes
Recommendation: [Mango] Cropped Palazzo Trousers
Culottes are pants that start somewhere between slightly below the knees down to a little above the ankles. This is great as dirt can't get caught on your clothing when walking in wet conditions. Due to their soft material, they are very comfortable to wear.
See-Through / Laced Dress
Recommendation: [Zara] Crochet Strappy Dress
This see-through / laced dress can be easily dried should you happen to encounter rain while travelling around the city. Apply some Mix & Match and you can wear it daily during this rain season, without feeling too exposed.
Shoes
Shoes that are best suited for the current rainy conditions are ones that can easily be dried once exposed to water. We recommend ones that have a shorter heel and to turn away from any high heels in order to avoid any unnecessary accidents.
However, if you need to wear your best pair out tonight, it's best you bag them up while wearing a more weather-friendly pair to brace the rough conditions, before changing it once you reach your desired destination.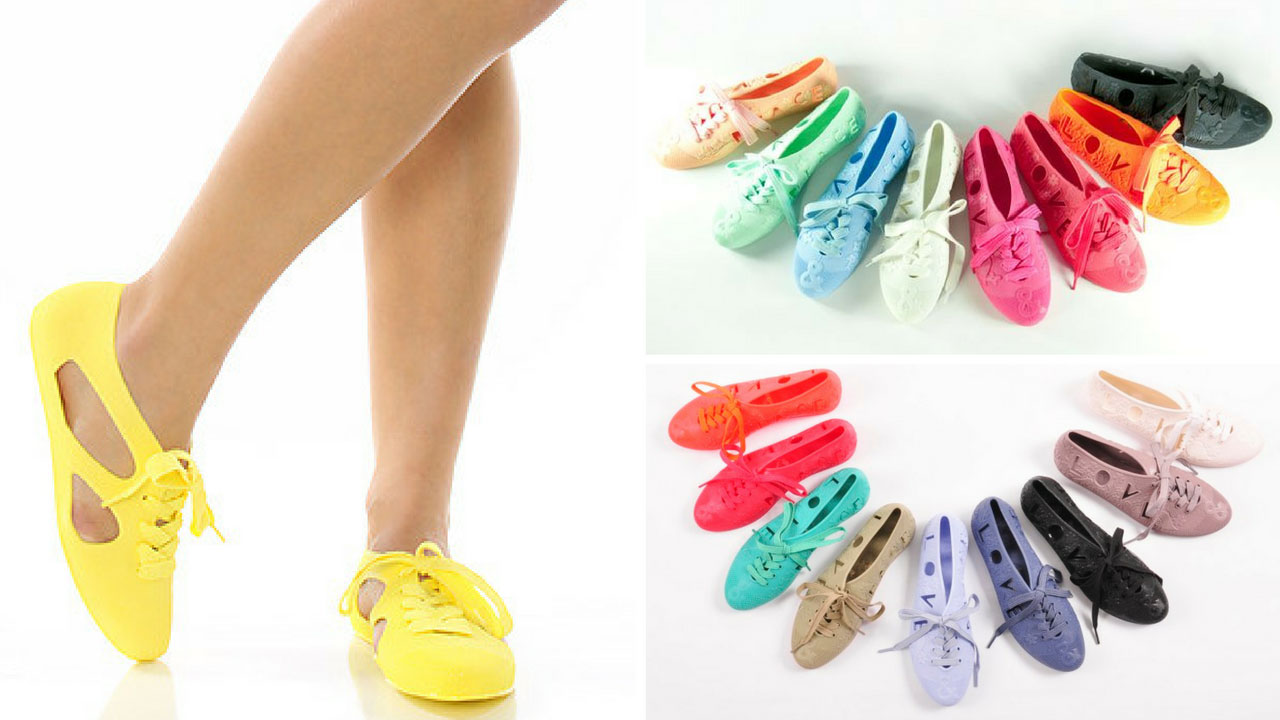 Weather Friendly Shoes
Recommendation: [F-Troupe] Jellies / Bathing Shoes
These shoes were inspired by bathing shoes from the Victorian era and are perfect for the rainy conditions due to it being made from soft plastic. Given the style and materials used, your feet are easily breathable, while drying this pair won't be a problem due to it being completely waterproof.