Food Truck Mania: An Extensive List of Bangkok Food Trucks (Part 2)
Posted May 9, 2016
There is a certain lure to eating outside of an air-conditioned box – it is easy, cheap, and often very satisfying. Bangkokians have been fortunate to enjoy this "luxury" of cheap easy access food for a very long time – from that oozing egg noodle spot that everyone who goes to Ekamai knows about, to the ever reliable "Chai 4 Mee Giew" noodle carts that normally reside in front of your local 7-11s – street eats not only leave your stomach full, but often time also have a special place in your heart. But just like anything else, good things evolve. We know you loved your Nokia 3210, but look at what you can do now with your iPhones.
So as much as we love our old aunties and uncles who made us our late night noodles from their push carts, it is now time to give the next generation a chance – make way for the noodle carts of 2016: food trucks.
We understand that trying to locate all the food trucks in this bustling city is not an easy task. Lucky for you, our extensive effort to create a food truck archive has been completed and we are excited to share it with you. We hope you enjoyed part 1 of this list and have already filled yourselves up, now here is part 2 of our list below in no particular order.
11) Hotdogs & Buns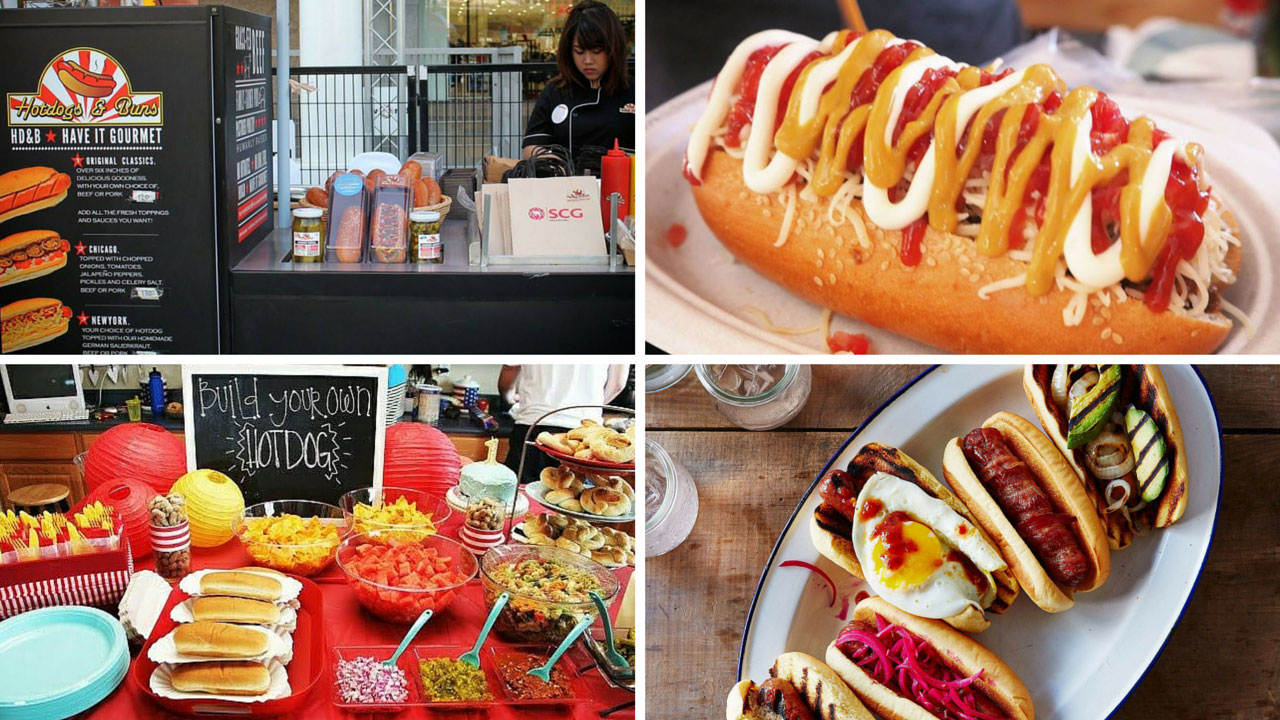 There is no longer a need to go to New York City to enjoy a proper hotdog from the street corners. Hotdogs and Buns and their amazing grass-fed frankfurters are helping you satisfy that desire right here in Bangkok. Not so much a food truck but rather a food cart, these juicy dogs together with an assortment of toppings may be some of the best dogs you have had anywhere. Find their location at their Facebook page.
12) Pizza Massilia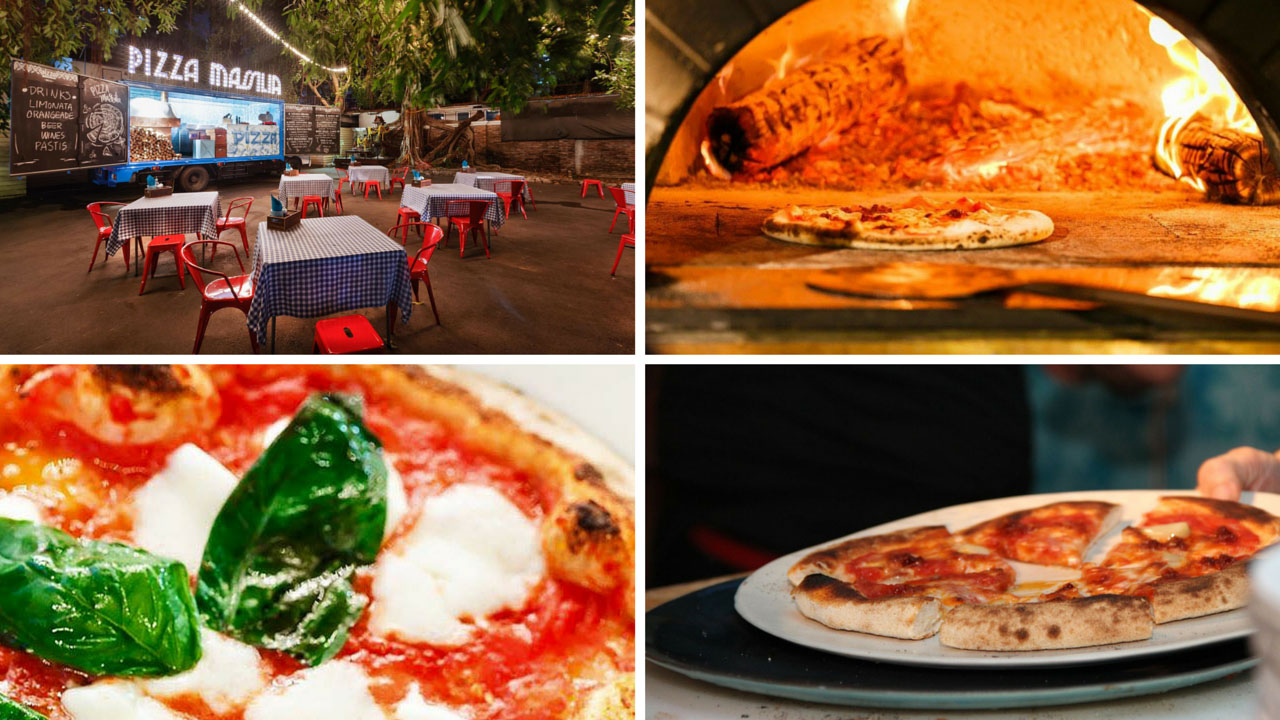 Using the word "truck" for Pizza Massilia might be an understatement. Their moving kitchen looks more like a container being dragged around. With such a huge kitchen space no wonder their wood fire pizza comes out tasting AMAZING – even the classic margherita. The French and Italian owners definitely know what they are doing. Find their location at their Facebook page.
13) Bud's BBQ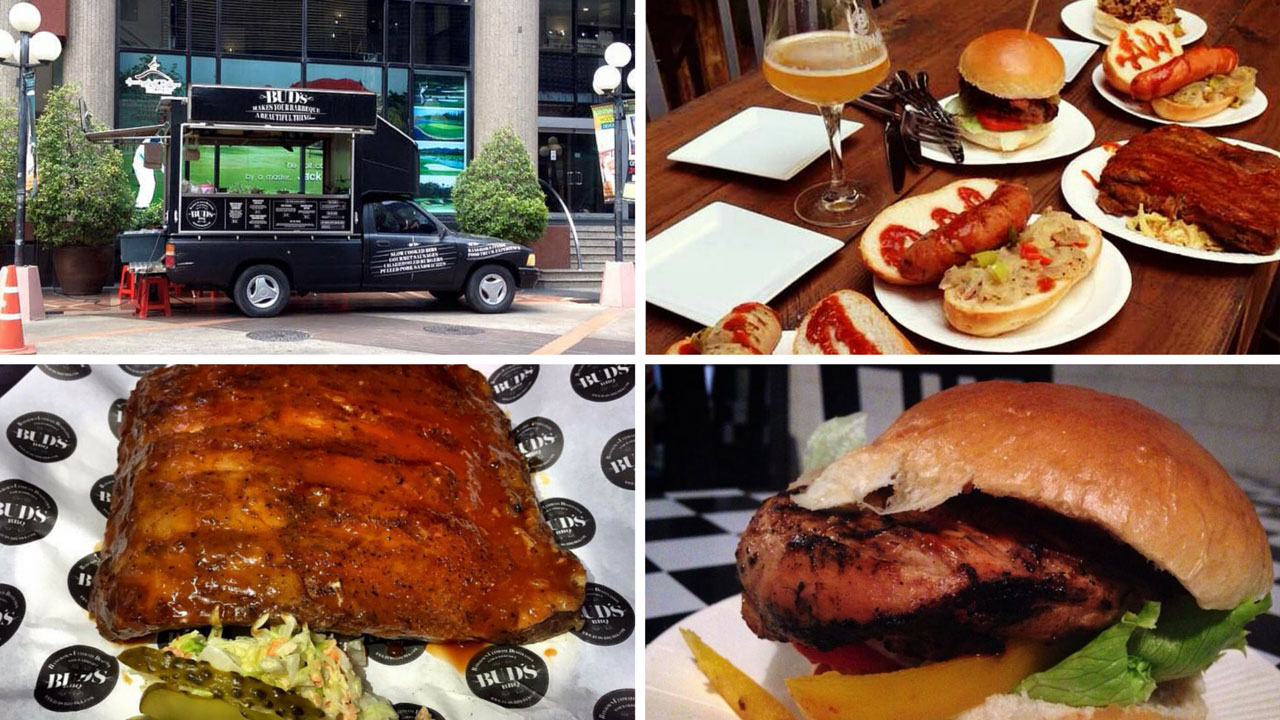 It is not often you can find slow cooked ribs on the go, but Bud's BBQ intends to ensure you're your BBQ experience is complete regardless of where they are parked. The BBQ specialists also offers a bomb pulled pork sandwich or juicy burgers of your choice all from their iconic black truck. Find their location at their Facebook page.
14) Rod Tiew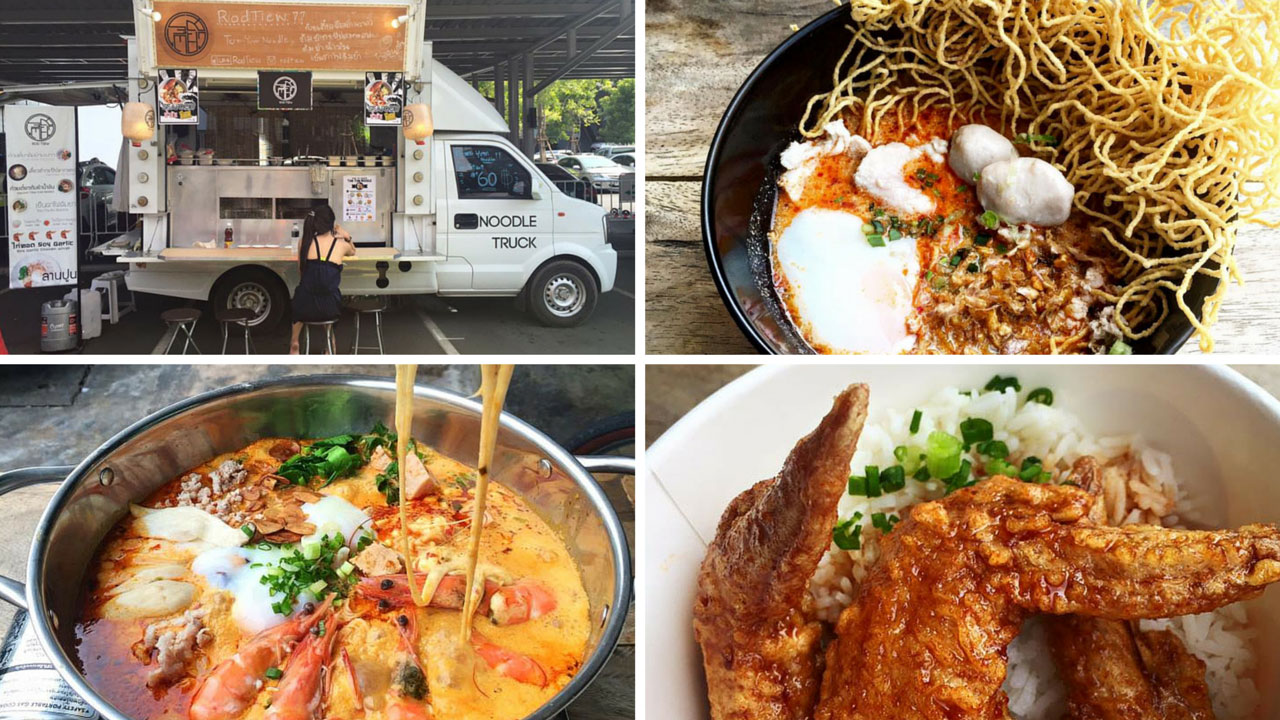 Just like any other food truck that finds success, Rod Tiew has finally found a permanent home for themselves. However, you can still find them trucking about from time to time. Where ever it is you find them, make sure you try both their original noodles as well as their more creative options like the oozing Mama with Lava Cheese. Find their location at their Facebook page.
15) Cactus Food Truck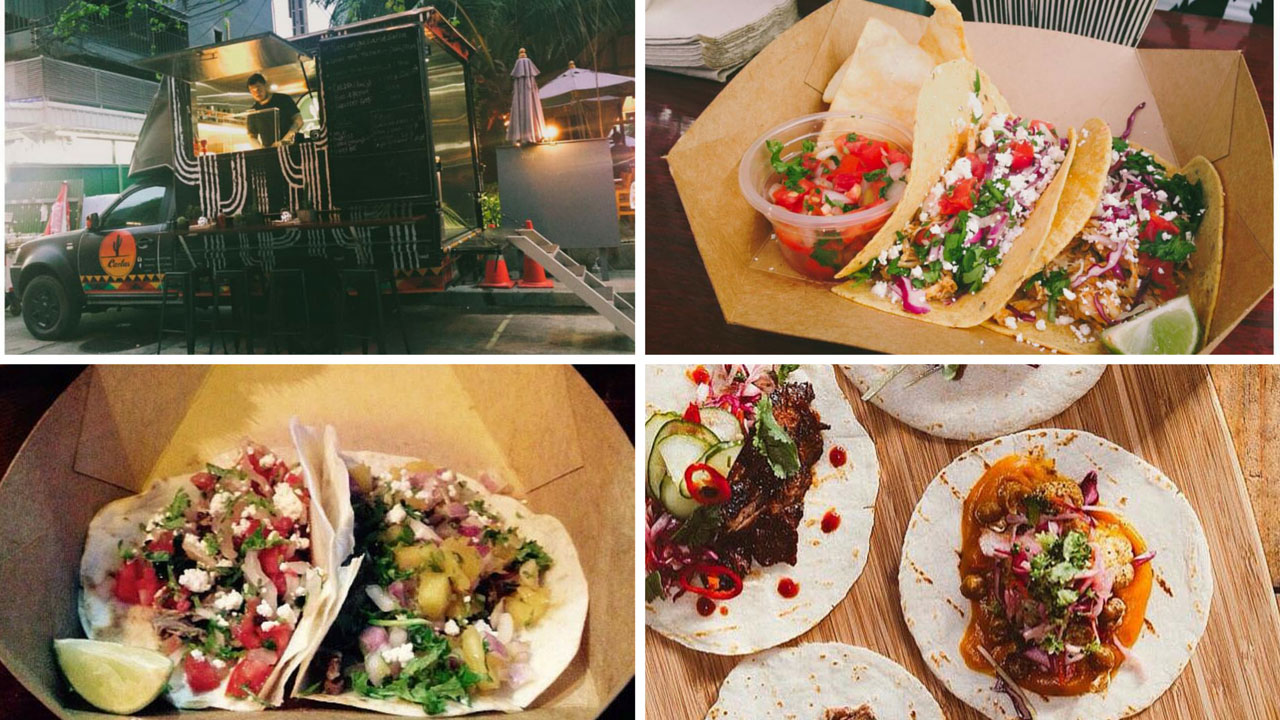 We know the Mexican food scene in Bangkok is booming, but Cactus food truck manages to stand out from the crowd. They make their tortillas in-house as well as their fresh salsas which ranging from sweet-and-sour pineapple to hot and smokey. These creations make for a party in your mouth when eaten with options like pork or shredded beef tacos. Find their location at their Facebook page.
16) Manhattan Mango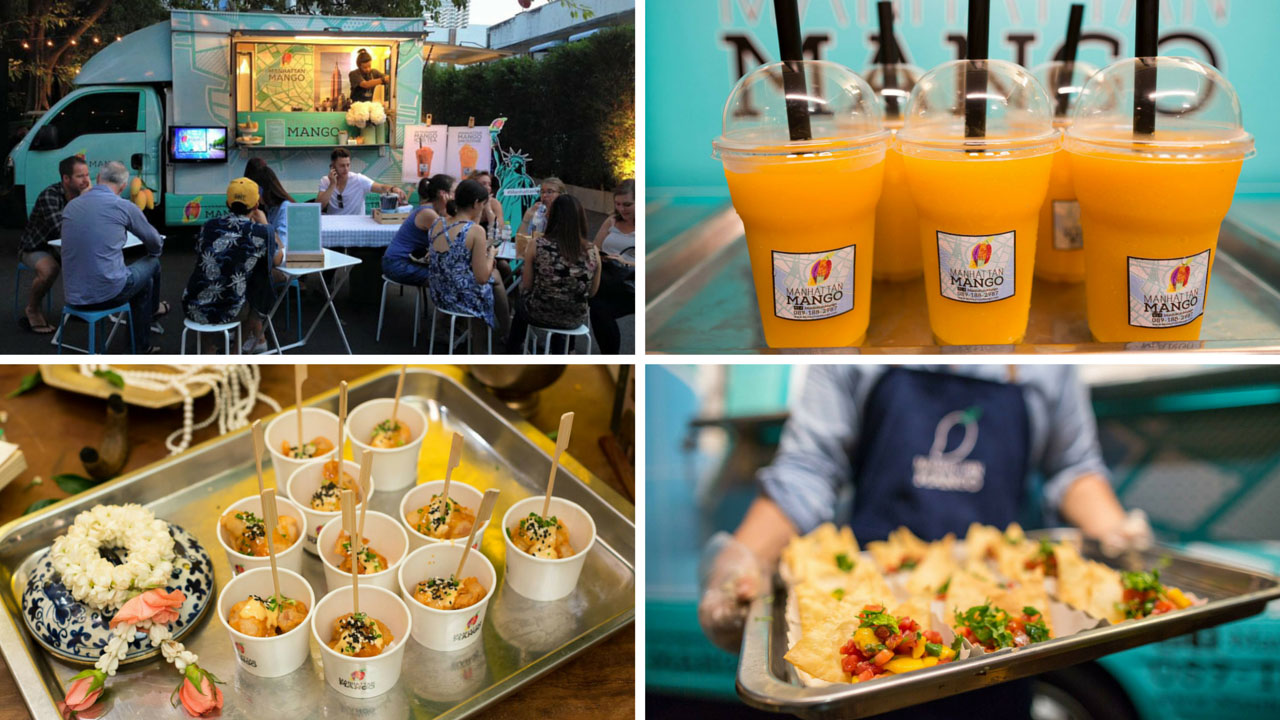 If you like Mango, then prepare to have a foodgasm. Manhattan Mango from their bright-sky-blue truck serves up light snacks, mains, desserts, and beverages all of which centers around mangos as the key ingredient. Whether it is the calamari mango salsa, the mango salad, or the super fresh mango ice tea, your mango cravings will be satisfied. Find their location at their Facebook page.
17) Ros Kang Tai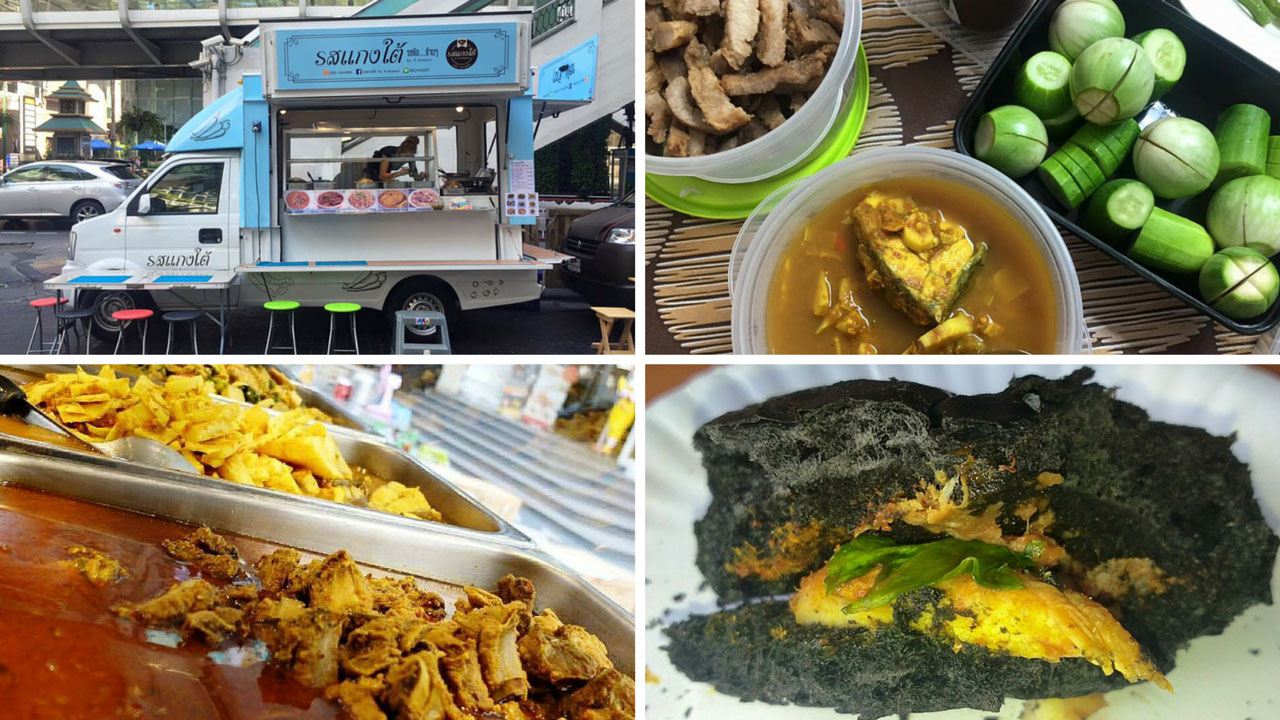 Who says food trucks only serves up international delicacies? Ros Kang Tai is as Thai as it gets. Serving up some of the tastiest southern style food and curries, you will find yourself asking for more food and more water at the same time. Their full flavor is such a delight and with so many options, it is unlikely you will be bored of them. Find their location at their Facebook page.
18) Sushi Pama Food Truck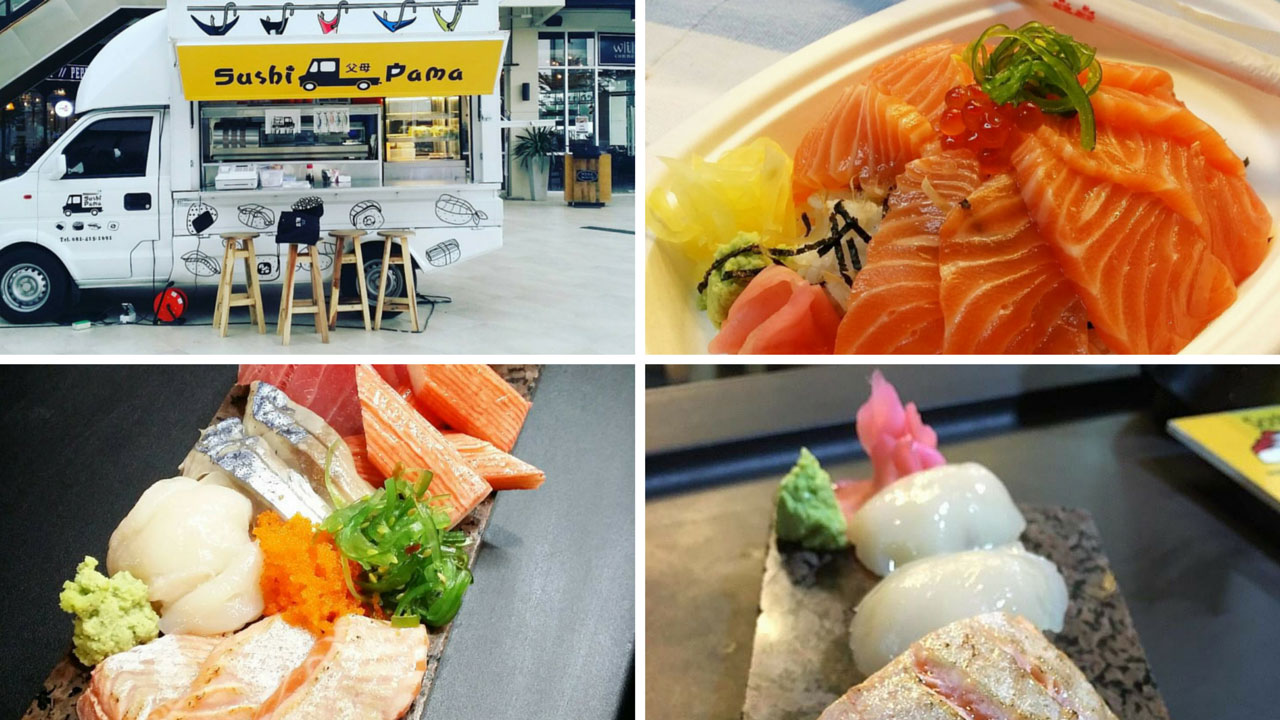 Sushi is a delicacy that must be served fresh to be enjoyed. Somehow, Sushi Pama manages to do just that while cruising around in their truck. With choices like the tasty eel sushi, the Pama Fire Roll, or pretty much any other nigari or donburi dish you can think of, Sushi Pama can actually rival some other brick and mortar restaurants. Find their location at their Facebook page.
19) Surf Surf Seafood
If you like seafood, then you will love Surf Surf. They are technically a food truck with a storefront, but it does not really matter at this point because the seafood they serve is as fresh as they come. Their seafood sauce is also to die for. If you are not feeling like getting your hands dirty on the grill however, their different types of chilli fried rice is also a solid option. Find their location at their Facebook page.
20) Two Angels Tacos (On hiatus – looking for a parking spot)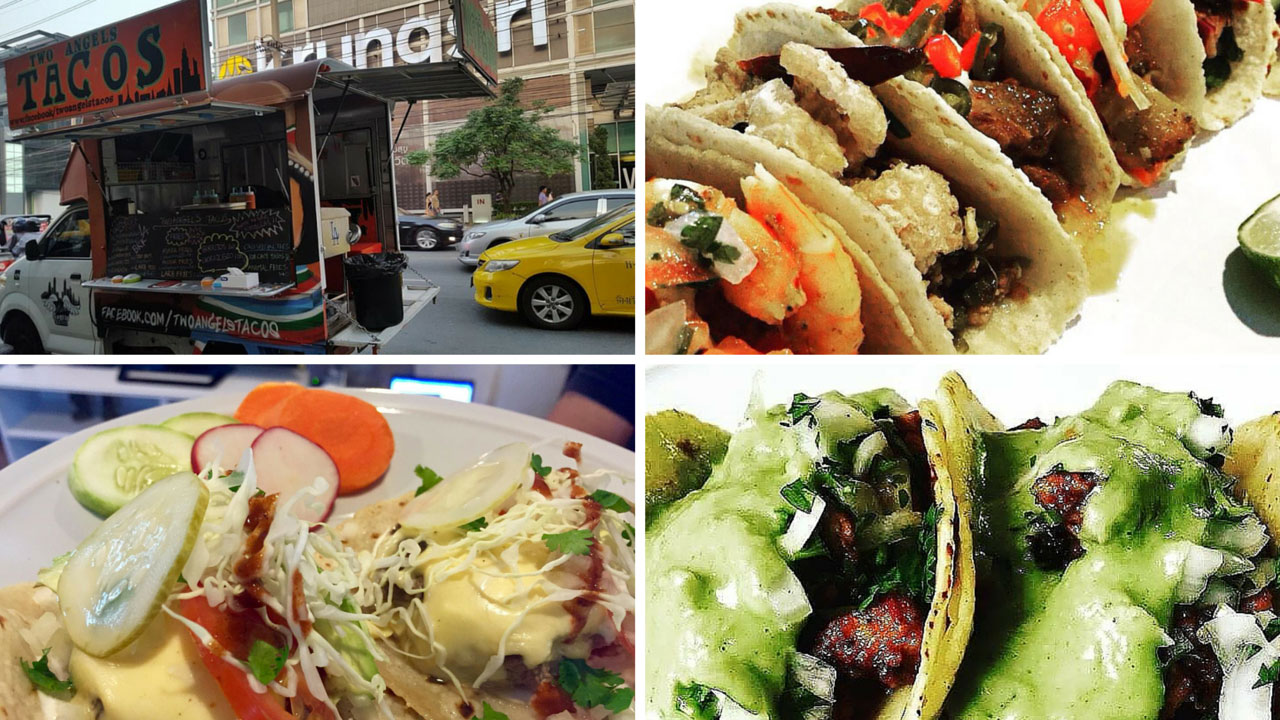 You do not have to go all the way to California anymore to get some bomb tacos. The guys at Two Angels Tacos have brought LA to Bangkok. With many standard fillings like carne asada and localized options like grilled chicken and somtam, this is a taco truck worth visiting. Find their location at their Facebook page.
For all you foodies, we hope this list will keep you busy for a while. Check back with us in a weeks' time when part 3 of the list will be published! Happy munching!