If you feel like you're spending too much time playing with your phone, it might be time to put that device down and bring back your childhood memories of playing board games.
It shouldn't be very hard to get back into as not so very long ago, board games were a means in which family members or friends came together to pass the time.
With board games looking to make a comeback into our daily lives, we have compiled a list, in no particular order, of board game cafes that can be found in Bangkok.
Game Over Lounge
When it comes to games, Game Over is a place that can't be overlooked. Known for being Thailand's first and only electronic playground, they also cater a variety of board games for those looking to take a step back from their screens.
The café/bar is 400-square meters in length and serves both food and beverages to enjoy along with your preferred board game. Be sure to check out their signature burgers made by Daniel Thaiger.
Some board games such as Battleship and Scrabble are available for free (ID required), while others such as Lord of the Rings or Game of Thrones can be played at 150 baht/hour.
Opening Times: Tuesday - Sunday: 11am – 2am
Location: Liberty Plaza, Sukhumvit Soi 55 (Closest BTS: Thonglor)
For more information visit their Facebook page or website, or call 02-170-7684.
Battlefield Bangkok
Not only does Battlefield Bangkok cater to board game lovers, but they also aim to make themselves a hobby hub with their many promotional events.
Beverages, along with finger foods are available for order directly at the store, while burgers, pastas, and pies can be brought straight to your table from their partner restaurant, Devilish. Apart from just being a board game café, they are also store which sells a variety of game related products.
Battlefield Bangkok highlights the fact that there is no table fee, no room fees, and no game usage fee, meaning you can start your favourite board game free of charge right now!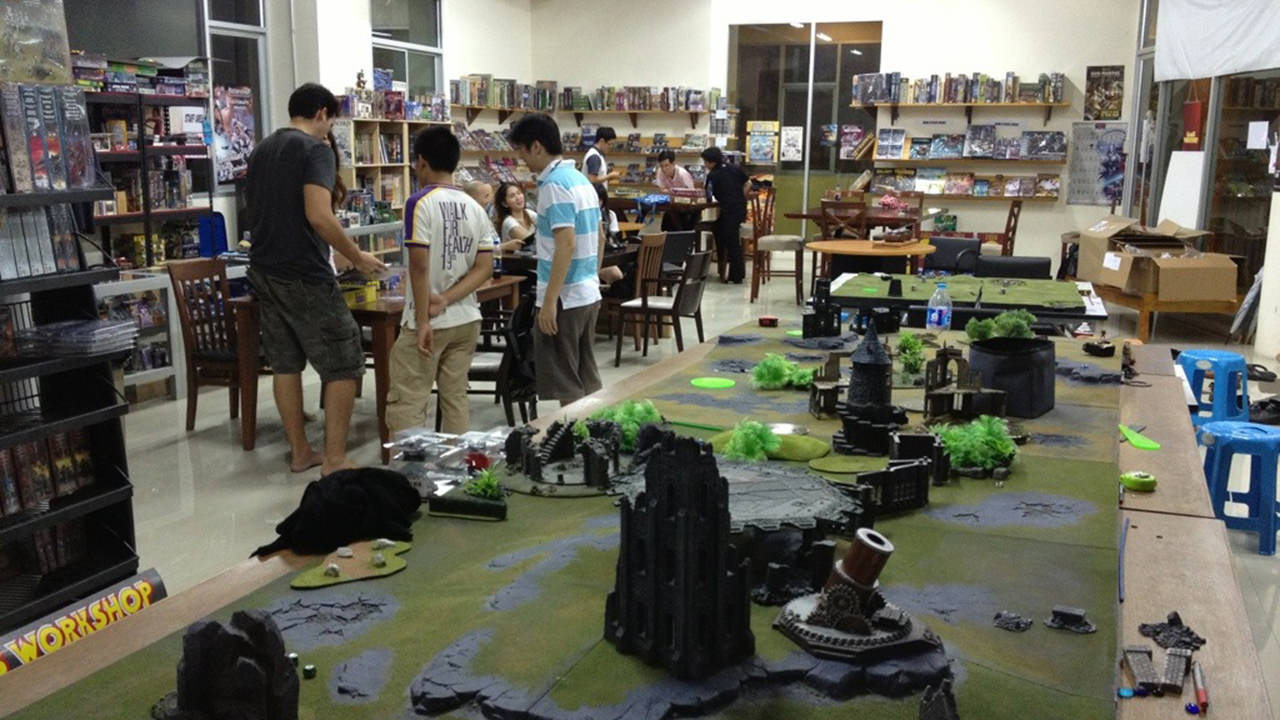 Opening Times: Wednesday – Thursday: 3pm – 10pm, Friday: 3pm – Very Late, Saturday: 12:30pm – Very Late, Sunday: 12:30pm – midnight
Location: Sukhumvit Soi 101/1 (Closest BTS: Punnawithi)
For more information visit their Facebook page or website, or call 02-747-9719.
Ninive Game Store
If you're a fan of playing and buying board games, then Ninive Game Store is definitely a must-visit. Apart from their huge selection, you can even order your favorite pieces from their online store to be sent all over Thailand.
Run by a board game importer and distributer, Ninive Game Store has over 1500 games to choose from. Food and drinks are also available, with their wood-fire pizza one of their highlight dishes.
An added bonus is all their board games are free to play, meaning this could be a great place to pass the time with your closest friends!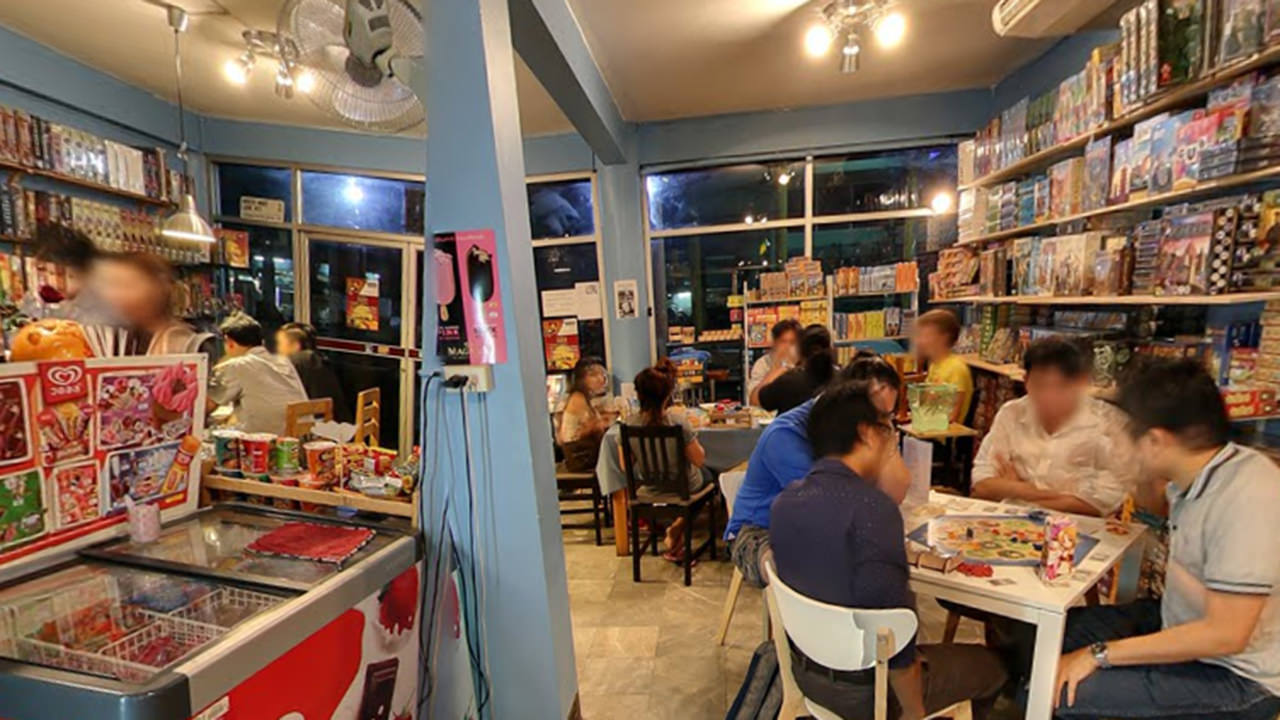 Opening Times: Tuesday – Sunday: 2pm – 1am
Location: Sukhumvit Plus Soi 2 (Closest BTS: Phra Kanong)
For more information visit their Facebook page or website, or call 081-809-1767.
Hobbyist Cafe
Hobbyist Café is another establishment that targets more than your usual board game player given their interest in a variety of different hobbies (live portrait drawing, terrarium workshop, and cactus growing).
Although they don't stock up as many board games as other mentioned stores, it's still a place where you can escape the hustle and bustle of the city. All-day breakfast, hot & cold beverages, baked goods, finger foods, and a variety of ever-changing signature menus are also available.
Be sure to keep up with their many events, or just drop by; grab a board game (Monopoly, Uno) free of charge, and relive your favorite childhood moments.
Opening Times: Monday – Friday: 7:30pm – 10pm, Saturday: 10am – 8pm
Location: Charoenkrung Road (Closest BTS: Saphan Taksin)
For more information visit their Facebook, or call 086-619-5446.
More Than a Game Cafe
Seen as the largest board game café and store in Bangkok, More Than a Game Café has already added two more locations following a successful start to their business.
They have a very large selection of games both available for play as well as for sale, including second-hand ones for those looking for a good deal. Apart from that, they have a well-equipped food and drinks menu, with their waffles being a big hit.
More Than a Game Café has an interesting membership setup (Knight, Queen, King), where you can upgrade your status based on money spent. If you're not a member and want to play a game, the store charges a fee per hour.
More Than a Game Café - I'm Park
More Than a Game Café - Thonglor 13
More Than a Game Café - Plearnary Mall
Opening Times: Monday – Friday: 11am – 9pm, Saturday – Sunday: 10am – 9pm
Location: I'M Park Community Mall (3rd Floor), Chula Soi 22 (Nearest BTS: National Stadium), Sukhumvit Soi 49/4 (Closest BTS: Thonglor), Plearnary Mall 2nd Floor, Wacharaphol Road (Closest BTS: Saphan Taksin)
For more information visit their Facebook page or website, or call 02-214-4385.
Kopi-O Board Game Cafe
With over 800 board games spanning across a number of book shelves, Kopi-O Board Game Café was founded by Supaspong Angsuvarnsiri, a board game collector who has now opened his collection to the public.
They cater to an audience of all ages, ranging from games for kids all the way to ones made specifically for adults. American / Thai food and beverages are also available, so you can easily spend the entire afternoon at this place without needing to go anywhere else.
Membership includes Novice, Master, and Grand Master, while if you're just here for the day, it will only cost you 40 baht an hour to play one of their many choices.
Opening Times: Monday: 12pm – 6pm, Tuesday – Sunday: 12pm – 10pm
Location: Sukhumvit Soi 33 (Closest BTS: Phrom Phong)
For more information visit their Facebook page, or call 089-499-4549.