There is something about rooftops that always seems to appeal to everyone, even those afraid of heights. Whether you are in your early twenties, about to join the 30 club, or even hitting up the big 4-0, a rooftop session with some of your favorite drinks never seems to get old.
The appeal might be in the fresh air above the smog that allows you to take in a deep breath, or the stunning views of the city that will simply take your breath away – whatever it is, you know you keep going back for more.
The fact that some of these rooftop hotspots in Bangkok are situated right next to the Chao Phraya River makes venues even more attractive. Who cares about the 40-degree heat when you have the full view of the river and a breeze blowing against your face.
There is no need to hide under any shade, the only umbrella you need right now is the one sticking out of your drink.
Here are 5 Riverside Rooftop bars in Bangkok that we simply have to share with you in no particular order:
1) The Deck @ Arun Residence
Only a few rooftop bars can boast about their views of the Chao Phraya River, but almost none of them can claim to have the full view of Wat Arun.
The Deck at the Arun Residence is one of the very few locations in which you can sip your ice cold beer and observe the majestic views of Wat Arun in all its glory as well as its beautiful reflection in the river.
Choose to enjoy it during sunset and you will understand what romantic means.
Lucky for you, the food on offer at The Deck is also a delight. Its variation of Thai dishes is a pleasure to try meaning that spending the whole night here would not leave you hungry.
With a friendly team of staff that will gladly try to tailor your night to your liking, The Deck is a great spot to check out with friends, family, or loved ones.
Location: Soi Pratu Nokyung | Tha Tien Pier (see map)
For more information, check out their website.
2) 342 Rooftop Bar @ Baan Wanglan Riverside Boutique Hotel
Situated at the rooftop of Baan Wanglang Riverside Boutique Hotel is a bar that is missing 18. The reason we say that is because at 342 Roofttop Bar, you can get a 360-degree panoramic view of the river and the city around it.
Gaze out at all of Bangkok's magnificent landmarks, be it Wat Phra Kaew or Wat Arun, from this beautifully decorated bar while you sip on an exciting array of drinks.
Not only will you be able to appreciate Bangkok's symbolic architecture, you will also appreciate the specially crafted 342 cocktail variations that the bar has created to kick-start your night. The warm and cozy setting will surely make you want to come back.
Location: Soi Wat Rakang | Wang Lang (Prannok) Pier (see map)
For more information, check out their website.
3) 360 Bar @ Millennium Hilton
From the 32nd floor of the Millennium Hilton, 360 Bar towers over many other riverside establishments.
With the choice of either sitting inside of the circular indoor deck (which looks something like a spaceship from far below) or outside in the open-air lounge/garden area, there is a seat perfect for everyone.
Add to that the long list of special cocktails the bar tenders will handcraft for you and you have the perfect spot to city gaze.
The benefits of being so high up is that you are really able to get away from all the hectic noise pollution in the city. Use this opportunity to really pamper yourself and reenergize for the day ahead.
Location: Charoen Nakhon Road | Hilton Pier (free shuttle boat to Saphan Taksin BTS and Asiatique) (see map)
For more information, check out their website.
4) In Love Bar & Restaurant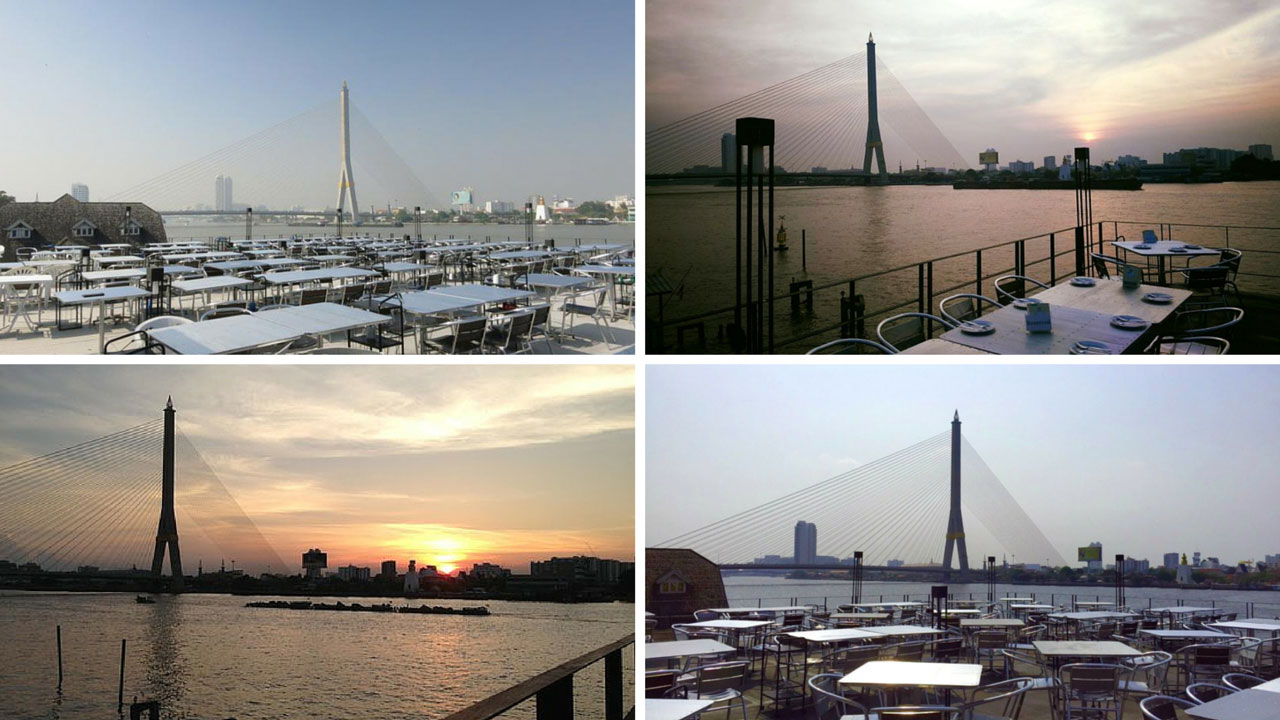 Sometimes a great rooftop location does not have to exist within a hotel. The In Love Bar & Restaurant has been established at this prime location for over 20 years.
With a clear view of Rama VIII bridge, this is a place where you can enjoy some authentic Thai food.
Décor at this place is very simple so if you are expecting a fancy night out then do not put In Love Bar & Restaurant at the top of your list.
This would be a place for you to bring the family and just have a good fun night out while taking the opportunity to snap a million photos of you and the beautiful bridge behind you.
Location: Krung Kasem Road | Thewet Pier (see map)
For more information, call them at: +662-281-2900
5) Sky Bar @ Lebua at State Tower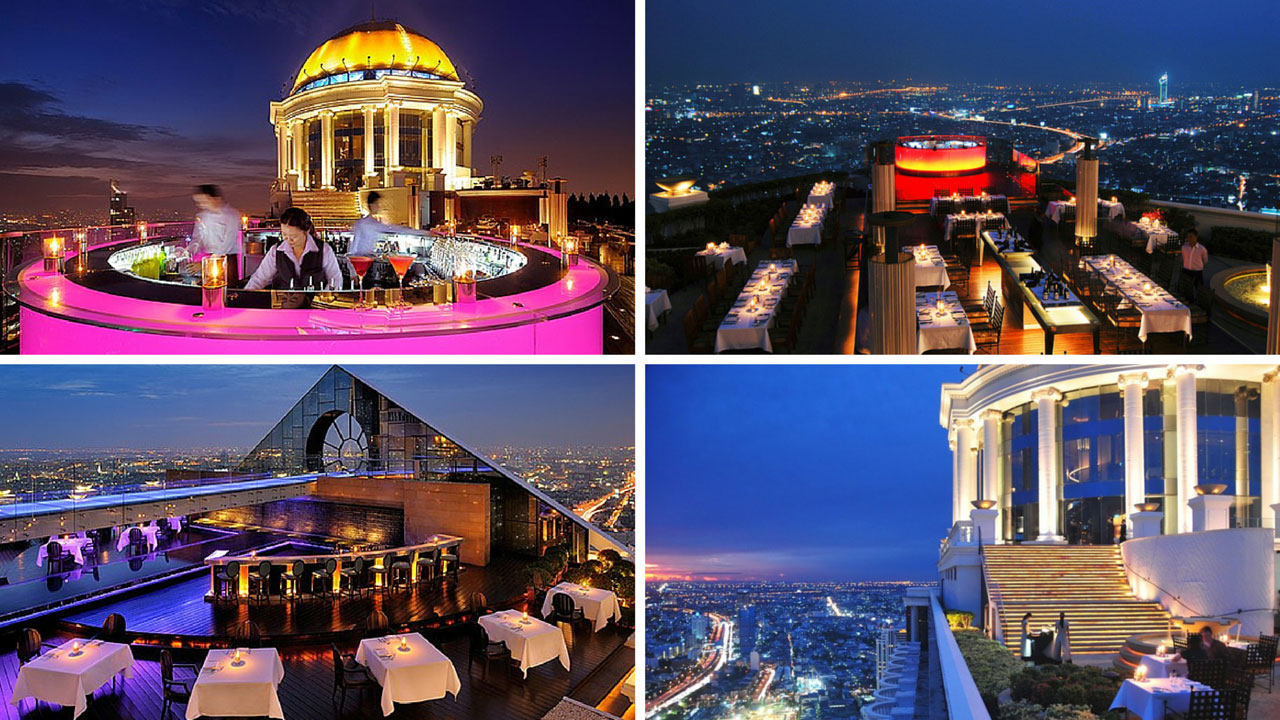 By far one of the most famous and iconic rooftop bars in Thailand having been popularized by the Hangover II movie, the Sky Bar is a popular tourist attraction above the Lebua State Tower and is the cheaper option to get to this rooftop than the sit-down dinner option at Sirocco.
It is easy to see why this place is popular though, the cocktails are good and the view is brilliant.
Do try and go early because during peak hours, you may not have a place to stand.
Everyone wants a selfie above the Bangkok skyline at this piece of pop-culture and on a day when the group tours are swarming, you might actually be better off skipping it altogether and visiting another day.
Location: Silom Road | Sathorn Pier or Saphan Taksin BTS (see map)
For more information, check out their website