They say Pizza is like sex, because even if it's bad, it's still good. Sadly that's not always true, in terms of the pizza at least.
We have all sat down at a restaurant with a rather heavy menu, with too many items spread across their pages. In the end, pizza becomes your safe choice, but how many times have we received our favourite Italian/American cuisine only to be disappointed by an extremely tough crust, ketchup-based sauce, or plain mush? Think back, it was bound to have happened sometime in your life (think hotels).
Well thankfully here in Bangkok, the capital city of the Land of Smiles and Food, there are some brilliant pizzerias in and around the metropolitan area for you to try, indulge, and go back for more.
Here are our Top 8 pizza places and restaurants in Bangkok in no particular order.
1) Pala Pizza Romana
Pala Pizza Romana started as a small eatery underneath the Asok BTS section, but has now turned into a full-fledged restaurant packed with customers and an ever-improving menu. And it's main attraction? Pizza.
Here, the pizzas are baked in meter-long slabs instead of the conventional circle, and is done so that it's crusty at the bottom yet soft and full of texture on the top. They have most of the popular flavours including Diavola, Parma Ham, and Capricciosa, but their biggest selling point is the option to grab a piece and easily take home on the go.
Price Range: Medium
Location: BTS or MRT Asok (See Map)
For more information, check out their Website or Facebook page.
2) Bella Napoli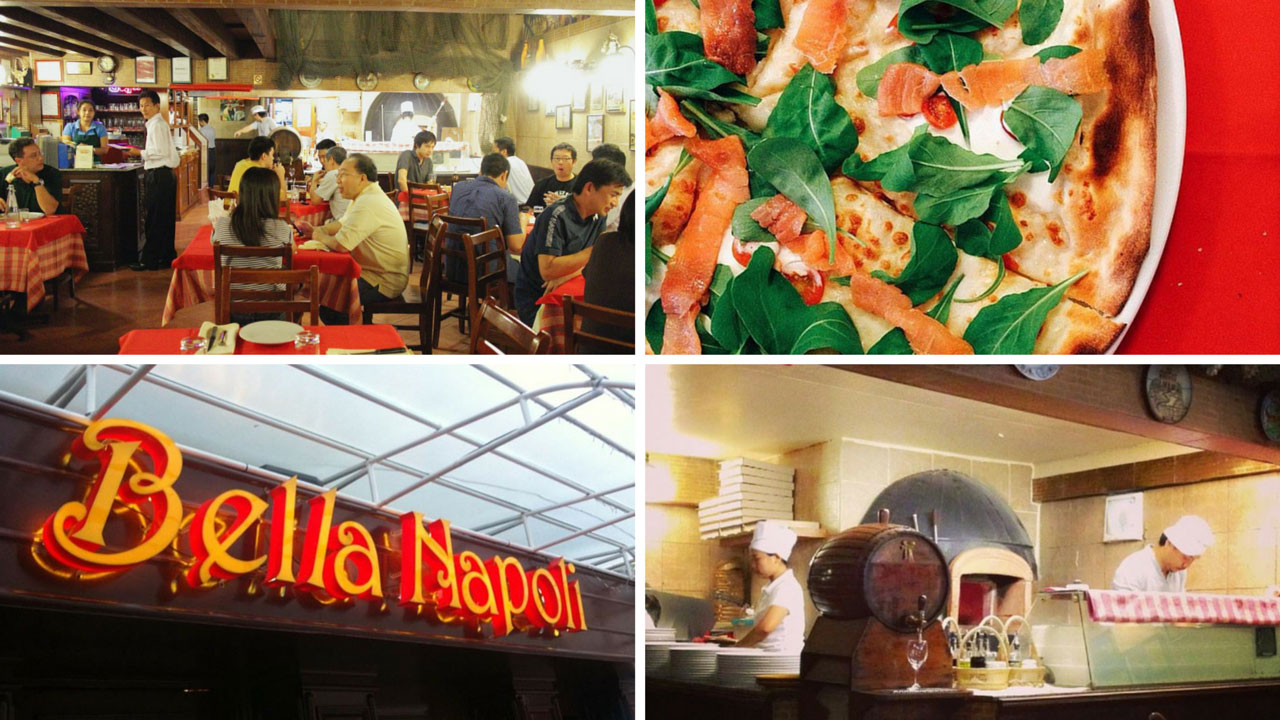 If you want to eat in a homey restaurant with an Italian atmosphere, Bella Napoli is the location for you. The place has served locals and expats for the last decade, and those that have enjoyed it then are still going back today.
The menu has remained fairly consistent, and so has the quality of their pizzas. Fresh, tasty, and with many options to choose from, those that still haven't heard of Bella Napoli are certain to come back for more.
The pastas are also exceptional, with many of them (such as the classic Carbonara) being served in a bowl covered with a layer of bread dough. Delizioso.
Price Range: Low
Location: 3/1 Sukhumvit 31 (See Map)
For more information, call them on 02 259 0405
3) La Peppina
If you venture down soi 31 a little further, La Peppina is another excellent Pizzeria that has increased the standard of pizzas in Bangkok.
The well-decorated eatery has brought in the sourdough pizza that was a talk of the town around a year ago, and even today it is extremely difficult to reserve a table. The authentic Neapolitan pizza style is their standard, but their menu also includes Sicilian pizzas, fried pizzas, and their very nice alternative of the Tronchetto pizza.
Not in the mood for pizza? La Peppina has a wide selection of beef and meats as well.
Price Range: Medium-High
Location: 27/1, Sukumvit Soi 33 (See Map)
For more information, check out their Facebook page.
4) Pizza Masillia
You might be thinking what a food truck is doing in a top list of pizzerias in Bangkok. Well it's not a food truck anymore, because Pizza Masillia has just opened its restaurant in soi Ruamrudee near Ploenchit BTS Station.
Pizza Massillia is actually collaboration between a Frenchman (Frederic Meyer) and an Italian chef Luca Apino, and the decor of the restaurant shows it as so, with French-style windows adjacent to its massive Italian fire ovens.
But after coming away from the food truck scene, their menu (and price) has had a massive upgrade, with various pastas and meats available for your pleasure.
Price Range: Medium
Location: Soi Ruamrudee, Ploenchit (See Map)
For more information, check out their Website or Facebook page.
5) Il Bolognese Trattoria e Pizzeria
Moving away from Sukhumvit, we have the loved Il Bolognese in Sathorn, a very well-decorated eatery that brings you authentic Italian cuisine in a casual yet upscale atmosphere.
With the restaurant happily citing that they are 'drawing the spirit from Bologna', Il Bolognese also contains a pizza oven that results in another great pizza experience. However, many will want to order their pizzas along with their wide array of other Italian delicacies, such as the Truffle Oil Ravioli and Seafood Risotto.
Price Range: Medium-High Location: Sathorn Soi 7 (See Map)
For more information, check out their Website or Facebook page.
6) Bacco
Known more for its other Italian dishes, many underrate Bacco's exceptional pizza quality in favour of their pasta or meats.
But it is up there along with the others on this list, albeit favouring those that prefer a thin crust for their pizzas. What makes Bacco another impressive option is their wide array of flavours, with no less than 53 types to choose from Pizza Blanche (White Pizzas), Calzoni, and some hipster Specials.
The restaurant itself is designed to make you feel like you're grabbing a bite in Italy, well-decorated with excellent staff to guarantee your satisfaction.
Price Range: Medium
Location: 35/1 Sukhumvit Soi 53 (See Map)
For more information, check out their Website.
7) Pizza Mania
Yes we have come down to a Pizza Delivery service. Have we stooped this low? Well not really, because in Pizza Mania we have probably the best pizza delivery service in the city.
Now instead of venturing off to one the above mentioned restaurants or eateries, you can now consistently enjoy a wide selection fresh authentic pizza from the joy of your sofa/computer.
Don't overspend on the heavily advertised Pizza Company, Pizza Hut, and Dominoes, Pizza Mania could now make you a tad bit more popular among your friends when having a sleepover.
Price Range: Low
Location: 120/3 Sukhumvit Soi 23 (See Map) | Delivery: 02 261 1212
For more information, check out their Website or Facebook page.
8) Gallery Pizza
Yes, another pizza delivery service. But this new place is one that will catch your eye for one particular reason. Gallery Pizza closes at 4AM. Yes, you can now have delicious Italian pizza made with imported Italian ingredients at home, after a night out.
At the time of writing, Gallery Pizza also offers you a promotion of ANY TWO PIZZAS for the price of just 499THB. With their cheapest coming at 265THB, there is so much value at offer that we feel guilty sharing this information. Thank us later.
Price Range: Low
Location: 404 Sathorn Soi 11 (See Map) | Delivery: 02 041 1044
For more information, check out their Website or Facebook page.