Food Truck Mania: An Extensive List of Bangkok Food Trucks (Part 3)
Posted July 25, 2016
There is a certain lure to eating outside of an air-conditioned box – it is easy, cheap, and often very satisfying. Bangkokians have been fortunate to enjoy this "luxury" of cheap easy access food for a very long time – from that oozing egg noodle spot that everyone who goes to Ekamai knows about, to the ever reliable "Chai 4 Mee Giew" noodle carts that normally reside in front of your local 7-11s – street eats not only leave your stomach full, but often time also have a special place in your heart.
But just like anything else, good things evolve. We know you loved your Nokia 3210, but look at what you can do now with your iPhones. So as much as we love our old aunties and uncles who made us our late night noodles from their push carts, it is now time to give the next generation a chance – make way for the noodle carts of 2016: food trucks.
We understand that trying to locate all the food trucks in this bustling city is not an easy task. Lucky for you, our extensive effort to create a food truck archive has been completed, and we are excited to share it with you. We hope you enjoyed part 1 and part 2 of this list and have already filled yourselves up, now here is the final piece part 3 of our list below in no particular order.
21) Deli-Q Bangkok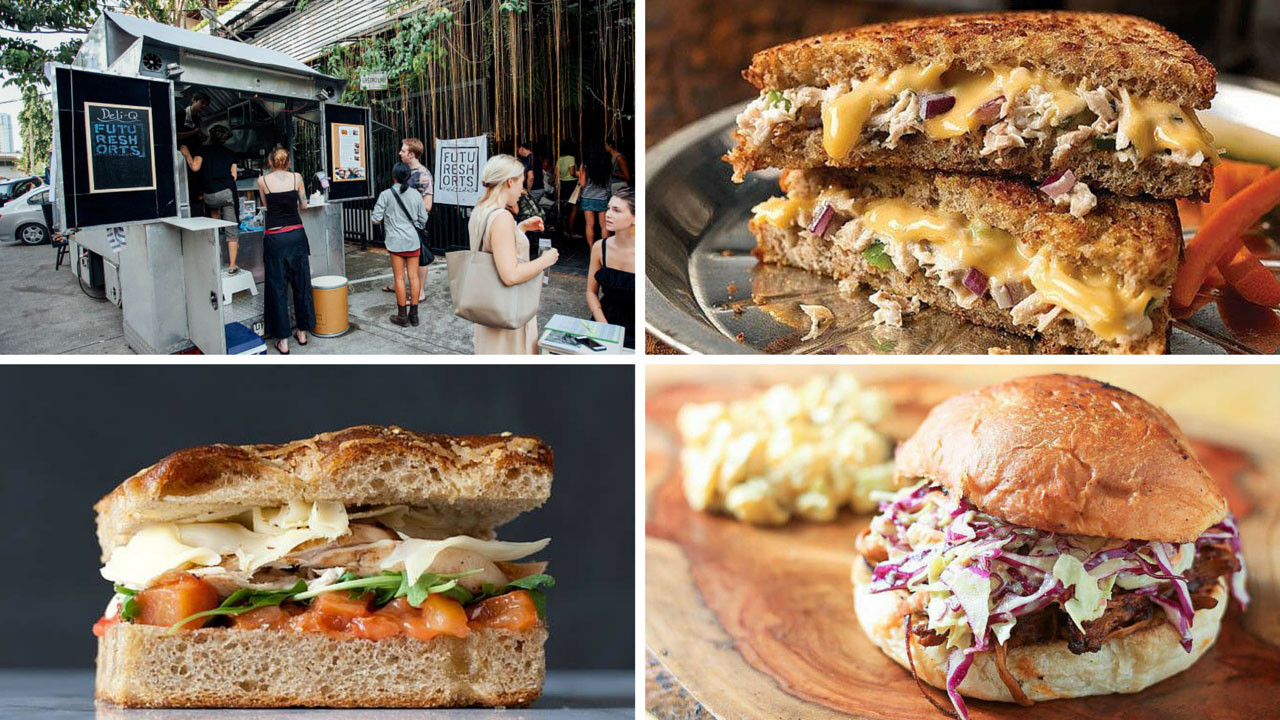 If you are looking for some real juicy BBQ, Deli-Q should be on top of your list for places to visit! The professional Deli-Q team serves up some of the best Southern-style American BBQ you will find in Bangkok. Their Patty Melt alone might just be worth the visit – a combination of their specially blended patty, cheese, bacon, sautéed onions, and their signature ketchup all packed in toasted white bread. Find their location on their Facebook page.
22) Rolling Stone Pizza
Pizza is everywhere, but Rolling Stone Pizza serves up top class thin-crust wood-fired-pizza rock-and-roll style. To be honest, we never asked their owners what rock-and-roll style is, but we always seem to forget to ask because as soon as we take a bite of their pizza and the oozing cheese and fresh ingredients prepared daily by their team touches our taste bud it is game-over. Find their location on their Facebook page.
23) Over The Rainbow Crepe Roll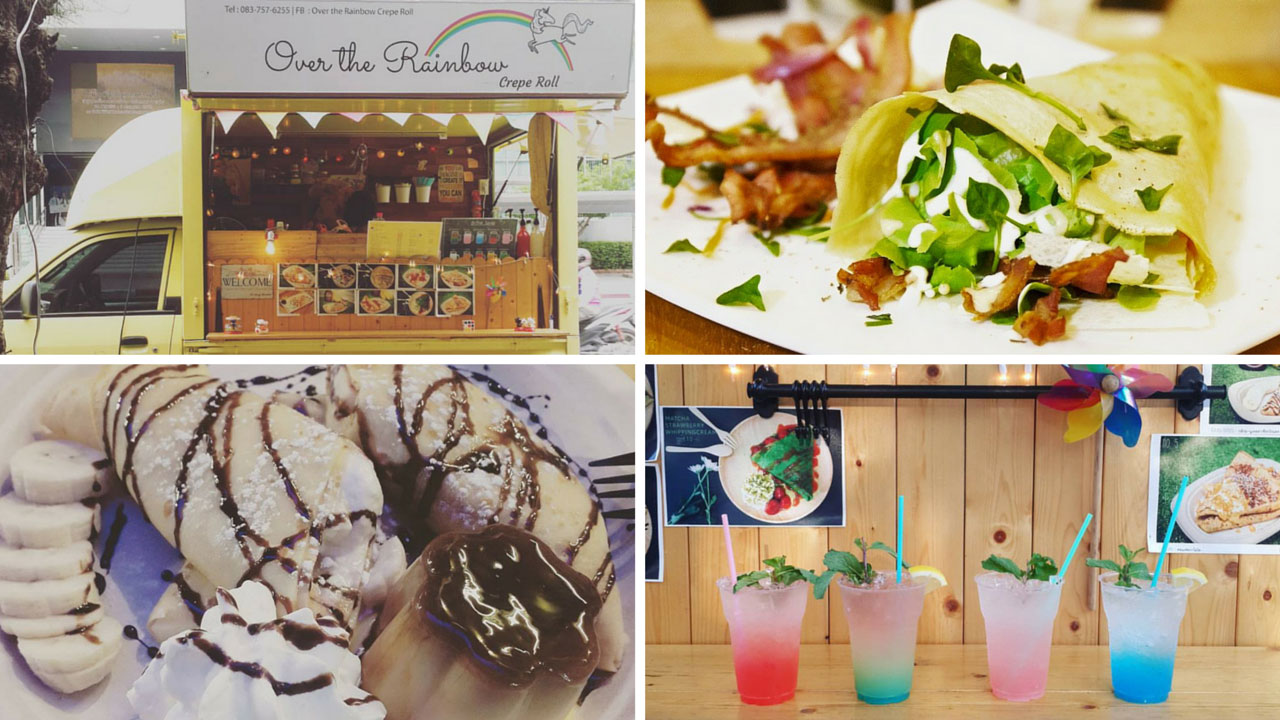 Everyone can enjoy a good crepe. The problem is, a good crepe is not easy to find. Luckily our friends at Over The Rainbow Crepe Roll serves up some of the most fulfilling crepes in Bangkok. Walking by their truck, it would be impossible not turn around to check them out as the aroma floating around will surely draw you in. Wait until you experience their tender crepe dough, and you will know why they are called over the rainbow. Find their location on their Facebook page.
24) Nak Tom Toon Thailand
Affordable Japanese food that will also satisfy your cravings does not come around very often. When it does, do not ever let them go. Nak Tom Toon serves up multiple Japanese classic dishes with a slight Thai twist that are soft on the wallet but not on the taste buds. Try their incredible udon or teriyaki dishes while you enjoy the company of their super friendly owners. If only we could do that everyday. Find their location on their Facebook page.
25) Forkers
If you can make the basics right, then you have already won half the food race. Forkers fortunately makes a damn good Bolognese sauce! The guys may seem like they serve up basic pasta dishes, but something in those dishes are definitely extraordinary – making them stand out. Whether it is their simple Carbonara sauce or a mushroom cream sauce, you will leave them craving for more. Find their location on their Facebook page.
26) Jungle Juice & Kebabs
To some, jungle juice might mean a drunken night you cannot remember. To us, jungle juice reminds us of really tasty kebabs. As Thailand's only mobile kebab and frozen cocktail food truck, Jungle Juice & Kebab food truck loves to serve up a good time. Their colorful vehicle is hard to miss but their colorful drinks that you can enjoy with the food is even harder to deny. Find their location on their Facebook page.
27) Burgler
Although they are no longer running the streets of Bangkok having recently moved to Veranda Resort Pattaya, the Bugler Burger Food Truck is worth a mention. Their juicy patties topped with a rich salty cheese perfectly complements the sweetness from their perfectly executed bun and bacon. Complement the main event with some fries and that ladies and gentlemen, is how you steal the show! Find their location on their Facebook page.
28) Taco Taxi
Taco Taxi aims to provide a healthy alternative to the late night burger cravings and they surely have made a case for themselves. Served together with their Mexican smoothies, the Taco Taxi has 6 sexy options that you can stuff yourself with. Be it the shredded beef, the crispy bacon, or the jalapeno prawns, it would be hard for you to make a wrong choice. Of course, those bad choices may come after you down a few smoothies. Find their location on their Facebook page
29) Hot Wheels Pizza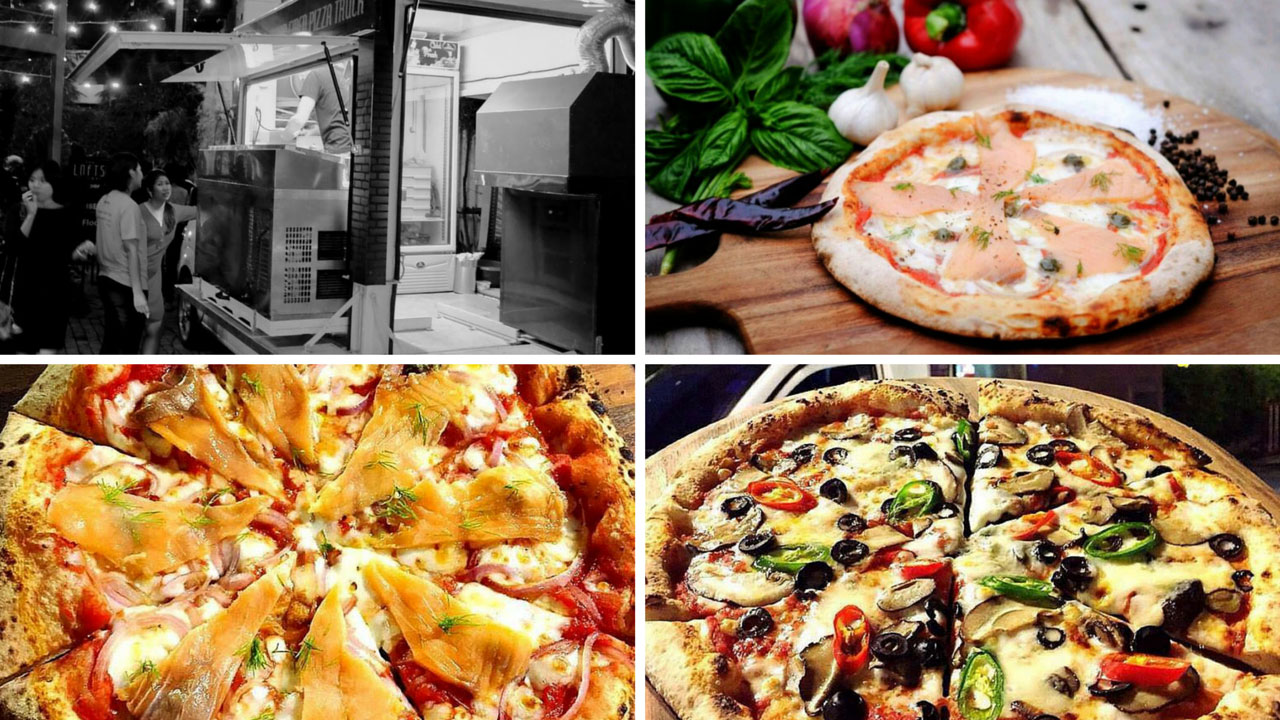 Everyone loves pizza. Everyone also thinks they know pizza. But pizza is not just pizza to the folks at Hot Wheels Pizza truck. Their pizza is different – even their plain margarita pizza packs a punch unlike any other. Their dough is made to perfection and with toppings like smoke salmon and spicy salami on offer, you do not have to look any further when you have a pizza craving. Get ready to enjoy some hot 100% authentic Neapolitan pizza in Bangkok! Find their location on their Facebook page.
30) Hashtag Food Truck
The burgers served on the Hashtag Food Truck combines original flavors with only the freshest organic ingredients that will allow you to enjoy the food but also feel good about eating it. They surely bring the heat with their American backyard recipe. You just know that a food truck with a menu item called the Yolo Jalapeno Burger must be serious about something. Find their location on their Facebook page.
For all you foodies, we hope this list will keep you busy for a while. This concludes our 3-part article of food trucks on our radar! We sincerely hope you enjoyed it, and happy munching!